STATE SOFTBALL: Green Valley 'family' out 'to do it together'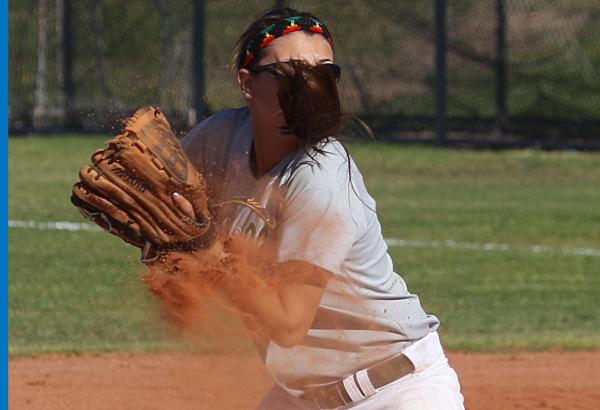 Cori Sutton vaguely remembers Green Valley's last appearance in the state softball tournament.
Seventh-year Gators coach Lauren Taylor wasn't even at the tournament.
The two will get a chance to make some more lasting memories this weekend when Green Valley returns to the state tournament for the first time since 2010.
The Sunrise Region champion Gators (23-9) open the Division I tournament against Sunset Region runnerup Palo Verde (27-7) at 3:45 p.m. Thursday at UNLV's Eller Media Stadium. Sunset champion and 2012 state champion Centennial (33-6) meets Northern Region champion Reed (26-5-3) in another semifinal of the double-elimination tournament at 6.
"I don't remember anything really," said Sutton, a senior shortstop. "It's been a long time. We lost; I remember that."
Sutton didn't play in the tournament in Reno three years ago, and Taylor didn't coach after giving birth to her second child, daughter Gavynn, earlier that week.
"I remember laying in bed, and my daughter laying next to me and my cellphone every 32 seconds was going off," Taylor said. "It was one of those rare instances where I told all the girls before they went up there that every single one of them needed to have their cellphone on to let me know what's going on."
Much like their 2010 team, the Gators have hit well — led by junior outfielder Maggie Manwarren's .563 average — and pitched well — with junior Fenixx Henderson (2.07 ERA) and freshman Samantha Loving (3.55 ERA) sharing the load.
"This team is very much more a family because they're in it to do it together," Taylor said. "They pick each other up. They feed off the enthusiasm that is around them. They're much more sentimental, much more emotional."
Green Valley has won 10 of its past 12 games, including four straight in the region tournament.
Still, the Gators weren't the popular choice or probably even the second choice to represent the region.
"I feel like we were underestimated," Sutton said.
They still might be.
Centennial has won two state titles in the past five seasons and may be stronger this year. Palo Verde won the title two years ago, and Reed is a perennial state power.
"The girls know this is another level that we're going to be playing at," said Taylor, whose team lost to Palo Verde and Centennial in the regular season. "I look back at how we played against Palo Verde earlier in the season, and I'm excited to get the chance to play them again. The team that showed up to play region did not show up to play Palo the first time."
The tournament championship is scheduled for 1 p.m. Saturday.
"As long as they do their job, I don't think it would be wise to underestimate their ability," Taylor said.