SUNRISE SOFTBALL: Foothill cashes in on scoring chance, advances to region final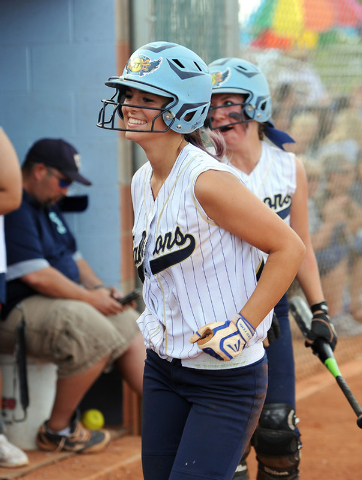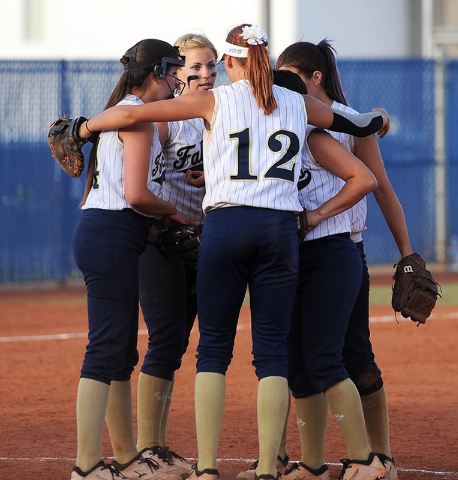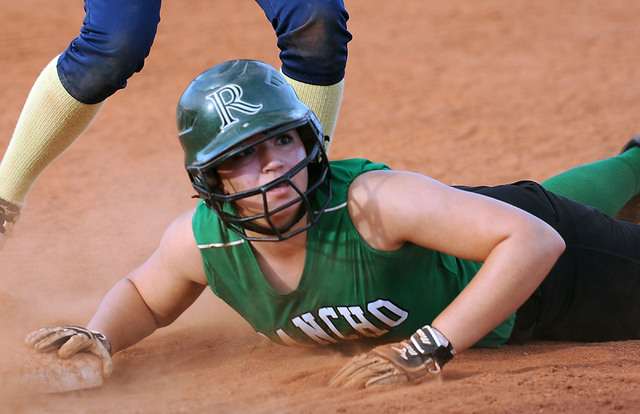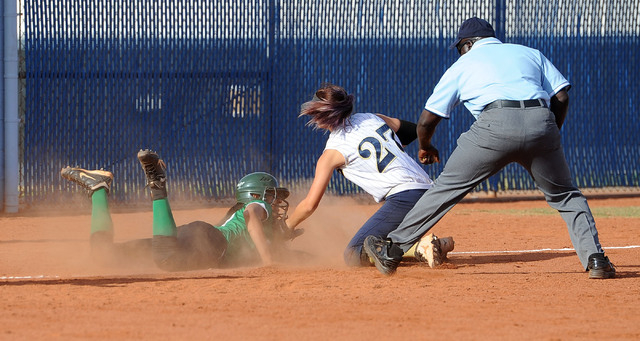 The Foothill softball team was given only one opportunity to score on Thursday against Rancho pitchers Samantha Pochop and Brandy Marlett.
That was all the Falcons needed.
Host Foothill pushed across three runs in the fourth inning, and pitcher Sarah Penksa held Rancho in check to help the Falcons to a 3-2 victory in the winners' bracket final of the Sunrise Region tournament.
The Falcons (19-13) advance to the region final at noon Saturday. Rancho (29-7-1) plays either Liberty or Coronado at 4:30 p.m. on Friday, with the winner advancing to the final and needing to beat Foothill twice.
"I can't remember when we've gone all the way (to the final) like this and got a rest and somebody had to beat us for two (games)," Foothill coach Tom Mayes said. "It was really important for us to win this because it's going to be hotter and you have to put in extra games."
The Falcons had only two hits through the first 3 1/3 innings against Pochop, and they didn't have a baserunner in the final three innings after Marlett came on in relief to start the fifth. But in between, Foothill did all its damage.
With one out in the fourth, Jordan Corn reached on an error, RaeAnn Brems walked and Katelyn Enzweiler singled up the middle to load the bases. Sarah Maddox then blooped a two-run single to left field to tie the game at 2-2, and an error on the play put runners on second and third.
Pochop struck out Daryan Meade looking, but with Alexia Campbell at the plate, she uncorked a wild pitch. The toss from Rancho catcher McKinzi Vega to Pochop was in plenty of time, but Enzweiler's hard slide knocked the ball loose to put the Falcons on top, 3-2.
"With a team like Rancho and the pitching that they have, when you get a chance, you've got to do something with it," Mayes said. "That one inning was enough."
Pochop gave up four hits and struck out eight in four innings. Marlett fanned four.
Penksa scattered eight hits and allowed one earned run while striking out two. She pitched out of two-on, two-out jams in the third and fourth innings and retired eight of the final 10 Rancho batters.
Penksa also benefitted from a big defensive play in the fifth as Falcons catcher Hannah Stevens picked off Vega at first for the second out.
"I know I'm not the fastest pitcher, but I rely on spinning the ball and changing speeds," Penksa said. "It's just having confidence in my teammates behind me. I'm confident in their abilities."
Rancho scored both of its runs in the second inning. After Jahnae Davis-Houston and Kayla Coles each had one-out singles, Stevens tried to pick off Coles at first. The throw got away and Davis-Houston scored from second, sliding around Stevens' tag and touching home with her left hand.
Coles, who moved to third on the error, made it 2-0 later in the inning when she scored on a wild pitch.
Liberty 4, Green Valley 3 — Breanna Alvarez chopped a two-run single to left in the top of the sixth to score the go-ahead runs as the Patriots (16-8-2) eliminated the Gators (15-16).
Alvarez's hit gave Liberty a 3-2 lead, and Kelsey Camat-Toki drew a bases-loaded walk three batters later as the Patriots scored three runs in the inning.
Samantha Loving had a sacrifice fly in the bottom of the sixth to bring Green Valley within 4-3. The Gators had the tying run at second with one out in the seventh, but pinch runner Adelia Sigala tried to advance on a fly ball and was thrown out by Liberty center fielder Ashleigh Rodriguez to end the game.
Maggie Manwarren went 4-for-4 and scored all three runs for the Gators, who left 11 runners on base and committed five errors. Jinger Meuir and Tara Hilton each went 2-for-3.
Alvarez and Rodriguez each went 2-for-3, and Tiana Tapuala had an RBI single in the first for Liberty.
Coronado 4, Silverado 0 — Jillian James fired a two-hit shutout, and the Cougars (21-15-1) topped the Skyhawks (18-8) in an elimination game.
James finished with six strikeouts and two walks and was 1-for-3 with a double.
Basia Query was 2-for-3 and three RBIs. She broke the scoreless deadlock in the third inning with a two-run double to deep center and added an RBI double in the fourth.
Danielle Amato was 1-for-3 with a run-scoring double in the fourth, and Jaiden Johnson finished 3-for-3 with two doubles, a run and a stolen base for Coronado.
Box scores: