Sunset Region: Centennial's Amanda Sink sets state mark with 20 strikeouts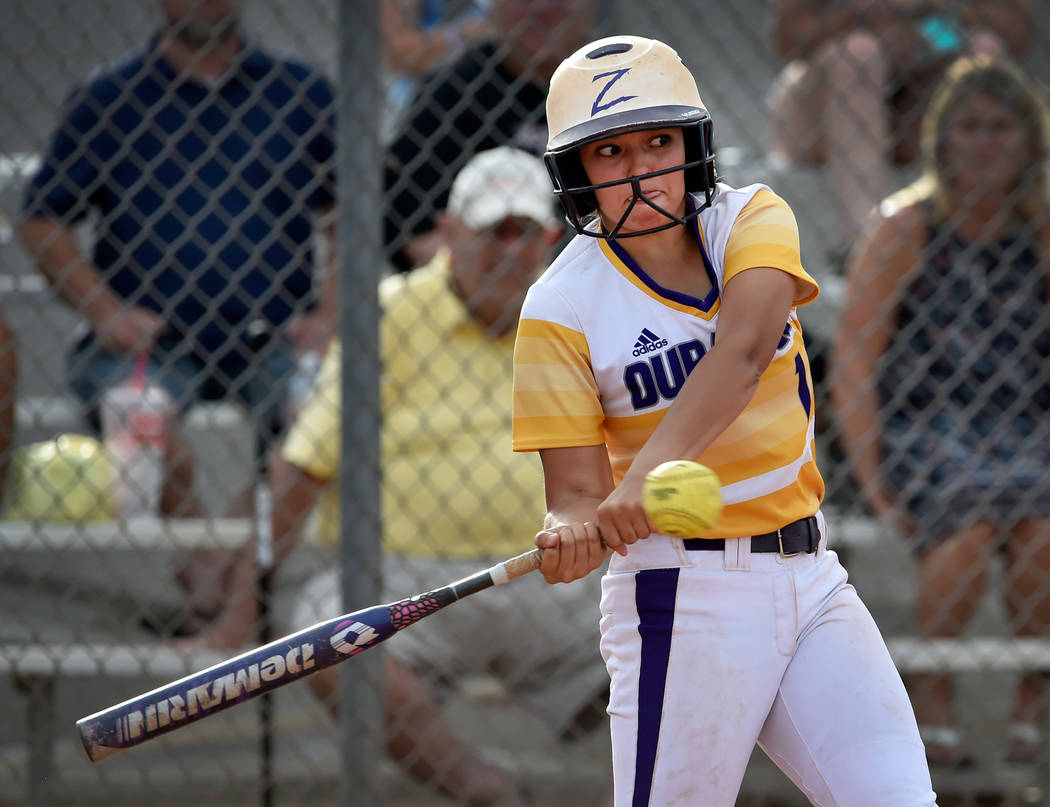 There came a point in Wednesday's game that the question no longer was whether Centennial would win but if Amanda Sink would enter the softball record book.
Sink said she knew she had struck out 20, but learned later it was a state record. After her performance against Durango, Sink sits alone atop the Nevada record book for most strikeouts in a seven-inning game, and Centennial cruised to a 12-0 road win to open the Sunset Region tournament.
"That's going to stay with me," Sink said. "It's a big accomplishment."
It became apparent early that the record was in jeopardy. Sink recorded her first 15 outs by strikeout, a soft sixth-inning pop-up the first time she needed her fielders. She took a no-hitter into the sixth and allowed two hits. She was overpowering, blowing fastball after fastball by the Trailblazers (23-11-1). Sixteen of her strikeouts were swinging.
"I tallied it up there, and when we got done with the game and I'm like hold on a second — 20? Out of 21 outs?" Centennial coach Mike Livreri said. "You don't expect 20 strikeouts; nobody would ever expect that."
But it took until the fourth for Sink to feel comfortable. After Durango's Trinity Valentine matched Sink the first time through the order, Seanna Simpson led off the Centennial fourth with a double, and the Bulldogs (21-14) scored three runs without the ball leaving the infield.
The floodgates opened in the fifth for six Centennial runs, and Jillian Bartley's two-run homer in the seventh punctuated the scoring.
Then all eyes turned to Sink for the bottom of the seventh. She looked human for a moment after allowing a single and a walk, but responded with two strikeouts for the state record.
"I wasn't trying to strike them out," Sink said. "I was just pitching. I was focusing on throwing it over the plate.
"It was fun."
Centennial will play at Palo Verde (28-7) on Wednesday. Durango will host Bishop Gorman (13-22).
Sink's outing put her fourth on the state's all-time list for strikeouts in a game. The three efforts better than her's came in extra innings.
She broke the seven-inning record of 19 that was held by three pitchers, including former Bulldog Shannon Crisp in 2004.
Faith Lutheran 11, Sierra Vista 0 — At Sierra Vista, Sophie Foster tossed a five-inning no-hitter to lead the Crusaders by the Southwest League champions.
Foster struck out seven and walked one. She faced only one batter more than the minimum.
Clara Heislen went 2-for-3 with a home run and three RBIs for Faith Lutheran (15-13). Audrey Kirsch was 2-for-3 with a triple and three runs, and Hailey Hines, Grace Hornsby and Kelsey Howryla each added two hits for the Crusaders, who scored in every inning.
Faith Lutheran will visitin Shadow Ridge (24-9) on Wednesday.
Sierra Vista (25-8) will host Desert Oasis (25-8) in an elimination game at 4 p.m. Wednesday.
Shadow Ridge 15, Desert Oasis 3 — At Shadow Ridge, Alyssa Stanley was 2-for-3 with a grand slam and five RBIs to power the Mustangs by the Diamondbacks in six innings.
Alisha Schultz was 3-for-5 with a triple and three runs, and Raelyn Kendall went 3-for-4 with two RBIs for Shadow Ridge, which had six players with at least two hits. Shea Clements was 2-for-3 with a double, four runs and two RBIs for Shadow Ridge.
Meaghan McInerney was 3-for-3 with a double and an RBI for Desert Oasis.
Palo Verde 10, Bishop Gorman 0 — At Palo Verde, Kendall Hopkins tossed a five-inning three-hitter and struck out seven to lead the Panthers by the Gaels.
Jessica Hopkins went 2-for-3 with a double and three RBIs for Palo Verde. Makenna Martin was 2-for-2 with a double, two runs and two RBIs, and Grace Chavez was 2-for-3 with two RBIs for the Panthers.
Sam Wade was 2-for-3 with a double and two runs, and Makall Whetten went 2-for-3 with a run and an RBI for Palo Verde.
Monique Passalacqua was 1-for-2 with a double for Gorman.
Box scores:
Faith Lutheran 11, Sierra Vista 0
Palo Verde 10, Bishop Gorman 0
Shadow Ridge 15, Desert Oasis 3