SUNSET SOFTBALL: Gaels rally from five-run deficit, slip by Mustangs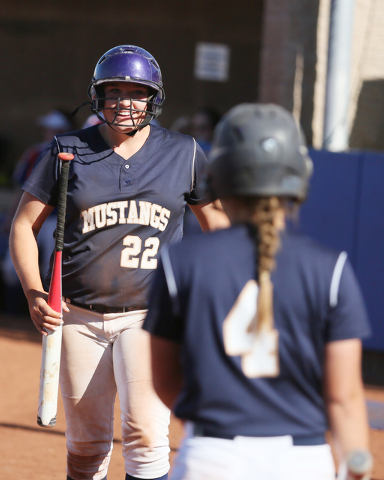 It was far from conventional wisdom.
With his team trailing by five runs and two runners on with one out in the bottom of the fourth inning Tuesday, Bishop Gorman coach Kevin Smith asked his cleanup hitter to bunt.
And it worked like a charm.
Megan Coyle's bunt single and a subsequent throwing error opened the door to a five-run fourth inning for the Gaels, who rallied to hold off visiting Shadow Ridge, 7-6 in the opening round of the Sunset Region softball tournament.
Gorman (21-7) will visit Palo Verde (27-6) at 3:30 p.m. Wednesday.
"She's an awesome bunter, and yes, she's our cleanup hitter," Smith said. "It crossed my mind to allow her to swing, we hadn't really tested a lot of their infielders yet, so I went ahead and did it. It was a spark."
Coyle's bunt spun like a top about 10 feet up the third-base line. She beat the throw to first, which got away, allowing Sierra Dias to score from second and Shelby Estocado to move to third. When the Mustangs weren't paying attention, as they tried to get the ball back to the pitcher's circle, Estocado raced home to make it 5-2.
Jasmine Gibson's grounder made it 5-3, and a bases-loaded single by Casey Nelson tied the game.
It was a huge turnaround for Gorman, which had eight strikeouts in its first 10 at-bats.
"They all made an adjustment and it was something we talked about before they went in for their second at-bat," Smith said. "We did something different. I can't tell you what I told them to do, but just make an adjustment."
The Mustangs got a two-out RBI hit from Maraya Lindo in the top of the fifth to take a 6-5 lead, but Gorman strung together two-out singles by Estocado, Coyle and Gibson in the bottom of the inning to grab a 7-6 lead.
Gorman pitcher Dayton Yingling took care of the rest, retiring the final seven hitters in order, including striking out the side (all looking) in the seventh inning. Yingling allowed seven hits and struck out eight.
"She's done it all year," Smith said. "I really liked her mindset. She gave up five runs in four innings, there were errors behind her, and she still stayed focused. She really picked it up at the end."
Coyle finished 3-for-3 with an RBI for the Gaels.
Lindo was 2-for-3 with an RBI, and Kate Dennis went 2-for-4 with a double for Shadow Ridge (16-7), which will host Legacy (15-11) in an elimination game at 3:30 p.m. Wednesday.
Palo Verde 10, Legacy 0 — At Palo Verde, Rachel Williams tossed a five-inning two-hitter, striking out nine and walking four to lead the Panthers by the Longhorns.
Melissa Lacro was 2-for-2 with a home run and two RBIs, and Williams went 2-for-2 for Palo Verde. Kiley Harrison was 2-for-4 for the Panthers.
Arbor View 14, Cimarron-Memorial 5 — At Arbor View, Letty Valenzuela-Rodriguez was 4-for-4 with a home run and four RBIs as the Aggies (15-10-1) routed the Spartans (15-15).
Kayla Stephens was 3-for-4 with a triple, two doubles and three RBIs for the Aggies, who will visit Centennial (28-6) at 3:30 p.m. Wednesday. Brittany Henricksen was 3-for-4 with an RBI, and Kellie Anderson was 2-for-4 with two RBIs for Arbor View.
Cimarron will host Sierra Vista (6-13) in an elimination game Wednesday.
Centennial 5, Sierra Vista 0 — At Centennial, Maddie Jones spun a two-hitter and struck out three to lead the Bulldogs by the Mountain Lions.
Heather Bowen was 2-for-3 with a three-run home run for Centennial, and teammate Lauren Stroman was 2-for-2.
Kalei Watkins allowed just six hits and struck out 10 for Sierra Vista.
Box scores:
Arbor View 14, Cimarron-Memorial 5
Bishop Gorman 7, Shadow Ridge 6