State boys soccer: Coronado avenges loss to claim 5A title
Updated November 11, 2023 - 6:56 pm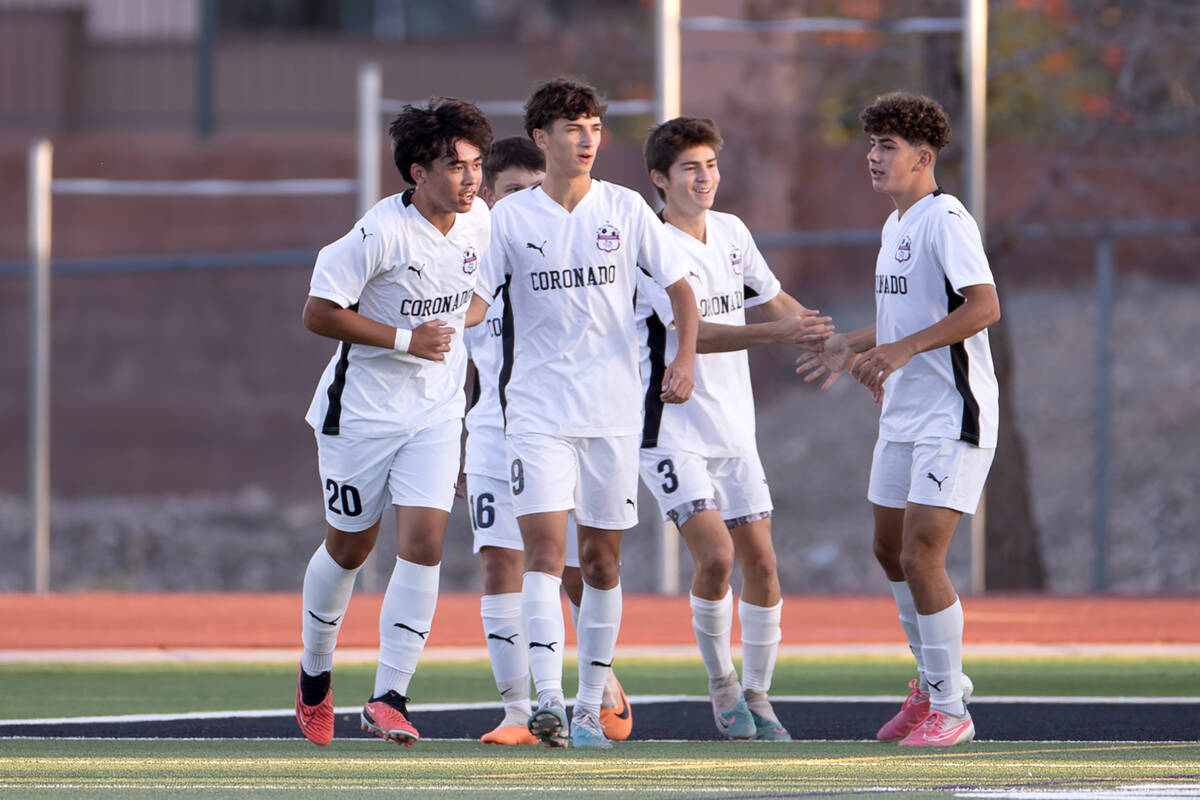 Saturday not only represented a shot at a state championship for the Coronado boys soccer team, but also a chance for payback.
Despite losing to Palo Verde in the Southern League final a week earlier, the Cougars dominated the state title game and came out with a 2-0 victory over the Panthers at Carson High in Carson City.
Austin Kiernan and Gavin Pierce scored 10 minutes apart midway through the first half to give Coronado (19-2-4), the South's No. 2 seed, all the goals it would need to turn the tables when it mattered most.
"Our team was amazing today," Cougars coach Dustin Barton said. "They knew in their hearts they had what it would take. There was no way they were going to come out asleep in the state championship game."
That's what happened in the Southern final, when Palo Verde stunned Coronado with three quick first-half goals and held on for a 4-3 win. The Panthers (18-4-4) tried to repeat that feat Saturday, but with no success.
"They came out hard," Barton said. "We knew they were going to do that. But we just wanted to play our game, which we didn't do last week."
Logan Pierce earned the shutout for Coronado, and Dylan Flores and Connor Morgenthal each had an assist.
— No. 1D Sierra Vista 2, No. 2D Bonanza 1: At Coronado, Lazzar Ramos scored the game-winner midway through the second half on a breakaway from 18 yards out to lift the Mountain Lions (18-2-1) to the 4A state championship game over the Bengals (15-5).
Leo Sanchez scored to give Sierra Vista an early lead before Bonanza's Jose Quintero answered late in the first half to make it 1-1 at halftime.
"Scoring that first goal was big, but we also got some great play from our midfield and back line," Sierra Vista coach Ryan Quinn said.
It was the first state championship for the Mountain Lions, which did not come as a surprise to Quinn.
"The boys on this team were just locked in from the get-go," said Quinn, whose team also won its first regional championship last week. "They had a goal, and they stuck with it."
— No. 1N South Tahoe 2, No. 1S SLAM Academy 1: At Cristo Rey, the Vikings (23-2) edged the Bulls (19-2) to claim the 3A state title.
Contact Jeff Wollard at jwollard@reviewjournal.com.