State football roundup: Legacy wins 5A Division III title
Updated November 19, 2023 - 12:30 am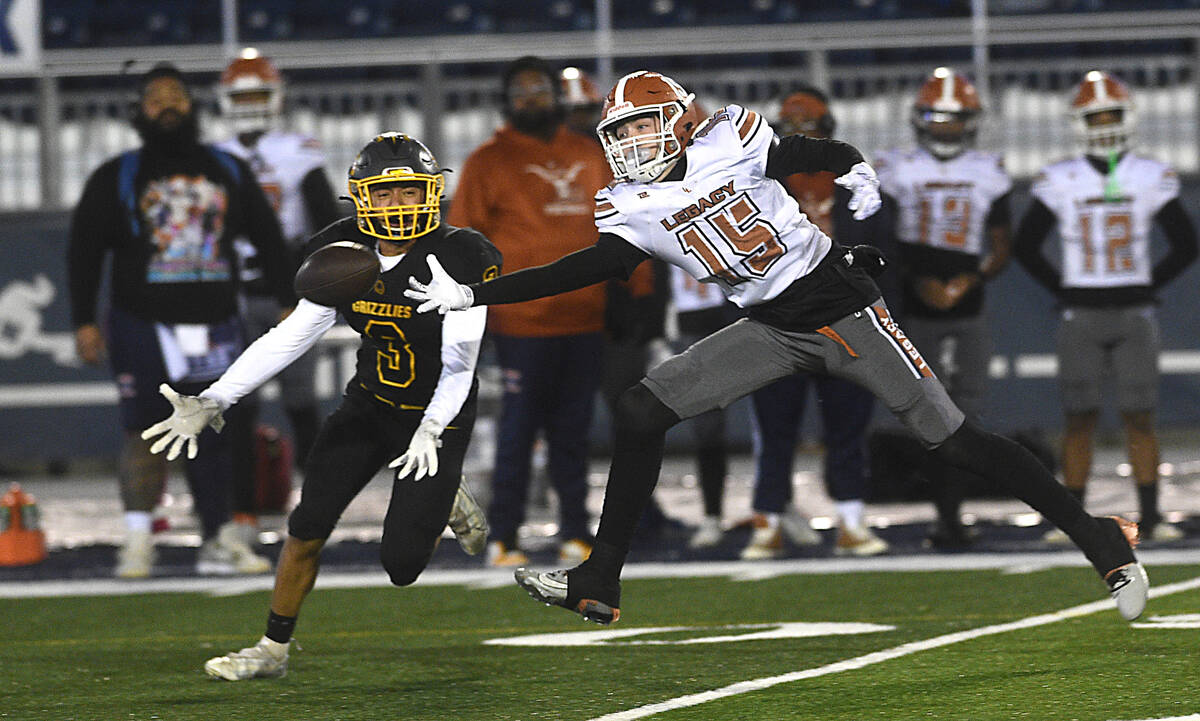 Legacy quarterback Aidan Crawford's lone mistake in Saturday's Class 5A Division III state championship game cost the Longhorns the lead.
A fourth-quarter interception by Crawford was turned into a touchdown by Galena to tie the game and swing the momentum to the Grizzlies' favor.
With under two minutes left, Crawford made up for his interception — connecting with Keandre Ramsey on a 57-yard touchdown pass to give the Longhorns the lead with 1:27 left.
Legacy held on to claim its first football state title, defeating Galena 21-14 at UNR's Mackay Stadium.
Crawford completed 13 of 20 passes for 201 yards and three touchdowns. Running back Phoenix Jennings rushed for 124 yards, and Ramsey finished with 112 receiving yards on three catches and two touchdowns for Legacy (8-4).
Galena (7-6) still had a chance to respond after Crawford's touchdown, as Joseph Czyz broke off a 44-yard run to get into Legacy territory.
Legacy came up with a sack of Galena quarterback Colson Kermode with under 30 seconds left, and Kermode's Hail Mary on the game's final play fell incomplete. The Longhorns' defense came up with four second-half sacks.
Holding an 8-7 halftime lead, Legacy extended its lead on the first drive of the second half when Crawford completed a 31-yard touchdown pass to Ramsey on fourth-and-10. The Longhorns were unsuccessful on their 2-point conversion attempt and held a 14-7 lead.
The Grizzlies received a much-needed spark from their defense in the fourth quarter when Erick Rodriguez-Castro intercepted Crawford. Four plays later, Galena scored on a 30-yard touchdown pass from Kermode to Peter Anderson.
Legacy's defense forced Galena into three-and-outs on the Grizzlies' first two drives while managing just six yards of offense. But the Longhorns' offense struggled to move the ball and turned the ball over downs on both of their opening drives.
First, after driving to Galena's 32-yard line, Crawford's fourth-and-7 pass fell incomplete. The Longhorns attempted their own version of the Philadelphia Eagles' "Brotherly Shove" on fourth-and-1 at their 36-yard, line but Crawford was stuffed at the line of scrimmage.
Galena struck first early in the second quarter on a 27-yard touchdown pass from Kermode to Czyz to give the Grizzlies a 7-0 lead.
After going three-and-out on its ensuing offensive possession, Legacy's defense forced another Galena three-and-out.
With the rain beginning to intensify in the second quarter, Legacy rode Jennings and methodically moved down the field, running the ball after starting at its 5-yard line.
Crawford capped off a 16-play, 95-yard drive with a 10-yard touchdown pass to Jayson Schmidt, and a Jennings run on the 2-point conversion attempt gave the Longhorns an 8-7 halftime lead.
Jennings rushed for 91 yards on 19 first-half carries for Legacy. Galena managed just 51 yards of total offense at the break.
■ Truckee 35, SLAM Academy 14: At UNR, Truckee running back Joe Birnbaum rushed for three-second quarter-touchdowns as the Wolverines (13-0) defeated the Bulls (10-2) to win their second consecutive 3A state title.
After a scoreless first quarter, SLAM struck first on a 13-yard touchdown pass from Alaijah Young to Dylan Tondreau. Birnbaum scored on runs of 21, 76 and 3 yards to give Truckee a 21-7 halftime lead.
Trailing 28-7 late in the third quarter, Young connected with Chysten Tabangcura on a 5-yard touchdown pass to cut into the deficit. Young was intercepted early in the fourth quarter, which stalled the SLAM comeback attempt.
Truckee quarterback Jace Estabrook added touchdown passes of 10 and 7 yards in the second half. It's the 14th state title for Truckee.
■ Eureka 34, Pahranagat Valley 32: At UNR, Eureka quarterback Anthony Minoletti threw a 3-yard touchdown pass early in the fourth quarter, and the Vandals (11-0) converted the 2-point conversion to win the 1A state title over Pahranagat Valley (8-3).
Eureka recovered the ensuing onside kick to control the clock in the fourth. The Vandals came up with a sack of Pahranagat Valley quarterback Jesse Stewart on fourth-and-15 with 2:50 left to secure the win. It's the fourth state title for Eureka and first since 1999.
Contact Alex Wright at awright@reviewjournal.com. Follow @AlexWright1028 on X.