Sunrise Region: Green Valley boys, Coronado girls claim titles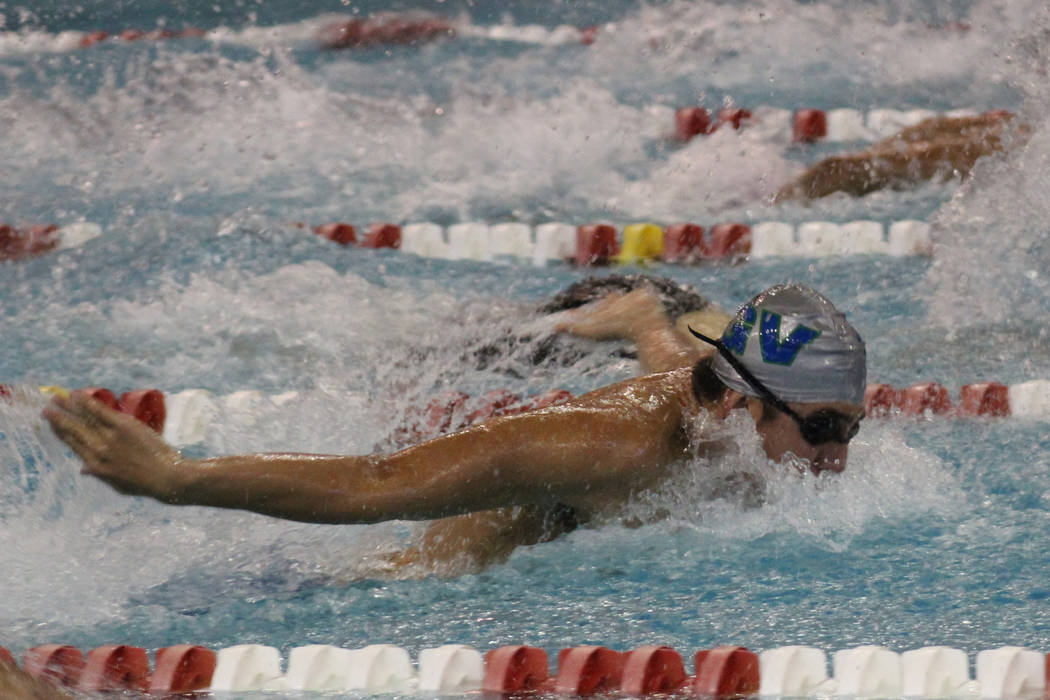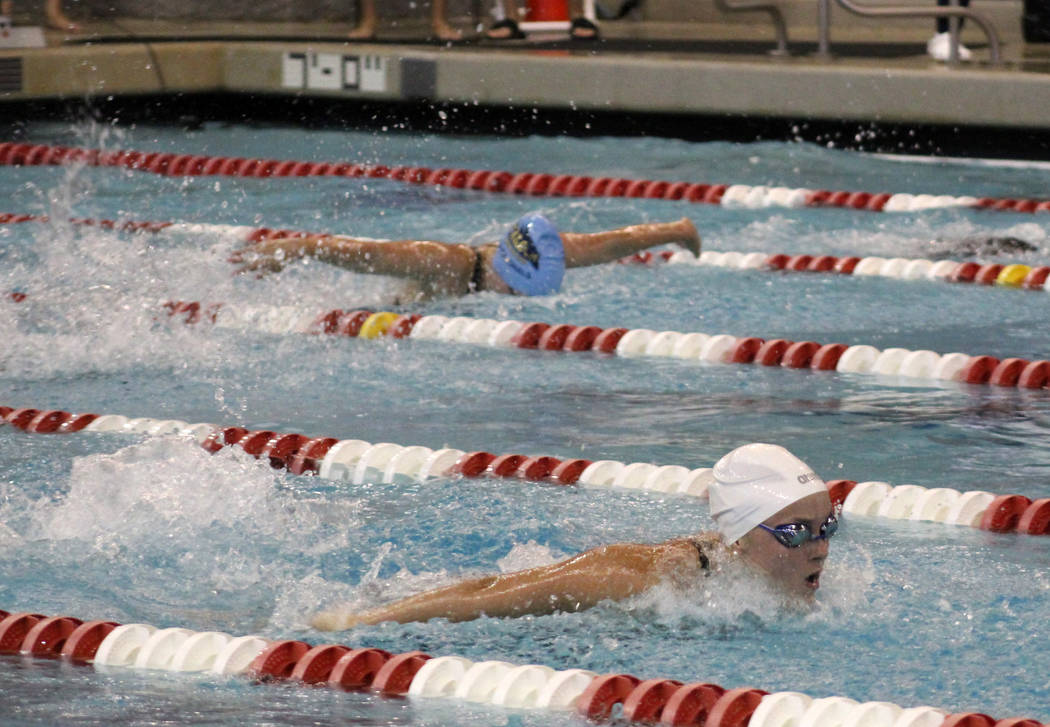 The team championships for both boys and girls at Friday's Class 4A Sunrise Regional swimming championships came down to Coronado and Green Valley and the final event of the day — the 400-yard freestyle relay.
While Green Valley's teams won both the boys and girls races, the teams ended up splitting the team trophies
In the girls' event, Coronado's second-place finish behind the Gators gave the Cougars enough points to hold on to the team title.
In the boys race, Green Valley and Coronado also finished one-two, but the win was just enough for Green Valley to pull out the team championship by 11 points, 494-483.
Coronado coach Dave Stump said his girls team's depth was a big key in holding off the Gators. Coronado had 508 points and Green Valley finished with 403
"We were really pleased with who we got in from prelims on Wednesday. So that helps us," Stump said. "When you have four people scoring in every event, it's going to work out. Our relays really stepped up and I was really proud of that"
Coronado's Pilar Cohen won two individual event with convincing victories in the 50 freestyle (23.97 seconds) and 100 freestyle (52.04). She also anchored the 400 freestyle relay team to second in the race that clinched first for the team.
"I have been training really hard I am really happy with my results," Cohen said. "This is my first time here so it's been a new experience. Now I am nervous about state."
Stump said Cohen's nerves shouldn't a problem at state, as she was also nervous at Wednesday's prelim meet.
"It was funny watching her on Wednesday at prelims. She was saying 'I'm so scared, I'm so scared,'" Stump said. "But I just told her 'you have done this before.' And she came through for us. She just works really, really hard and she has a tremendous amount of talent. She knows what she's doing when she gets in the water."
Liz Clinch led the way for runner-up Green Valley. She won by four seconds in the 100 butterfly with a time of 55.92, and won the 100 yard backstroke in 57.15.
She also swam the first leg on the Gators victorious 400 freestyle relay (3:36.77), and did the same on the first-place 200 yard medley relay squad, which finished in 1:48.25.
Valerie Kitchens also won the 200 individual medley in 2:06.12 for the Gators.
For Green Valley's boys, about the only thing that went wrong for Andrew Navarro in the meet was that he managed to split his trunks as he anchored the 400 freestyle relay team to the winning time of 3:17.34 to clinch the team championship.
"I felt something weird. I kind of felt a breeze," Navarro said.
Navarro left opponents feeling a breeze as he swam by during his races, as he also won the 200 freestyle (1:42.76), the 100 yard butterfly (51.82), and was on the Gators first-place 200 medley relay team.
"We wanted to win this, and we did it," Nararro said. "On the relays, as a team we were together. Honestly I was really happy because going in; I was really hard on my teammates."
Other first-place finishers for Green Valley were Hunter Mecham, who took first in the 50 yard freestyle (21.85), Mason Romantic who won the 500 freestyle (4:40.9) and Matas Maksimaitis won the 100 backstroke (53.03).
Spencer Wilkinson and Jared Miao led second-place Coronado by finishing one-two in the 100 breaststroke. The Cougars also won the 200 Freestyle relay with a time if 1:27.07.
"I know they are upset falling 11 points short," Stump said of his boys team. "But we didn't expect to be this close in this meet at the beginning of the season. I think Green Valley was the clear-cut favorite. But our guys really stepped up today and swam better than we all expected. "
Other boys winners included Aidan White of Valley, who pulled out a victory in the 200 yard individual medley (1:58.05), and Alexander Johannessen placed first for the Vikings in the 100 freestyle (47.62).
For the girls, Astrid Villeda of Rancho placed first in the 200 yard freestyle (1:54.0) and the 500 freestyle (5:00.42).
Foothill's Faith Brazil won the 100 breaststroke (1:04.98), and Liberty won the 200 freestyle relay.
Results: