3A TENNIS: The Meadows boys capture first region title
October 5, 2016 - 10:41 pm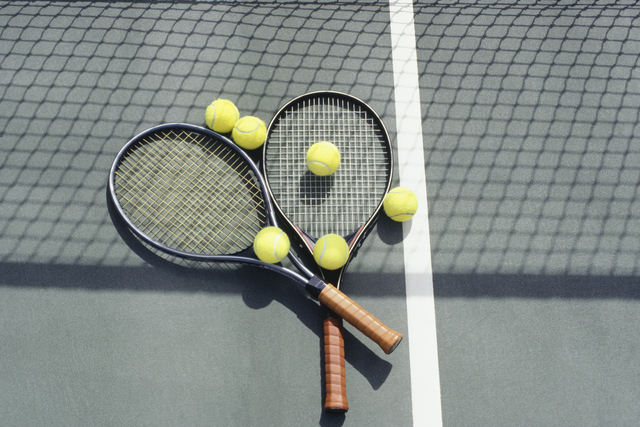 The Meadows no longer is the bridesmaid.
After finishing in second place in three of the past four Division I-A Southern Region boys tennis tournaments, the Mustangs finally broke through Wednesday in the newly-established Class 3A.
Nathaniel van der Post went 3-0 in singles to help The Meadows capture its first region title with an 11-7 win over Boulder City in the Southern Region championship at Darling Tennis Center.
"It's exciting. It's huge, honestly," van der Post said. "It was such a team effort. We came in here not having played difficult matches (this season). We knew we had to step our game up. So in practice, everyday, we'd go in intense, focused and expecting to play a difficult team. All the boys went out there and gave 100 percent."
Ethan Lee went 2-1 in singles for The Meadows (16-1), as did the doubles teams of Edward Rastgoo and Justin Finseth, and Brian Capp and Ryan Chang.
"This is just great. We've never won it, but we've been in the final multiple times," The Meadows coach Frideric Prandecki said. "It's great to finally be No. 1. But we know Boulder City is going to be hungry and they're going to be coming for us later."
Van der Post set the tone for the Mustangs, but it wasn't always smooth. He lost his first two games of the first round against Boulder City's top singles player, Andre Pappas, but bounced back to win 6-3.
Van der Post's strong day proved to be critical, as he was the only player from either team to finish 3-0 on the day.
"First two games, I was actually really nervous," van der Post said. "I usually don't get nervous, but I think regional championship mode (changes) that. …
"I welcome the pressure. I really do. I look forward to it because I know I can contribute and if I can go out there and stay motivated and stay hungry, that'll go right down to the rest of the kids and set an example for the freshmen who are just coming into high school tennis."
Prandecki appreciated his senior's efforts.
"We needed him," Prandecki said. "He was losing as soon as the first round started and we were a little worried. We knew we needed him to win and for him to go 3-0. Recently, he's been the pillar of our team, and it's good to have one guy go out there and go 3-0. You feel a little bit better."
Rastgood and Finseth, and Capp and Chang each won a tiebreaker in the third round to help secure the victory.
"Every match came down to the wire," Prandecki said. "In the third round, it came down to two tiebreakers, which helped us clinch the match. If we lose one of those tiebreakers or we lose two, next thing you know, everything's close and potentially we're going to tiebreakers or we're losing the match."
Pappas was 2-1 in singles to lead Boulder City (12-1).
The teams of Tanner Montgomery and Karson Bailey, and Preston Jorgensen and Boen Huxford each went 2-1 in doubles for the Eagles.
GIRLS
Camaraderie can do wonders for a team.
The Meadows, behind its tight-knit roster and dominant singles play, once again proved that Wednesday afternoon.
Anuja Daulat and Abbigail Klein each went 3-0 in singles, and teammate Olivia Waysack finished 2-0 in singles as the defending state champion Mustangs cruised to a 16-2 win over Desert Pines in the Class 3A Southern Region championship at Darling Tennis Center.
"I've been playing with Abbigail since I was like 10 and Olivia for the last three or four years so we're all good friends and we're having lots of fun," Daulat said. "We get a lot of good practice because we're all at that high level."
The Meadows, which went9-0 in singles, captured its second consecutive region title and third in the last four seasons.
"The first one was definitely the most exciting, but it's still exciting to win this year, too," Daulat said. "I'm excited to see what happens in Reno. It's going to be a good way to close out my senior year."
Sophie Isaacs and Grace Nemec went 3-0 in doubles for The Meadows (15-2).
"We're feeling good," Prandecki said. "We have eight seniors, so it's going to be a tough blow after this year. We've worked hard. I have known some of these girls since they were 10 years old — little babies and now they're getting older and going to college. It's definitely nice to see the dividends paying off."
The doubles team of Shelly Alvarado and Yazaret Arredondo went 2-1 for Desert Pines (16-5).
Boys box score:
The Meadows 11, Boulder City 7
Girls box score:
The Meadows 16, Desert Pines 2