Palo Verde's Michael Andre rolls to 4A singles title
October 20, 2018 - 5:28 pm
Updated October 20, 2018 - 5:36 pm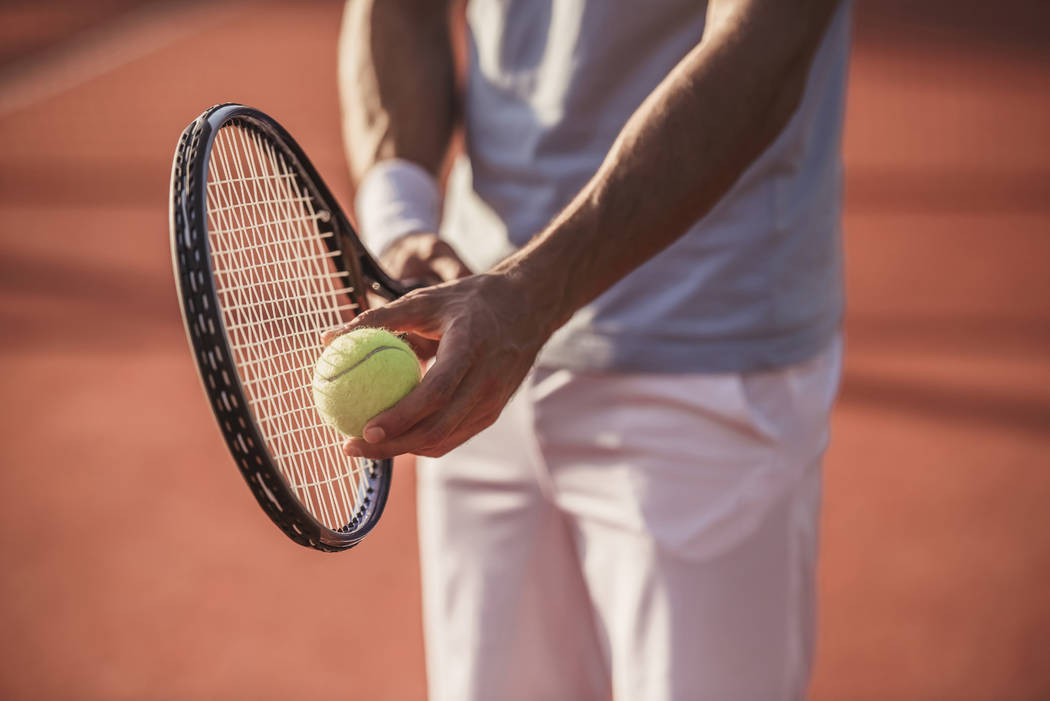 RENO — Sitting on match point, Palo Verde junior Michael Andre calmly sized up a lob coming from the other side of the court, courtesy of Green Valley's Andre Millet. Andre noted Millet's position on the baseline, adjusted the angle of his feet, and rifled a winner down the left sideline.
It was the same calm precision he used throughout, rolling to a 6-0, 6-0 win to capture the boys singles championship in his first year of high school tennis.
Andre, who is just beginning the process of sorting through his college options, is a high-level national player, but hadn't played on his high school team until deciding to give it a try this season.
"To come and get it the first try is definitely the way to go for me," Andre said. "I've definitely had bigger moments than winning this match, but it's definitely a great accomplishment."
Andre said he had an idea even before the season that he could be a state champion.
"I know all the guys around town and I knew the ones who were playing high school tennis and the ones that weren't, so knowing who was out there kind of gave me confidence coming into this," he said.
Andre said whether he plays in high school again next year depends on his possible college commitment, but he has just recently began talking with college coaches and hasn't taken any visits yet,
"But I'm definitely leaning toward playing again," he said. "It was a lot more fun than I thought."
In the third place match, Reno's Ben Vincze defeated Zeke Brooke of Damonte Ranch, 6-2, 6-0.
The Class 4A doubles final featured a rematch of the Mountain Region final.
And after losing the region championship to the Palo Verde duo of Axel Botticelli and Jack Kostrinsky, Blake and Chase Kasday of Bonanza knew they needed to do some things differently if they earned a rematch.
In the match of the day, they did just that, winning the state doubles championship with a 7-6, 7-6 win, taking the tiebreakers 8-6 and 7-5.
"We knew that we couldn't do the same thing twice, because they'd just take us down again," Chase Kasday said.
Blake Kasday said they had lost their regional match because of too many mistakes, and he said the biggest adjustment was mental.
"We spoke to our coach and she said that we should come in not trying to play our best, but to play at a B level, so we were relaxed and not trying to play amazing," he said. "Definitely our best match of the whole season today."
Mark Bernales and Simran Shah of Clark took third place with a 6-1, 6-2 win over Max Wolfson and Oliver Filipovic of Bishop Gorman.
Class 3A
Western's Rua Elmore earned a 6-3, 6-4 win over Boulder City's Connor Mikkelson for the 3A boys singles title at Tahoe Donner Tennis Center in Truckee, California. Elmore finished second at state in 2017.
In doubles, Boulder City's Boen Huxford and Preston Jorgensen defeated teammates Ty Pendleton and Karson Bailey 6-2, 6-0 in the title match.