Pasimio dominance nothing new at Clark
September 14, 2016 - 10:08 pm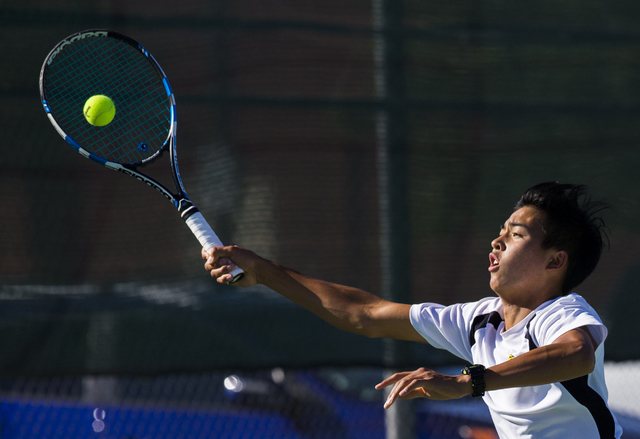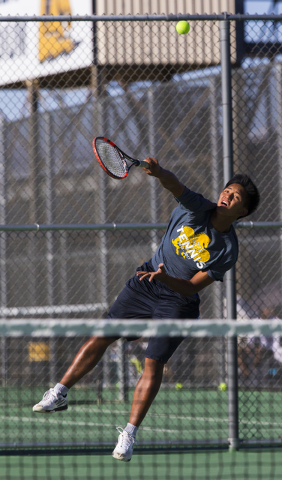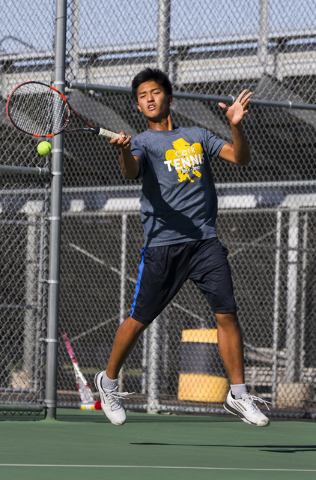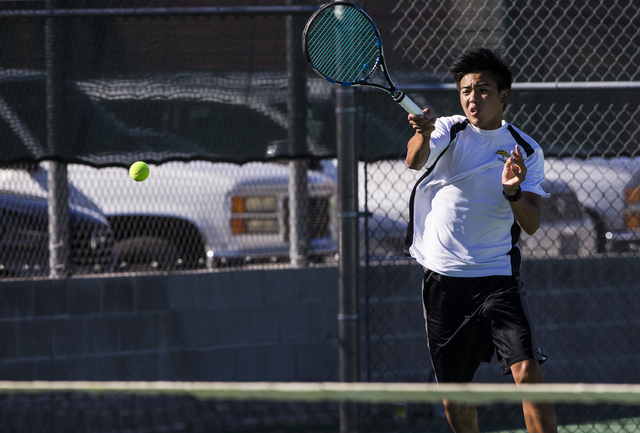 When Michael Pasimio was 7, he was playing a one-set tennis match with his mother, Miriam. They went to a tiebreaker, tied 6-6.
Michael hit a shot that was just out, and Miriam called it to win the match. Michael was furious.
Michael's father, Edmund, looked at his wife in disbelief.
"I looked at her and asked why didn't you just give him the point," Edmund said. "She goes, 'No, this will probably be the last time I'll beat him,' and sure enough it was the last time she beat him."
Michael seems to have recovered from that defeat, winning the past two singles state championships at Clark High School, where he became the fourth tennis star at the school. His brother Marcus won a doubles title last year, following their alumni siblings: sister Madeline and brother Miko, who plays at Seattle University.
"They all have the same drive," Clark coach Clarence Chung said. "They know who they can be, and they are determined to beat people who are like them or better."
Chung said coaching the Pasimios is easy. He never has to teach them strokes or basic tennis because they're so experienced. Instead, they talk strategy and how to beat the other top players in the state.
One of those strategies is splitting up Marcus and Michael in team play. During the season, when wins are nearly expected from the Pasimio brothers, one will play singles and the other doubles to rack up as many team points as possible.
It's worked at the state tournaments, too. Clark has won the past four state team I-A titles, three with Marcus, now a senior, and two with Michael, a junior, on the team. In addition to Michael's hardware, Marcus has the past two doubles titles with two different partners.
The brothers are, predictably, competitive. They play each other about once a week, and while they don't know the exact record, they keep a running tally.
"I'm two-up right now," Marcus said with a laugh. "I'm not going to forget it."
The competition is what helped foster such a successful family.
"It's good to have someone to practice with and someone to compete with," Michael said. "We never fall behind. I'll see Miko or Marcus getting better, and I'll think I have to get better, too."
In Chung's eyes, both have the talent to follow in Miko's footsteps and play college tennis. Madeline might have had the ability, but was accepted to an advanced dentistry program at the University of the Pacific and did not have time for the commitment of college athletics.
Right now, Marcus and Michael are focused on the state tournament. Whether it's singles or doubles for one or both of them, it's hard to consider them as anything but favorites.
And with names such as Marcus Valiant Pasimio and Michael Vincent Pasimio, it's no surprise they turned into great athletes.
"It's very coincidental that the three initials are MVP," Chung said. "It's just unusual."
Justin Emerson can be reached at jemerson@reviewjournal.com. Follow on Twitter: @J15Emerson