Roundup: Basic takes care of Tech
August 29, 2018 - 8:31 pm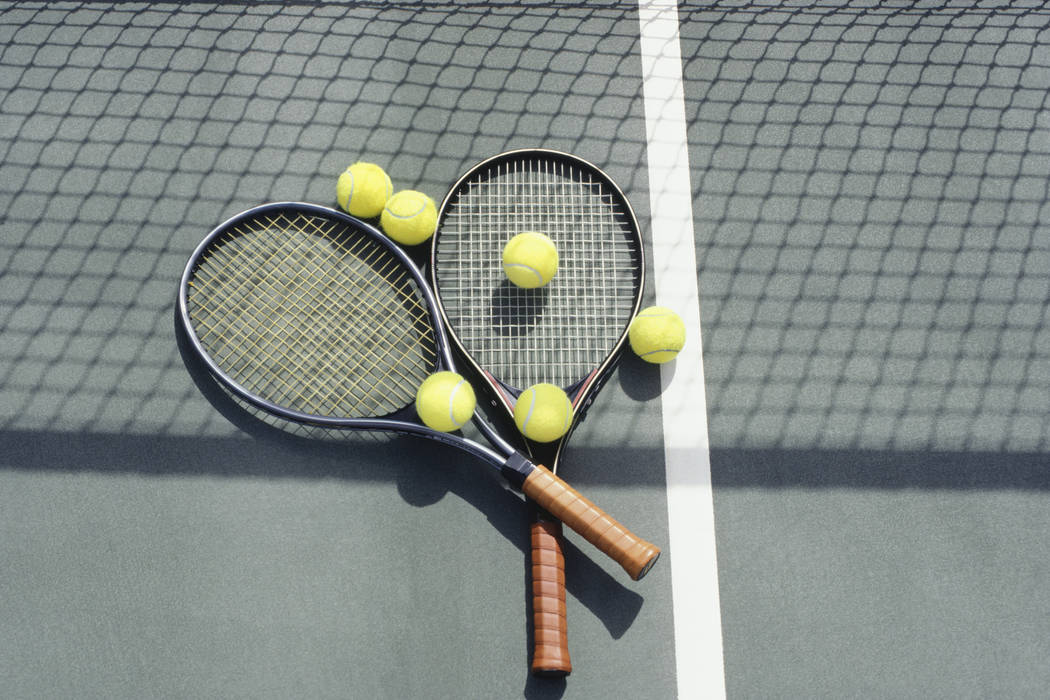 Shad Gettman and Andrew Spencer 3-0 in doubles to lift Basic's boys tennis team to a 12-6 home victory over Tech on Wednesday.
J.D. Stellavato went 2-0 in singles for Basic.
Valley 12, Chaparral 5 — At Chaparral, Romley Augustin was 3-0 in singles to lead the Vikings over the Cowboys.
Adolfo Salazar-Ramirez and Allen Go went 2-0 in doubles for Valley.
Liberty 12, Foothill 5 — At Foothill, a pair of doubles teams went 3-0 to lead the Patriots over the Falcons.
The teams of Joshua Gordon and Brandon Brandonisio, and Tim Gordon and Daniel Migliore each went 3-0 for Liberty.
Stefan Sretenovic was 3-0 in singles for Foothill.
Desert Oasis 12, Silverado 6 — At Silverado, Tyler Parlade and Eliseo Wao-Udin went 3-0 in singles as the Diamondbacks topped the Skyhawks.
Josh Sharman and Ignacio Relanzon combined for a 3-0 doubles mark for Desert Oasis.
Boulder City 11, Virgin Valley 7 — At Boulder City, Boen Huxford and Preston Jorgenson teamed to go 2-0 in doubles as Eagles defeated the Bulldogs.
Breton Erlanger went 2-0 in singles for Boulder City.
Spring Valley 14, Sierra Vista 4 — At Sierra Vista, a trio of double teams helped the Grizzlies to win over the Mountain Lions.
The teams Zachary Billot and Tanakrit Richie, Spencer Clingio and Zach Nagel, and Joshua Ferguson and Shawn Morton each went 3-0 0.
Aleksandar Bolta went 3-0 for Spring Valley.
Clark 13, Green Valley 5 — At Green Valley, Simran Shah and Samuel Vansomephone went 3-0 in doubles to help the Chargers past the Gators.
Ameya Singh and Mathew Spagnolo also went 3-0 in doubles for Clark.
Andre Millett was 3-0 in singles for Green Valley.
Faith Lutheran 13, Las Vegas 5 — At Las Vegas High, the Crusaders rolled past the Wildcats.
Las Vegas' doubles teams of Nathan Freimuth and Ashton Barney, and Leander Gates and Fernando Carmona each went 2-0.
Bishop Gorman 17, Durango 1 — At Gorman, Logan Poniewaz and Frankie Ward went 2-0 in doubles to lead the Gaels over the Trailblazers.
Brandon Sherwood was 2-0 in singles for the Gaels.
Rancho 18, Canyon Springs 0 — At Canyon Springs, the double teams of William Ballin and Maxwell Hosafros, and Justin Gutke and Jose Lopez anchored Rancho's sweep.
Bonanza 17, Shadow Ridge 1 — At Shadow Ridge, Mark Thuet, Jonathan Lai, and Stone Perry each went 3-0 in singles play as the Bengals easily dispatched the Mustangs.
The doubles teams of Marshall Nelson and Manny Gegen, and Andrew Oh and Brandon McGuire each went 3-0 for Bonanza.
Adelson School 12, Western 0 — At Adelson School, the Lions defeated the Warriors by forfeit.
The Meadows 18, Del Sol 0 — At Del Sol, Payton Buchmiller and Veda Ohja each went 2-0 in singles play as the Mustangs blanked the Dragons.
Moapa Valley 12, Sunrise Mountain 0 — At Overton, the Pirates beat the Miners by forfeit.
Box Scores:
Boulder City 11, Virgin Valley 7
Faith Lutheran 13, Las Vegas 5
Spring Valley 14, Sierra Vista 4