SUNSET REGION: Surmacz bounces back, helps Palo Verde boys to championship
October 7, 2011 - 10:50 pm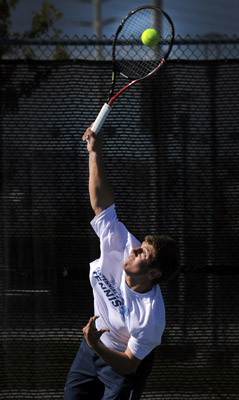 Zack Surmacz readily admits he's had trouble finishing off opponents.
The Palo Verde sophomore has the ability to grab a sizeable lead in a tennis match, but sometimes struggles to complete sets.
In a pivotal set against Centennial's Travis Beck on Friday, Surmacz raced to a 3-0 lead — and promptly lost the next four games.
But Surmacz recovered, holding serve twice and breaking once to rally for a 6-4 win in singles that helped propel the Panthers to an 11-7 victory over Centennial in the Sunset Region final at Darling Tennis Center.
Palo Verde (13-0) advances to the state semifinals on Oct. 20. Centennial (10-2) will meet Green Valley in a state play-in match on Oct. 17.
"That's my weakness, being able to close out the match," said Surmacz, who had a 5-0 lead in one of his sets against Bishop Gorman on Thursday before holding on for a 6-4 win. "That just came like a flashback, that this was just like yesterday. At 3-4, I just really stayed focused and stuck to the game plan."
It was a huge win for Surmacz against Centennial's No. 1 singles player and allowed the Panthers to take an 8-4 lead and momentum into the final round.
"That was a tide turner," Palo Verde coach Zach Brandt said. "Everybody got to see that finish in the second round, so they were motivated to wrap up the third round. That's their best guy, and Zack beat him."
Surmacz finished 2-1 in singles, and Palo Verde showed its depth by capturing seven of the nine doubles matches.
"We're balanced, but we're really young," Brandt said. "We didn't really know what to expect. Everyone has stepped up and played big."
Tanner Berkabile and Pascal Nilsson led the way in doubles, going 3-0. Ozzy Abraham and Bailey Swainston were 2-0 in doubles.
Lucas Lee was 3-0, and Beck went 2-1 in singles for Centennial. Brandon Fish and Greg Madsen were 2-1 in doubles.
GIRLS
Bishop Gorman's bid for a fifth straight Sunset girls title was hijacked by The Meadows last season.
On Thursday, the Gaels got their revenge by beating the Mustangs in a semifinal.
On Friday, the Gaels got their title back, getting strong play from two freshmen in singles and a veteran presence in doubles to down Palo Verde, 12-6 in the championship at The Meadows.
Gorman (12-1) advances to the state semifinals on Oct. 20. Palo Verde (12-1) will meet Liberty in a play-in match on Oct. 17.
"It's nice. We knew we had some good players, and we knew we had a chance," Gorman coach Gordon Hammond said. "We have a couple new freshmen who can play, and we brought back some experience."
Hammond also made one shrewd move that paid off in a big way.
Sarah Bessen, normally the team's top singles player, shifted to doubles and teamed with Erika Silvestri to go 3-0.
Hammond made the move to strengthen his doubles, basically conceding three sets to Palo Verde's No. 1 singles player, Victoire Saperstein.
"We didn't think anyone could beat Victoire," Hammond said. "Sarah wanted to help the team. She's a great player, and just a great kid."
Freshmen Brooke Swallow and Chelsea Crovetti each went 2-1 in singles, and the doubles teams of Morgan Matley and Taylor Larreau, and Lexi Sorrentino and Addie Gardner both went 2-1.
"Our (number nine player) just doesn't drop off as much this year as a lot of other teams' nine," Hammond said. "We're a lot more balanced."
Saperstein was 3-0 for Palo Verde.