Coronado rolls Palo Verde to clinch second straight state title
October 19, 2018 - 6:30 pm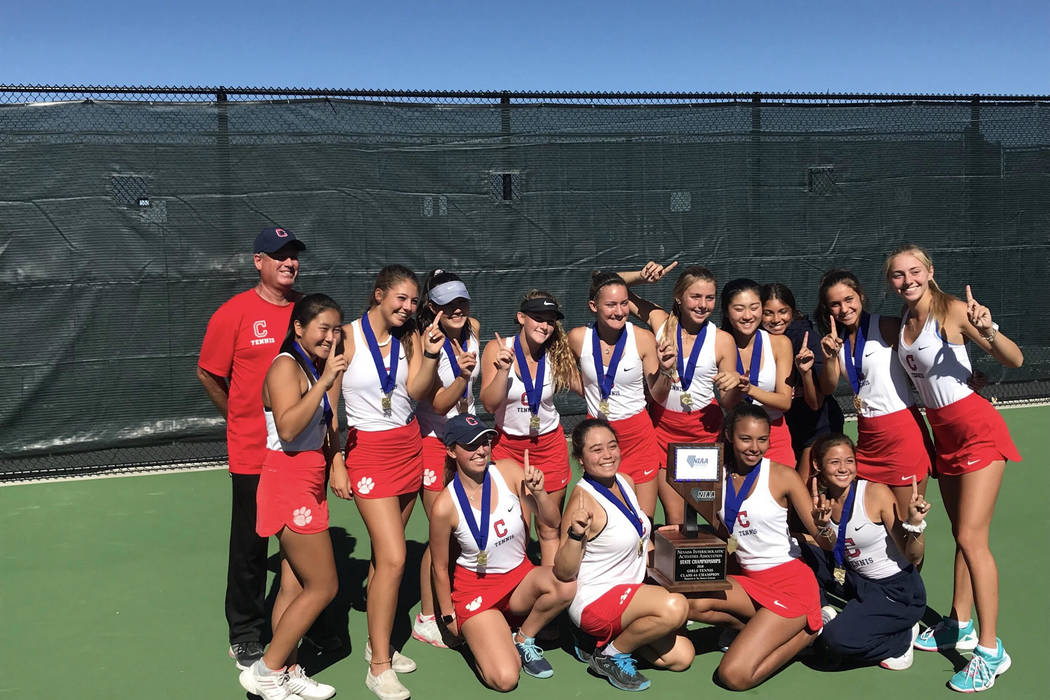 RENO — Coronado's girls tennis team left no doubt about its place as Nevada's top team Friday, rolling to its second consecutive Class 4A state title with a 15-3 win over Palo Verde in the championship match at Bishop Manogue.
Blythe Buntrock and Kennedy Buntrock each went 3-0 in singles, and Madison Smith was 2-0 as the Cougars swept the nine singles sets and cruised to the win.
With five new players this season that were not part of the 2017 championship team, head coach David Willingham had to work with his team digging deeper to repeat in 2018.
"To stay undefeated for two straight years and to come back and defend the title is so tough," Willingham said. "But we had some good newcomers and veterans playing so it was a great combination moving forward."
Blythe Buntrock is one of the newcomers after having spent the lion's share of her career playing tournaments.
"This was my first year playing high school tennis so it's been a really good experience winning all together," Buntrock said. "Knowing that everyone pitched in for it, it's the coolest."
As a four-year member of the program, senior Jessica Duff has watched the Cougars change quite a bit during her tenure with the team.
"I was really proud of us last year when we won because I knew we had not won a lot before that," Duff said. "I wasn't expecting to come back and win, but I was expecting us to come back and fight our hardest."
Ava Nhiasi and Sidra Wohlwend went 2-0 in doubles for Coronado (18-0), and teammates Megan King and Paige Furin were 2-1.
Kaya Richardson and Roxanne Okano were 2-1 in doubles for the Panthers (17-2).
Box Score: