Desert Region: Cerebral attack lifts Clark's Audrey Boch-Collins to another title
October 12, 2018 - 6:25 pm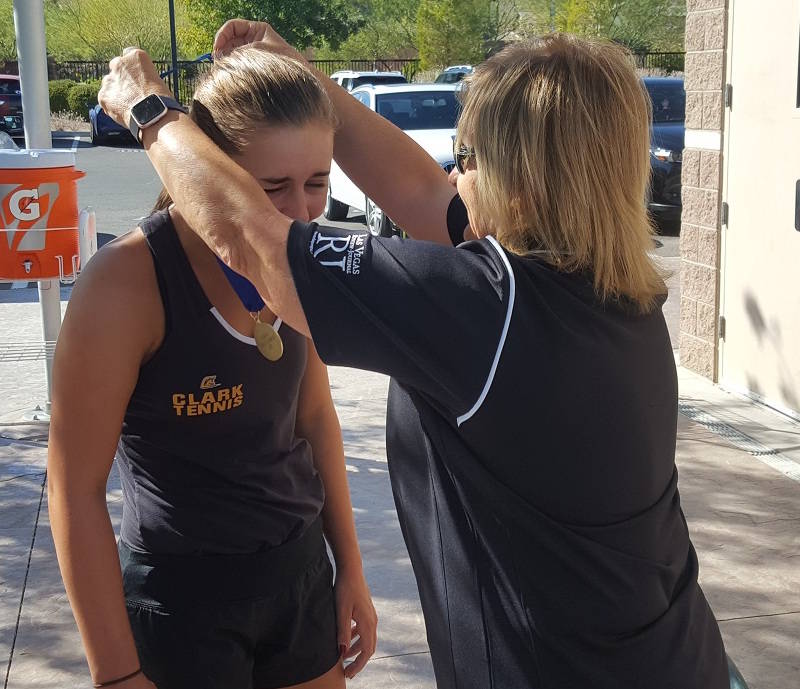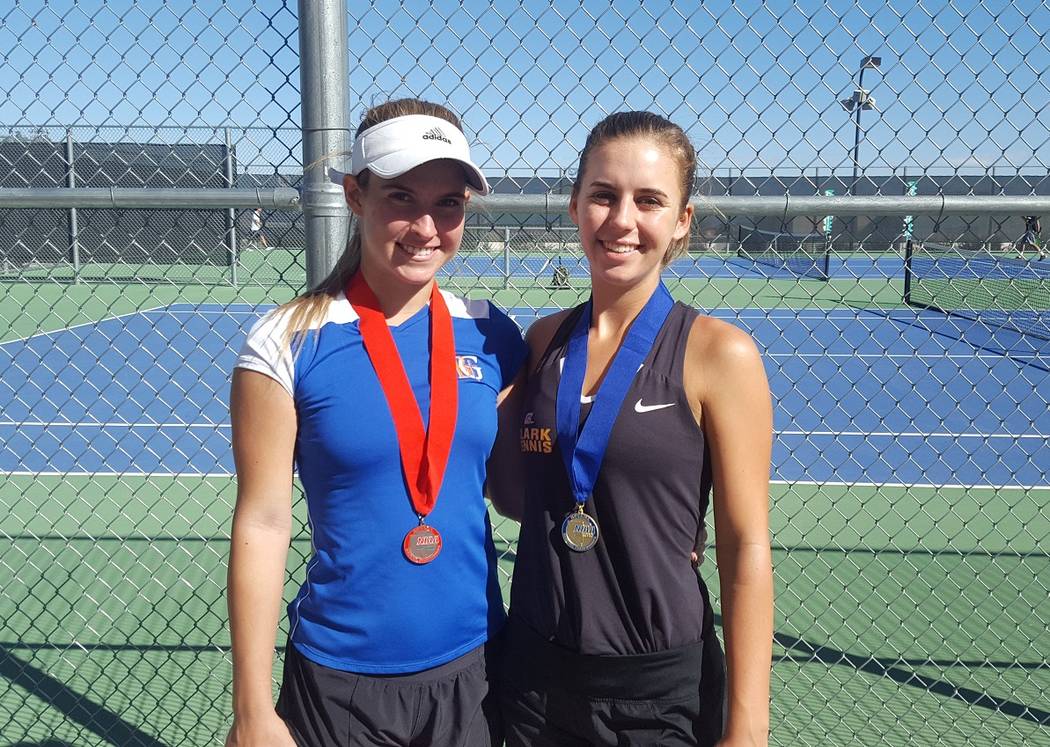 Calm, cool and collected.
Clark junior Audrey Boch-Collins said that's her process every time she steps on the court.
That, and making life miserable for her opponent.
The strategy was in full effect Friday in the Desert Region girls singles final, as Boch-Collins used a cerebral effort rather than a hard approach to defeat Bishop Gorman senior Angelique Friedrich on Friedrich's home court, 6-2, 6-1.
"With me, over the tournaments I've played, the goal is to frustrate your opponent as much as possible," said Boch-Collins, who will try to win her third straight state singles title next week in Reno. "Your opponents like to have rhythm, get into a good groove. But it's like, slice and make it miserable for them."
Boch-Collins, who can use her overpowering forehand at any time, mixed her shots against Friedrich, either with high floating shots to the baseline, or piercing shots just over the net. Her disruptive flow baited Friedrich into self-inflicted mistakes throughout the match.
"She's just so annoying to play," Friedrich said with a laugh. "She gets everything back, and she's super athletic so she hustles everything down and she takes my pace and she can change it. She's just a tough one to play."
Friedrich, who delivered several blistering shots that might have been winners against anyone else, said the combination of her own unforced errors and her opponent's strategy kept her at a disadvantage.
After breaking Boch-Collins' serve to start the second set, Friedrich never could capitalize to set her own tone, as Boch-Collins went on to win the final six games of the match.
"A few games I hit everything at the bottom of the net," Friedrich said. "Definitely with her you can't be making unforced errors, you have to be on your game. And those unforced errors really affect it. And plus when I am making the ball, she's hustling every shot. So I can't afford those silly mistakes."
Coronado's Madison Smith took third place with a 6-0, 6-0 win over Basic's Tjaden Giles.
In the boys singles final Green Valley's Andre Millett needed three sets to defeat Clark's Rahul Gupte, 6-4, 3-6, 7-5, to win the title. Coronado's Aiden Benoualid beat Clark's Max Foels 7-5, 6-4 to take third place.
Coronado's Blythe Buntrock and Kennedy Buntrock defeated teammates Paige Furin and Megan King 6-4, 6-2 to win the girls doubles championship. Sierra Vista's Ariana Stanciu and Andrada Stanciu beat Clark's Joanna Yi and Kelly Mader 6-1, 6-1 to take third place.
Gorman's Max Wolfson and Oliver Filipovic won the boys' doubles title with a 6-4, 6-1 win over Coronado's Ethan Quandt and Sebastian Frace. Mark Bernales and Simran Shah from Clark took third place with a 6-2, 6-2 win over Desert Oasis' Tyler Parlade and Tyler Nicholas.
The top three places in each flight advance to the state tournament, which starts Thursday in Reno.