GIRLS TENNIS: Bishop Gorman downs Liberty behind Angelique Friedrich
September 15, 2016 - 9:09 pm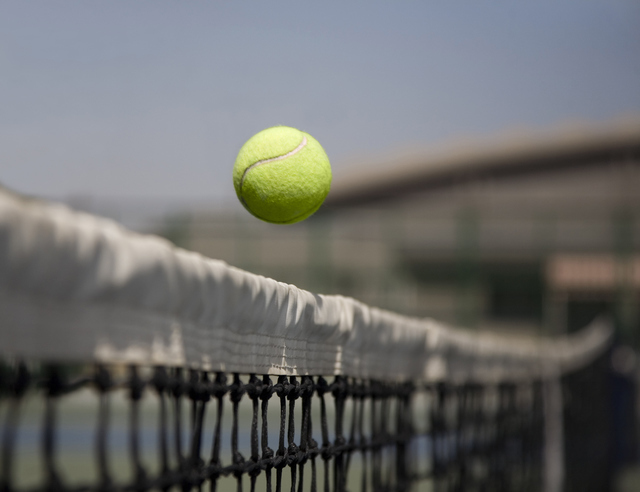 Angelique Friedrich went 3-0 in singles to lead the Bishop Gorman girls tennis team past visiting Liberty 11-7 on Thursday.
The doubles team of Courtney Wolfson and Oliva Balelo went 2-1 for the Gaels.
Parker Burk went 2-1 in singles play to lead the Patriots.
Boulder City 15, Tech 3 — At Boulder City, Tegan Pappas and Natalie Bowman each went 3-0 in singles to help the Eagles down the Roadrunners.
Kyra Yamamoto and McKenna Frazier finished 3-0 in doubles for Boulder City.
Janet Ruiz and Lucero Cuevas-Fernandez were 2-1 in doubles to pace Tech.
Eldorado 12, Canyon Springs 6 — At Canyon Springs, Kristie Thomas went 3-0 in singles in the Sundevils' victory over the Pioneers.
The Eldorado doubles team of Heather Holman and Jessica Samano-Ramirez went 2-0, as did the pair of Navtej Raju and Fernanda Mejia.
Faith Lutheran 15, Arbor View 3 — At Faith Lutheran, Summer Stadtlander and Paige Erlanger went 2-0 in singles to help the Crusaders beat the Aggies.
Courtney Martin went 1-0 in singles, and the doubles team of Kaelin Bland and Sophia Longi went 1-0 for Faith Lutheran.
Devin Diesko and Catherine Arizmendez went 2-1 in doubles for Arbor View.
Sierra Vista 11, Desert Oasis 7 — At Sierra Vista, Andrada Stanciu was 2-0 in singles as the Mountain Lions downed the Diamondbacks.
EunHi Kwak and Jennifer Taylor went 3-0 in doubles to lead Desert Oasis.
Spring Valley 13, Bonanza 5 — At Bonanza, the doubles teams of Michelle Lu and Alexa Rojas, and Selina Cabrera and Mandy Lu each went 2-0 to lead the Grizzlies past the Bengals.
Maris Nelson went 3-0 in singles for the Bengals.
Valley 10, Las Vegas 8 — At Las Vegas, the doubles teams of Claire Angel and Alexandra Angelov, and Sara Tegtmeyer and Deanine Dilworth each went 3-0 to lead the Vikings past the Wildcats.
Karla Torres went 3-0 in singles to lead Las Vegas.
Virgin Valley 15, Chaparral 3 — At Chaparral, Haley Allen and Emma Wilson went 3-0 in doubles for the Bulldogs in their win over the Cowboys.
Emily Leavitt, Jackie Hughes and Talia Hansen all went 3-0 in singles for Virgin Valley.
Clark 14, Durango 4 — At Durango, the Chargers beat the Trailblazers.
Moapa Valley 12, Del Sol 0 — At Overton, the Pirates won by forfeit.
Box scores:
Faith Lutheran 15, Arbor View 3
Sierra Vista 11, Desert Oasis 7