Roundup: Basic girls win tiebreaker over Las Vegas
September 26, 2017 - 9:58 pm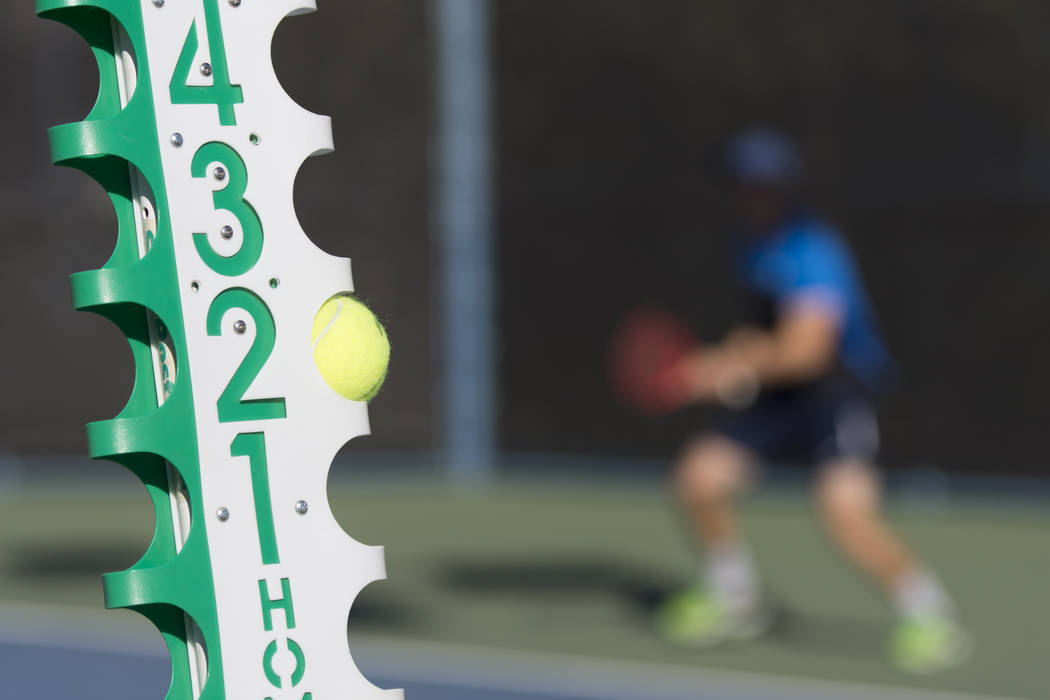 Tjaden Giles was 2-1 in singles play, including the match-winning tiebreaker game for Basic's girls tennis team, as the Wolves picked up a 10-9 road win against Las Vegas High.
Karla Torres went 3-0 in singles for Las Vegas.
Shadow Ridge 12, Cimarron-Memorial 6 — At Shadow Ridge, Elisa Sperandio and Caitlyn Covington each went 3-0 in singles as the Mustangs took down the Spartans.
Cimarron's doubles team of Angelica McCammond and Tasia Moore went 2-1.
Clark 14, Desert Oasis 4 — At Desert Oasis, Audrey Boch-Collins was 3-0 to lead the Chargers to a victory over the Diamondbacks.
Joanna Yi and Kelly Mader teamed to go 3-0 in doubles for Clark.
Karina Damien and Natalia Damien each went 2-1 to pace Desert Oasis.
Spring Valley 13, Legacy 5 — At Spring Valley, Nicole Attallah, Seda Sargsyan and Jennifer Do each went 3-0 in singles as the Grizzlies defeated the Longhorns.
Alexa Rojas and Mandy Lu finished 2-0 in doubles for Spring Valley.
Bishop Gorman 14, Durango 4 — At Gorman, Emma Figueredo and Giovanna Chaparro went 2-0 in doubles to lead the Gaels to a win over the Trailblazers.
Averiana Mitchell was 2-0 in singles to pace Durango.
Bonanza 14, Arbor View 4 — At Arbor View, the Bengals breezed by the Aggies.
Aubrey Adams, Maris Nelson and Madi Cherry were all 3-0 for Bonanza.
Faith Lutheran 14, Sierra Vista 4 — At Faith Lutheran, Ashley Young and Summer Stadtlander each went 2-0 for the Crusaders in their win over the Mountain Lions.
Andrada Stanciu and Ariana Stanciu went 3-0 in doubles for the Mountain Lions.
Rancho 13, Mojave 4 — At Rancho, Anakaren Martinez went 3-0 in singles as the Rams beat the Rattlers.
Boulder City 14, Chaparral 4 — At Chaparral, the Eagles rolled by the Cowboys.
Karina Cosentino and Eva Esqueda went 2-1 in doubles for Chaparral.
Coronado 17, Foothill 1 — At Coronado, Mana Iritani and Jessica Duff finished 3-0 in doubles as the Cougars routed the Falcons.
Palo Verde 16, Centennial 2 — At Centennial, the Panthers routed the Bulldogs.
Cheyenne 12, Adelson School 0 — At Cheyenne, the Desert Shields defeated the Lions by forfeit.
Desert Pines 12, Sunrise Mountain 0 — At Desert Pines, the Jaguars beat the Miners by forfeit.
Box scores:
Faith Lutheran 14, Sierra Vista 4
Shadow Ridge 12, Cimarron-Memorial 6