SUNRISE TENNIS: Coronado extends regional title runs
October 12, 2013 - 9:05 pm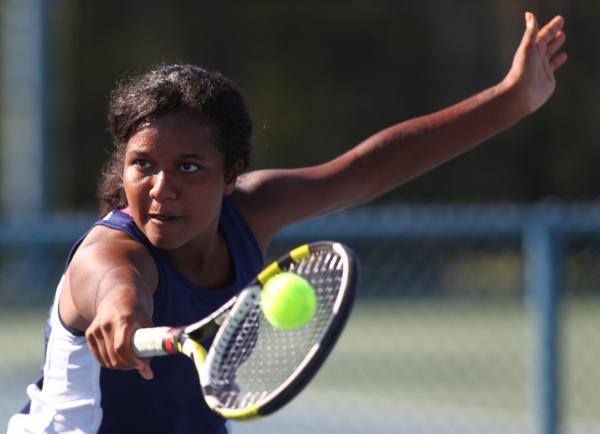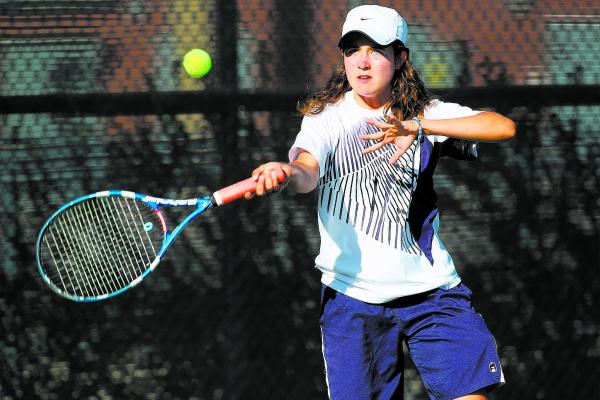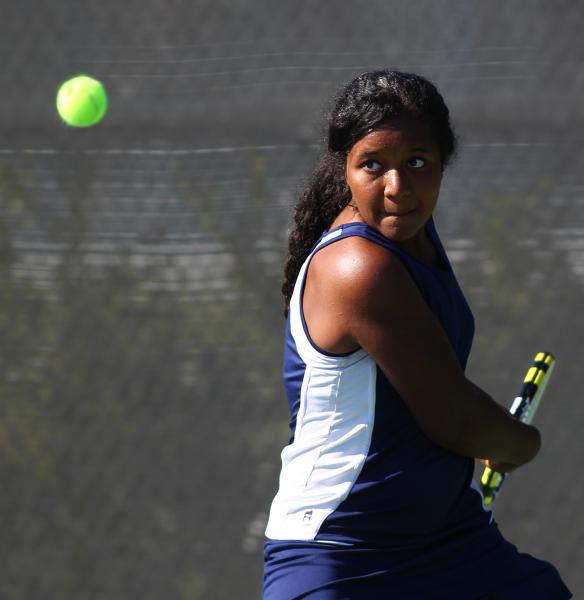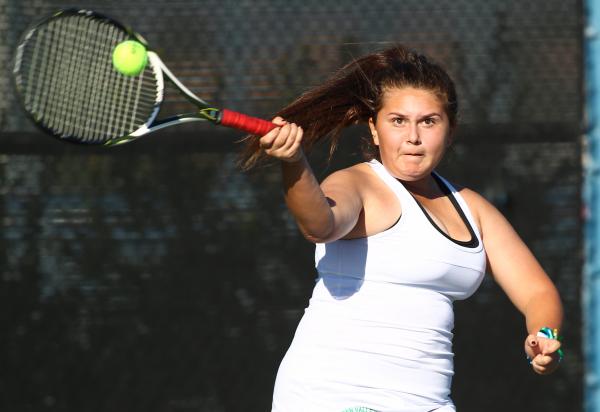 One point in the first round of a high school tennis match might not seem like all that much.
But when Lauren Coons won a tiebreaker in her first set Saturday, it gave Coronado's girls tennis team an opportunity to play from ahead in the Sunrise Region final.
The Cougars took full advantage, never relinquishing the early lead en route to an 11-7 win over Green Valley at Darling Tennis Center.
Coronado (12-4) advances to the Division I state tournament, which begins Oct. 24. The Gators (13-1) will face Bishop Gorman in a play-in match for the final state berth on Oct. 21.
"Getting that lead was huge," said Coronado coach Luther Bohanan. "I think it's more psychological than anything, but going up 4-2 gave the girls a huge boost. We have some young kids, and to have that lead was just huge."
Coons defeated Racquel Holder, 7-6 (7-2) to send the Cougars into the second round with a 4-2 advantage.
"It gave us that one step ahead," Coons said. "We knew it was going to be close. It was really important to have that advantage."
Said Bohanan: "Lauren is a gamer, and she figures out what the opponent doesn't like and gives them a lot of that. She kept the ball low and stuck to that strategy."
The Cougars stretched the lead to 8-4 after two rounds, and singles wins by Paris Reese and Nikoletta Nikoloff in the third round gave Coronado the clinching point.
Reese was 3-0, and Coons and Nikoloff each went 2-1 as Coronado won seven of the nine singles points.
"I knew I had to win at least two of my matches to make an impact," Coons said.
Roberta Padalino and Camille Solla were 2-1 in doubles for the Cougars, who captured their fourth straight region title.
"I was prepared for either outcome, but our girls played well," Bohanan said.
Paola Davila and Syndee Crosby went 3-0 in doubles, and teammates Erica Shelton and Tasha Dewitt were 2-1 in doubles for Green Valley. Josie Legarza was 2-1 in singles for the Gators.
BOYS
Coronado's boys had a 3-0 lead before even stepping on the court Saturday. And despite facing a team that didn't have a full lineup, the Cougars didn't get complacent.
Coronado (16-0) captured its ninth straight region title with a 13-5 win over Liberty at Darling Tennis Center. The defending Division I state champions advance to the state tournament, which begins Oct. 24. The Patriots (10-5) will meet Bishop Gorman in a play-in match for the final state berth on Oct. 21.
"I told them that I didn't want what happened to Green Valley to happen to them," Bohanan said. "You have to come out and still stay focused and play because they want to beat you. You have to go out and play your best and not give up any points you shouldn't be giving up.
"You can't take people for granted."
Liberty hasn't had a full team all season and has given away at least three points in every match as a result. Still, the Patriots won two postseason matches — including a 10-8 victory over Green Valley in the semifinals.
Though they didn't field players in the No. 3 doubles slot, the Patriots still battled and made Coronado earn most of its singles points.
Cassell King went 3-0 in singles for Coronado, but Liberty's Dylan Ihmels and Tristan Hoyle each went 2-1 in singles to keep things interesting.
"We had some tough singles matches with Dylan and Tristan," Bohanan said. "Their coach is one of those guys who won't let his kids give up. They made us go out and beat people."
Coronado's doubles teams of Jack Vance and Jamie Vance and Aaron Egbert and Michael Boyd each went 3-0, and teammates Kyle Harris and Joshua Egbert were 2-1.
Box scores:
Boys
Girls