SUNRISE TENNIS: Coronado girls win regional on tiebreaker over Liberty
October 5, 2016 - 10:42 pm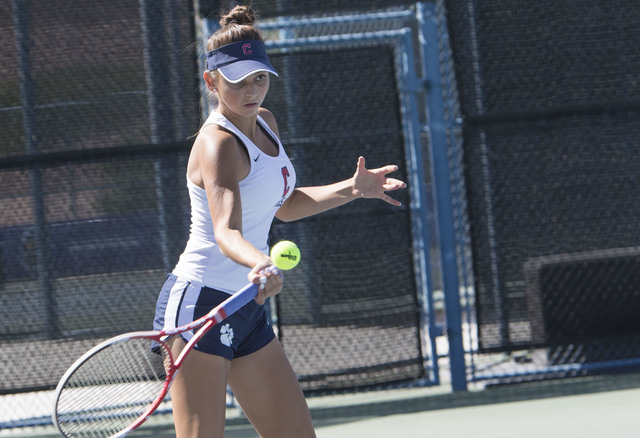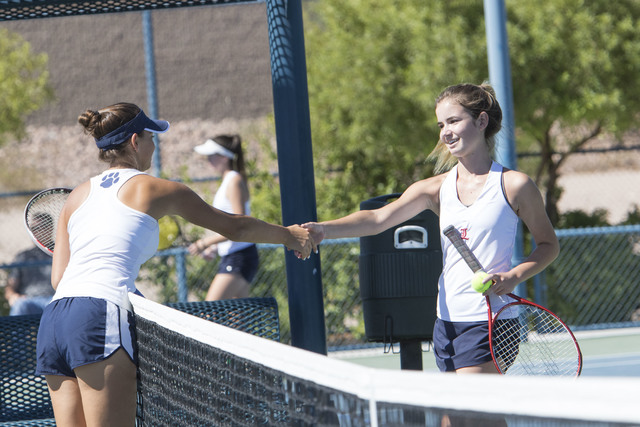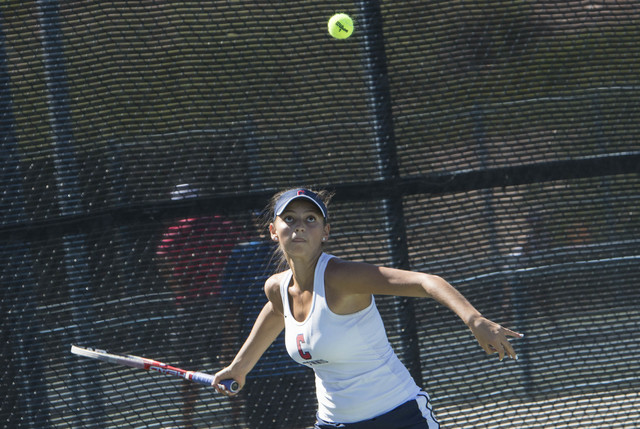 It's never too late to turn a bad day into the day of your life. Just ask Mana Iritani and Sofia Potamitis.
The Coronado freshman pair went 0-3 in doubles, but got their chance for redemption in a tiebreaker, beating the team that started their day with a loss and leading the Cougars girls tennis team to a Class 4A Sunrise Region championship on Wednesday at Tennis Darling Center with a 10-9 victory over Liberty.
"I am so proud of them and so elated for their fight," Cougars coach Kenya Jackson said. "They really came in the end and said we want this."
Both players called it the best feeling they've had in tennis and their win may have been the best feeling of the day for the Cougars (16-1). Coronado and Liberty tied 9-9 in regulation, with the Cougars taking all nine singles sets and the Patriots (10-4) scoring nine doubles points.
Even the tiebreaker was a split: Coronado went 2-1 in singles and 1-2 in doubles. With the loss in singles, the Cougars needed a doubles team to pull through to send it a points count. Iritani and Potamitis did just that. The Cougars won on points, 35-32.
Their win was big in impact, but Nikoletta Nikoloff's day was big in decisiveness.
Coronado's star senior cruised through the day, going 3-0 in singles and only losing one game in her three sets. She even won her tiebreaker 7-0, a big reason the Cougars were able to pull out the victory.
"We literally went as close to it as possible," Nikoloff said. "Every single shot mattered at that point. It was great."
Megan King and Hannah Grossman each went 3-0 in singles for Coronado.
It was Coronado's 11th region title, and sixth in the last seven years. So to some at Coronado, it's just another banner. But to two freshmen, it's a day they'll never forget.
"We're going to state," Iritani said with a smile.
"We got it," Potamitis added.
BOYS
In a rematch of last season's region final, Coronado once again took down Green Valley, winning 11-7 to capture its 12th consecutive region title.
The Cougars (16-1) went 8-1 in doubles to help secure the win.
It was coach Luther Bohanan's 11th title, and he has won region every year he has been head coach.
"They never get old, but they do get interesting," Bohanan said. "They stepped up and played as a team and won as a team.
"Doubles were huge today."
Joshua Egbert and Wesley Harris went 3-0 in doubles for the Cougars, as did Sebastian Frace and Ethan Quandt. Martin Rizov was 2-1 in singles against the Gators (10-3)
Justin Emerson can be reached at jemerson@reviewjournal.com. Follow on Twitter: @J15Emerson
Boys box score:
Girls box score: