Centennial's Hartle, Carter primed to pile up points in 4A boys meet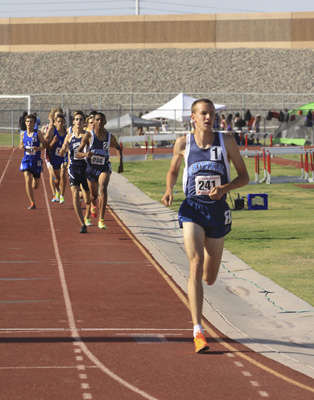 Centennial's girls track team won the Class 4A state title going away last year, scoring 106 points to runner-up McQueen's 72.
The Bulldogs' boys, on the other hand, placed second, and have used their 66-62 loss to Silverado as motivation.
"This group (boys team) has had one goal in mind this season: sending the seniors out with a state title," Centennial coach Roy Sessions said. "And they have worked so hard as a team. Nick (Hartle) will have a full plate, but he's also a great athlete. If anyone can pull it off, he can."
Hartle, who has signed with UCLA, and the Bulldogs will pursue their seasonlong goal at the state meet, which begins for all four classes Friday at Damonte Ranch High School in Reno.
As a junior last season, Hartle set state meet records in the 800- and 1,600-meter runs, along with a victory in the 3,200 and a fourth-place finish in the 400.
In the Sunset Region meet on May 11, Hartle won the 800, 1,600 and 3,200 and was second in the 400. Joining Hartle in his second attempt for the quad at state will be sophomore Jackson Carter, who finished as region runner-up to Hartle in the 800, 1,600, and 3,200.
Hartle and Carter could combine for as many as 74 points.
"Jackson Carter has given the team a tremendous boost this year," Sessions said. "He is one of the hardest-working kids I have ever coached, and willing to do whatever it takes to help his team."
Sunrise boys champion Liberty is strong in the throwing events, having grabbed five of the six qualifying spots from the regional. Reno Tuufuli won the shot put, and Jordan Kapeli was runner-up in the shot put and discus.
Liberty sophomore Martin Ponce qualified for state in the 1,600 and 3,200, junior Colin Schultz won the 800 and junior Nate Creiger won the pole vault.
"I most certainly believe that we can make some waves and represent the Sunrise well," Liberty coach David Butler said. "Our throwers, vaulters and distance kids have been just outstanding this year and continue to generate personal, meet and school records."
Foothill junior James Henderson is trying to carry on a family tradition in the 400. Henderson, who won the Sunrise 400 in 48.67 seconds — fastest among state qualifiers — hopes to match the feat of his father, Greg Henderson, who won the 400 state title for Las Vegas High in 1983, and older brother Deshawn Henderson, the 2004 state 400 champion for Basic.
Bonanza sophomore Jayveon Taylor, one of the nation's top sprinters, looks to defend his 100 title and also is the top seed in the 200.
The field events will feature Green Valley high jumper Durrell McDonald, who has cleared 7 feet this season.
Centennial dominated the Sunset girls meet, winning 10 events and qualifying athletes for state in 12 of 18 events.
Sydney Badger, the state runner-up in the 1,600 and 3,200 as a freshman, has become the dominant distance runner in Nevada. The Centennial sophomore won the 800, 1,600 and 3,200, and anchored the winning 3,200 relay team at the Sunset meet.
McQueen also qualified in 12 events.
Sunrise girls champion Coronado features 800, 1,600 and 3,200 region champ Sara Dort, who also anchored the winning 3,200 relay team. But the Cougars might not have enough depth to contend for the team title.
"Our distance runners have been a team strength all year," girls coach Nic Bolken said. "They came to us in great shape after cross country and continued to improve throughout the track season."
The girls shot put and discus will feature two of the top throwers in the country in Legacy senior Avione Allgood and Liberty sophomore Ashlie Blake. Allgood, an Oklahoma signee and the defending champion in both events, will attempt to repeat. Blake, runner-up in both events in 2011, has emerged from Allgood's shadow to set records in 2012.
No other thrower in Nevada has come close to Blake's best marks in the shot put (49 feet, 10½ inches) and discus (152-5) this season.