REGION TRACK: Liberty's Blake sets record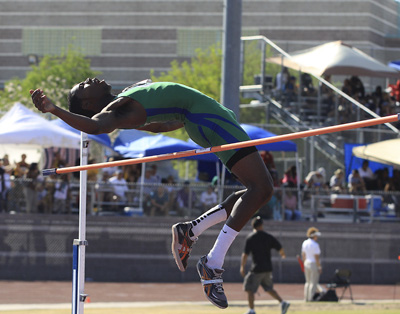 Ashlie Blake is still looking to hit 50 feet in the shot put.
But the Liberty sophomore still accomplished a historic feat Wednesday at Silverado High School.
Blake won the Sunrise Region girls shot put title with a mark of 47 feet, 9½ inches, breaking the region/zone record of 47-5 set by Legacy's Avione Allgood last year.
"I'm getting the records, slowly but surely," Blake said. "I'll be working really hard at practice the next two weeks."
Among the other highlights was Green Valley senior Durrell McDonald winning the Sunrise boys high jump at 6-8.
McDonald, who has cleared 7 feet this season, missed three attempts at 6-10, which would have tied the region/zone record set by Western's Rod Smith in 1977. McDonald set the Sunrise Region record in 2010 when he cleared 6-9.
Allgood, who is recovering from shoulder surgery and throwing left-handed instead of her natural right, still managed to win the Sunset shot put with a throw of 40-8¾.
Liberty's boys swept the Sunrise discus, sending all three to state. Sophomore Reno Tuufuli had the winning throw of 152-6. Jordan Kapeli was second at 148-11 and William Ashby third at 147-7.
"They showed up and got it done," Liberty coach Dave Butler said of his throwers. "It was a tremendous achievement. We're very proud of them. I can't remember the last time three throwers from the same school, if ever, all qualified for state."
In the Sunset boys discus, Desert Oasis' Jacob Benham won with a throw of 151-0. Faith Lutheran's Joseph Klagues (150-4) and Palo Verde's Michael Glanz (150-2) also topped 150 feet and qualified for state.
The girls 3,200-meter run was won convincingly by Sara Dort of Coronado in the Sunrise and Sydney Badger of Centennial in the Sunset.
For Dort, who won in 11 minutes, 58.28 seconds, the victory was payback from last year when she was injured and not able to run the 3,200.
"I finished what I started … from last year," Dort said.
Badger also won going away, setting a region record in 11:11.82.
"It certainly wasn't easy," the sophomore said. "But the weather was perfect. This was for the team. I just kept thinking of my team. I'm excited to be going back up north and give it all I've got."
The winners of the boys 3,200 relay were Centennial (Sunset) and Green Valley (Sunrise). Centennial won without its best runner, Nick Hartle, who was the top qualifier in the 400 and 800. Hartle will attempt to win the 3,200 on Friday and qualify for the 1,600 final on May 11.
There were few upsets in the qualifying races, but two of the favorites in the Sunrise girls 400 relay, Canyon Springs and Silverado, were disqualified for handoffs out of the exchange zone.
Other Sunset winners on the boys side included Bishop Gorman jumpers Demetris Morant, who cleared 6-5 in the high jump, and Kyle Kelley, who hit 21-6 in the long jump. Morant's mark was a Sunset record.
On the Sunset girls side, Faith Lutheran's Renee Vogel won the pole vault with a mark of 11-0, and Bonanza's Bree Hammel won the triple jump at 36-11¾.
In the Sunrise Region girls meet, Liberty's Gabrielle Palazzolo won the pole vault with a mark of 10-0, and Canyon Springs' Pearl Paulo won the triple jump at 35-4¾. In the Sunrise boys meet, Valley's Arphaxad Carroll won the long jump in 22-7½.
Both region meets continue at 3 p.m. Friday at Silverado with preliminaries in the remaining field events and the rest of the field event finals. The remaining track finals will be May 11 at Silverado beginning at 3 p.m.