SUNRISE REGION: Dort's dominance powers Coronado girls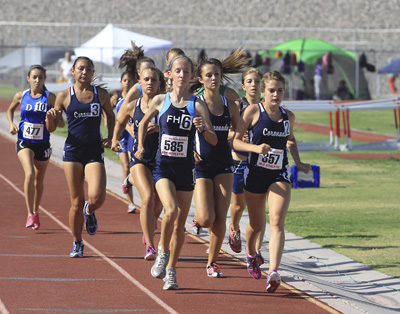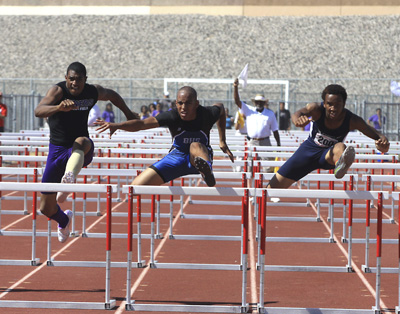 Coronado distance runner Sara Dort likely would have been a force in last year's Sunrise Region track meet.
But a nagging hamstring injury limited Dort's effectiveness, and she was unable to reach the Class 4A state meet.
"That's why this year I just felt motivated to finish what I started," she said.
Dort more than finished what she started with a prolific performance on the final day of the Sunrise girls meet Friday at Silverado High School.
The sophomore won region titles in the 800-meter run in 2 minutes, 20.47 seconds and the 1,600 in 5:25.26. This after she won the region title in the 3,200 in 11:58.28 last week.
Dort's dominance helped the Cougars clinch the Sunrise girls team title with 132 points. Canyon Springs took second with 101½ points, and Silverado was third at 91½.
Liberty won the Sunrise boys team title with 86 points, topping Coronado (74) and Silverado (71).
The Patriots entered the day with a 57-41 lead over second-place Coronado and hung on thanks largely to last week's performance in throwing events. Liberty had the top three finishers in the Sunrise boys discus and two of the top three in the shot put.
On Friday, Liberty junior Colin Schultz won the Sunrise boys 800 in 1:56.9.
"It's unbelievable. The words can't describe the emotions we went through today knowing that we had Coronado and Canyon Springs nipping at our heels the whole time," Liberty coach David Butler said.
Dort said she suffered a severe hamstring injury at the Sunrise Region freshman-sophomore meet last year.
"I had a good season, and then everything just went wrong," she said.
Everything went right Friday, including her come-from-behind victory in the 800. Dort edged Foothill's Demi White, who finished second in 2:21.18.
"I always do the second lap faster. It was my last race, so I just wanted to finish with everything I had," Dort said.
Coronado swept the top three spots in the Sunrise girls 1,600, with Logan Lucas taking second in 5:32.13 to advance to state.
"I love my team, and we can compete together," Dort said. "I'm thankful to have them."
Coronado's girls also got victories from junior Shayee Swaine in the 400 (58.62) and senior Breanna Robinson in the 300 hurdles (46.51).
"This is our first regional championship ever," Coronado coach Nic Bolken said. "We've been in the top four or five the last five years, and it's great to finally get a win.
"Dort was huge. Our distance team showed up great for us."
Canyon Springs junior Donnel Pumphrey won the Sunrise boys 100 in 10.76 and the 200 in 21.88.
Pumphrey also teamed with Diamante Luna, Isaiah Charles and Marques Williams to give the Pioneers repeat Sunrise titles in the 400 relay (41.72) and 800 relay (1:27.07).
"It's been a team day," Pumphrey said. "It's hard to explain, just very exciting. I feel really good going to state."
The top two finishers in each running event clinched spots in the Class 4A state meet, which begins Friday at Damonte Ranch High School in Reno.
The fifth Southern Nevada entrant to the 4A state meet in each running event came from the top third-place time from either the Sunset or Sunrise region.