SUNRISE TRACK: Austin shakes off nerves, sets region records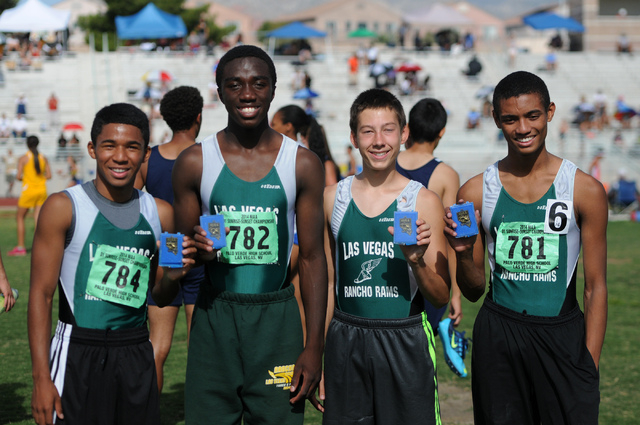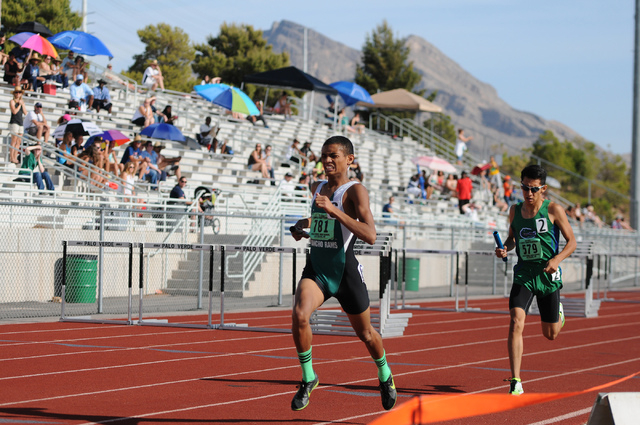 Drea Austin tried to calm her nerves, but nothing seemed to work.
In fact, the senior at Foothill got so worked up at one point Saturday that she started to cry.
"They were definitely coming down," Austin said. "It was very nerve-wracking. When you put all the heats together with all the top runners, you don't know what someone's going to do."
In the end, Austin had nothing to worry about as she overcame the weight of expectations and the intense heat to win three events and set two region records at the Division I Sunrise Region track and field meet at Palo Verde.
"This was the first time I've run all three races in one day," Austin said. "I didn't know if my body could handle it, and it could. I know I worked hard, so I shouldn't even have second-guessed myself."
Austin was first in the 100 meters in a meet-record time of 12.05 seconds, but still had doubts leading up to the 400 and struggled to contain her emotions before she stepped into the blocks. However, she was finally able to compose herself and went on to set a region record (57.41) in the event.
Austin then came back refreshed for the 200 after a nearly two-hour break and won by more than a second.
Austin was the Sunrise champion in the 100 as a sophomore and went on to finish third at state in the event. Last year, she was second in the 100 and sixth in the 200 as she ran with injuries to both of her hamstrings and entered this meet hoping to go out on a high note.
"This year I wanted to make a name for myself and redeem myself, and I think I did just that," Austin said. "I'm just really proud. It's really humbling, actually."
Coronado's Sarah Dort dominated the distance events, finishing first in the 800, 1,600 and 3,200 to help the Cougars win the girls team title with 155 points.
Meanwhile, Silverado's Amari Norris equaled the meet record of 14.57 in the girls 100 hurdles, and Ashlie Blake of Liberty bettered her own record in the girls discus with a throw of 157-9 as a total of seven region records were either tied or broken.
On the boys side, Green Valley's Ian Mack captured three events as the Gators won the team title with 138 points.
Mack pulled away from Silverado's Ryan Crame midway through the 100 to win in 10.71, and took the 200 in 21.69. In the 400, Mack made up the stagger on No. 2 seed A'Mari Howland of Canyon Springs almost immediately and then pulled away in the final 100 meters, crossing the line in 48.01.
"It was a big goal," Mack said. "I came in nervous about the 200 because of the times and the 100, but I came out and executed like I was supposed to and got them all."
Liberty's Martin Ponce also pulled off the triple, sweeping the distance events. Ponce was first in the 800 (1:56.08), holding off Valley's Dawit Tesfa, and won the 1,600 in 4:28.55 before cruising to a first-place finish in the 3,200 (10:11.93).
"That's by far the slowest two-mile I've ever run, but overall I'm happy," Ponce said. "I came out here with a goal, and I realized it."
In addition, Liberty's Reno Tu'ufuli set the region record in the boys shot put (60-4½), Dominic Smallwood of Silverado soared 50-1 on his final attempt to break the Southern Zone record in the boys triple jump, and Canyon Springs' Demarcus Walker won the boys 300 hurdles in a region-record time of 38.33.
Walker added a first-place finish in the 110 hurdles and ran a leg on the Pioneers' winning 400 relay. Smallwood cleared 6-7 to also win the high jump.
Results: