4A STATE TRACK: Gizelle Reid takes home 400-meter dash state championship for Rancho
Updated May 19, 2017 - 11:17 pm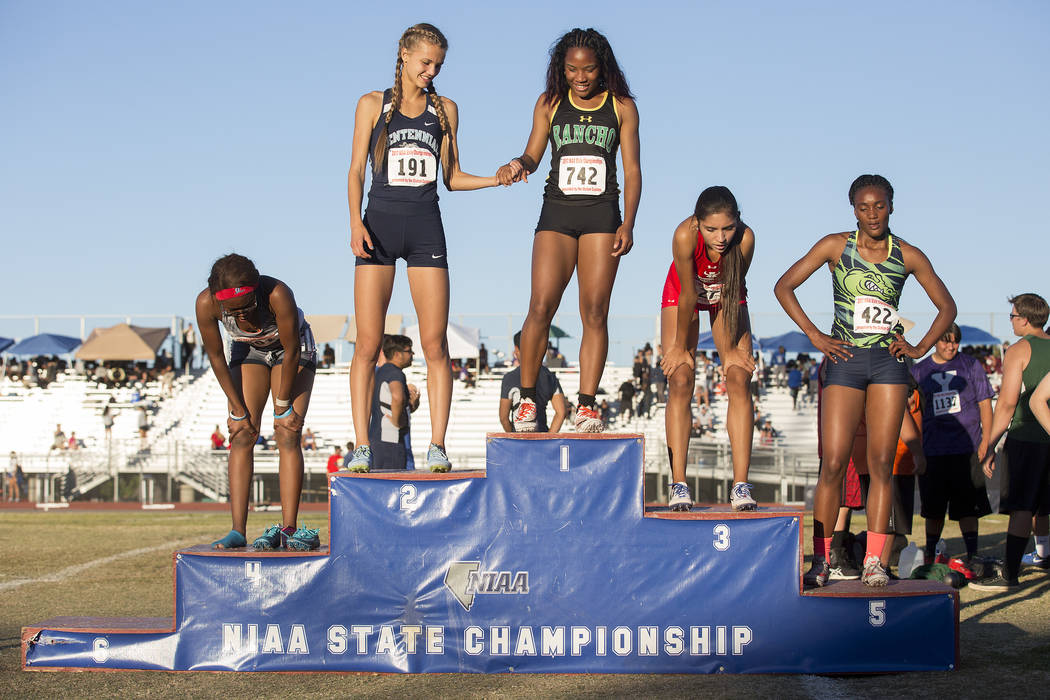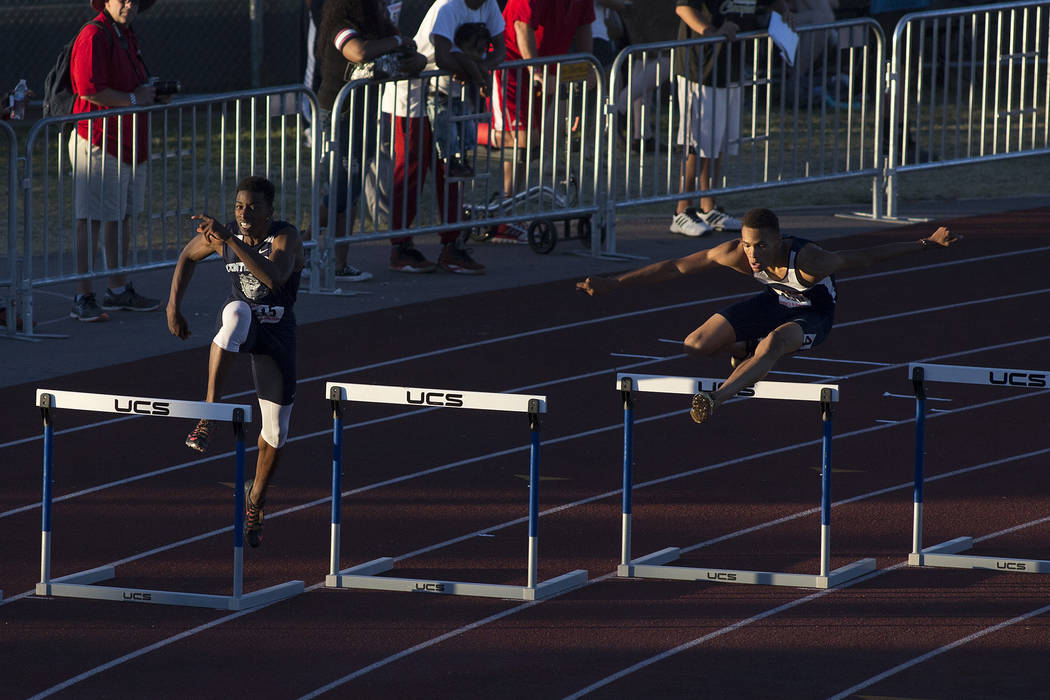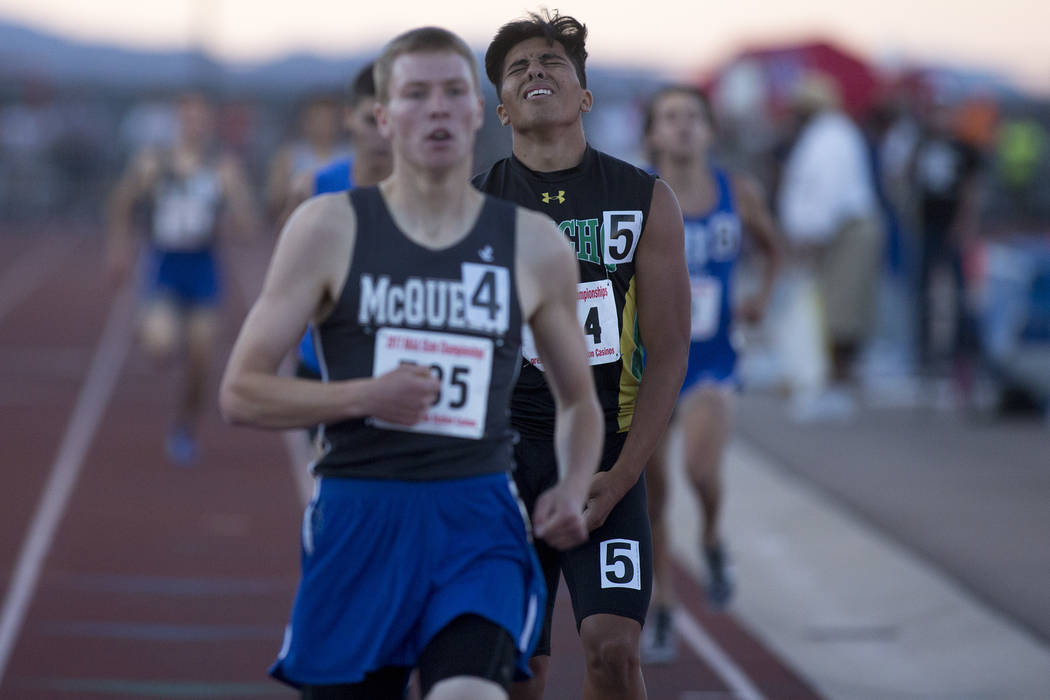 Some people say the 400-meter dash is the hardest race to run. It's in that not-so-sweet spot of being between a sprint and a distance run.
Either way, it didn't seem to faze Gizelle Reid.
The Rancho junior won the Class 4A state title with a time of 54.98 seconds Friday at Foothill. She became the second member of the Rams' girls track team to win an individual championship, joining Aisha Momodu's 2010 title in the 100 dash.
"When it comes to Gizelle, she's mastered it," Rancho coach Prudence Jackson said. "It's not like she has to go out and just sprint and say, 'I'm going to sprint this whole thing,' she knows the different phases of the sport."
Reid also helped the Rams win the 800 relay in a state record time of 1:37.88. It was almost three seconds better than the second-place finisher (Canyon Springs, 1:40.58). She will run in the 400 relay and 1,600 relay Saturday.
Reid won the Sunrise Region meet 400 last weekend with a time of 55.57.
At the beginning of the year, the Rams write down their goals for the season in what they call their vision book. Reid's entry in the vision book included registering a sub-55-second time, which she cleared by two-hundredths of a second.
"It takes all your heart, and you don't just run just because you run and you're good at it, you have to use your heart and your mind," Reid said. "You have to use what's inside of you, not physically."
Reid's state title-winning time wasn't even her best of the season. On April 22 at the Skyhawk Invitational, Reid ran a personal-record 54.81. It's part of the reason Jackson is so excited to see what she will do next year.
"The best of her is yet to come," Jackson said. "She has another year."
But for now, Reid will enjoy being a state champion. She was calm on the podium and humbly accepted her medal. Once she got off the podium, she started playing with her medal, running it through her hands.
"It hasn't sunk in completely, but it probably will tonight when I'm eating dinner or something," Reid said. "Woah, I just won state."
Reid's performance wasn't the only record set in Class 4A.
Legacy senior Jamaal Britt lived up to the high expectations set by his coach last week when he said Britt would break the state record in the hurdles. He did just that, running the 300 hurdles in 36.51.
"It's really a blessing because that was my goal," Britt said. "Especially coming into today, all I had on my mind was running a 36.8, and I went way past my goal."
The Centennial boys took the team lead with 36 points, in no small part because of the 1,600-relay team, which set a state record with a time of 3:14.85. Centennial's 400-relay team set a state-meet record with a time of 41.23, and Quentin Scott took home a state title for the Bulldogs, winning the triple jump with a distance of 46 feet, 4 1/4 inches.
The Bulldogs are going for their fourth state title in six years.
Reed is second with 29 points and Coronado third with 28.
Centennial's girls appear headed to their seventh state title in a row. The Bulldogs have 79 points, comfortably ahead of Rancho's 37. Spanish Springs and Palo Verde are tied for third with 26.
The Bulldogs won the 3,200 relay with a time of 9:33.52, and Talie Bonds won the 100 hurdles in 13.86.
Contact Justin Emerson at jemerson@reviewjournal.com or (702) 387-2944. Follow @J15Emerson on Twitter.
Results: