4A VOLLEYBALL: Defensive-minded Las Vegas tops Centennial to reach state volleyball final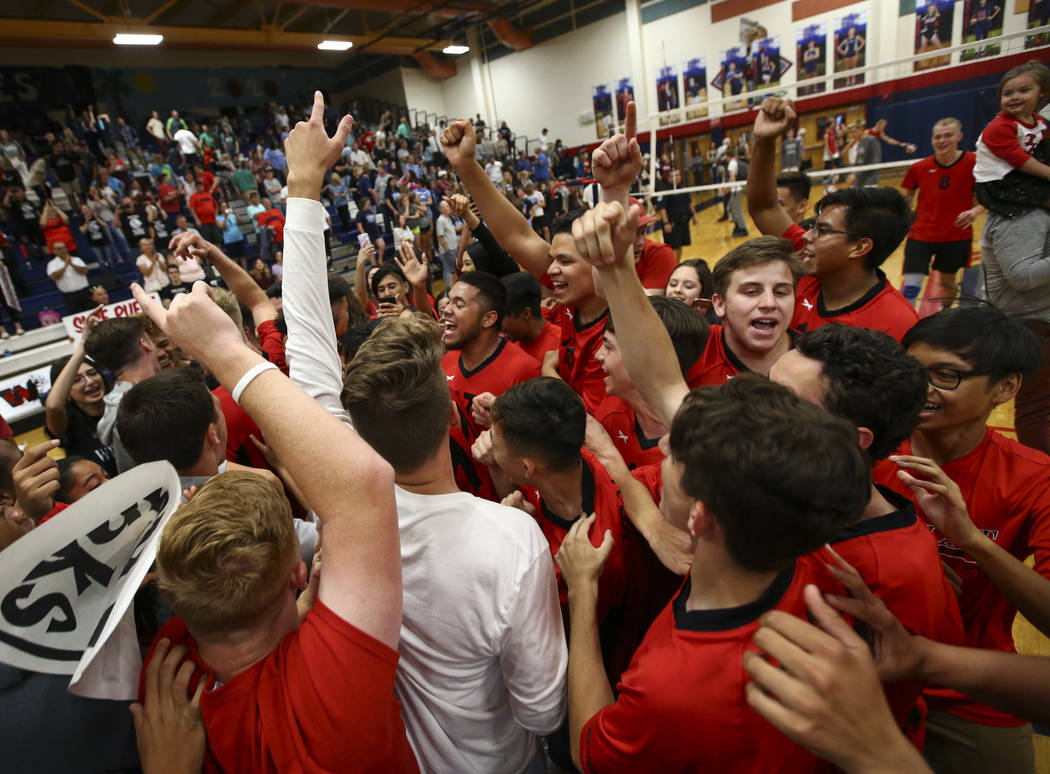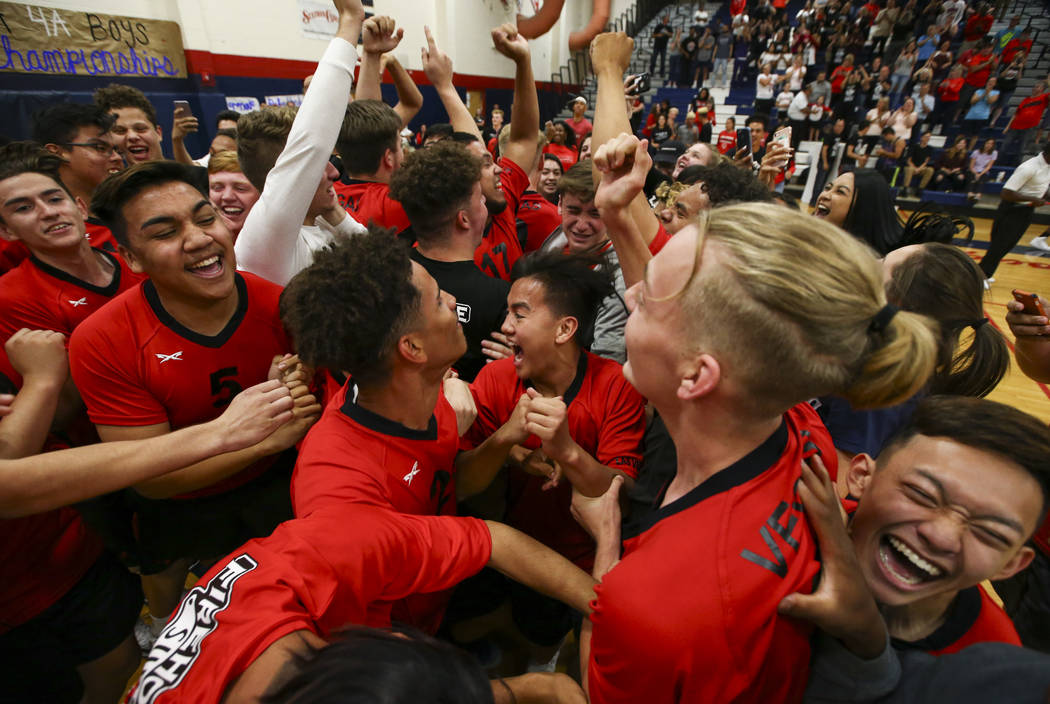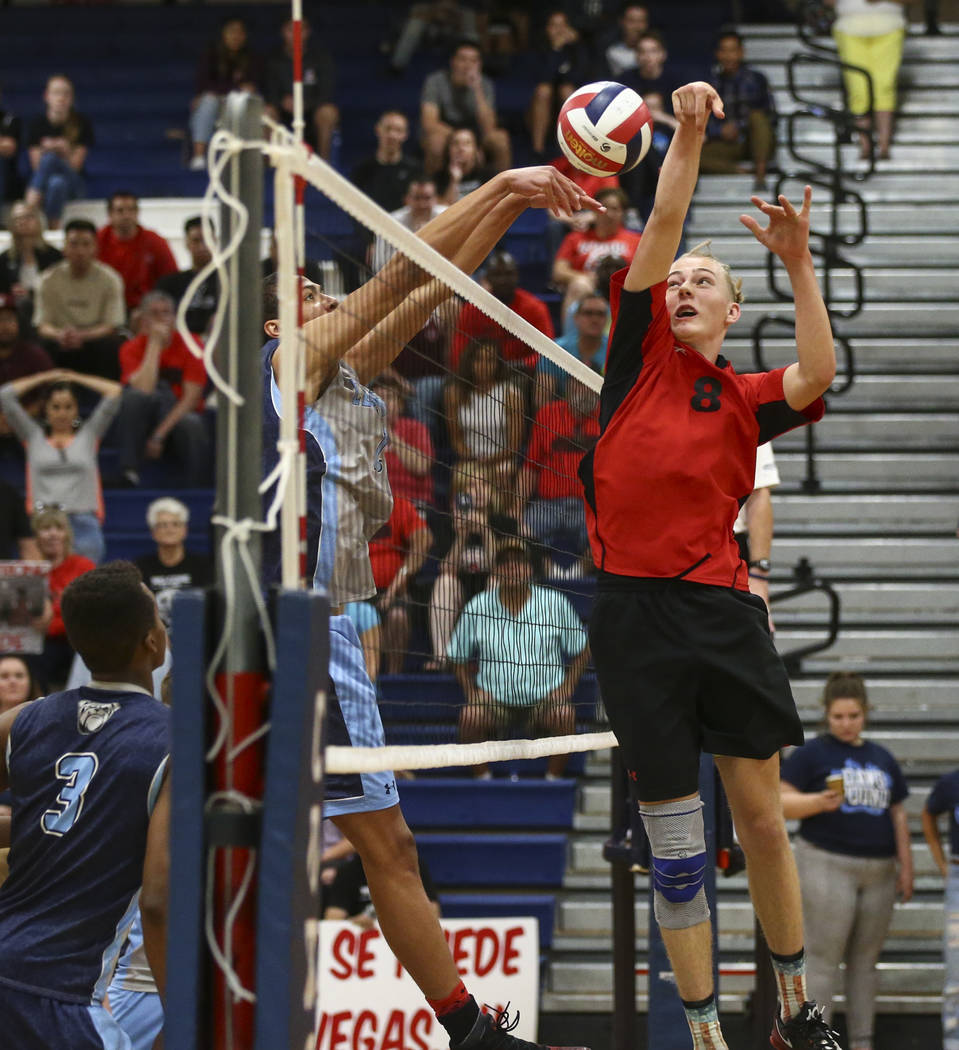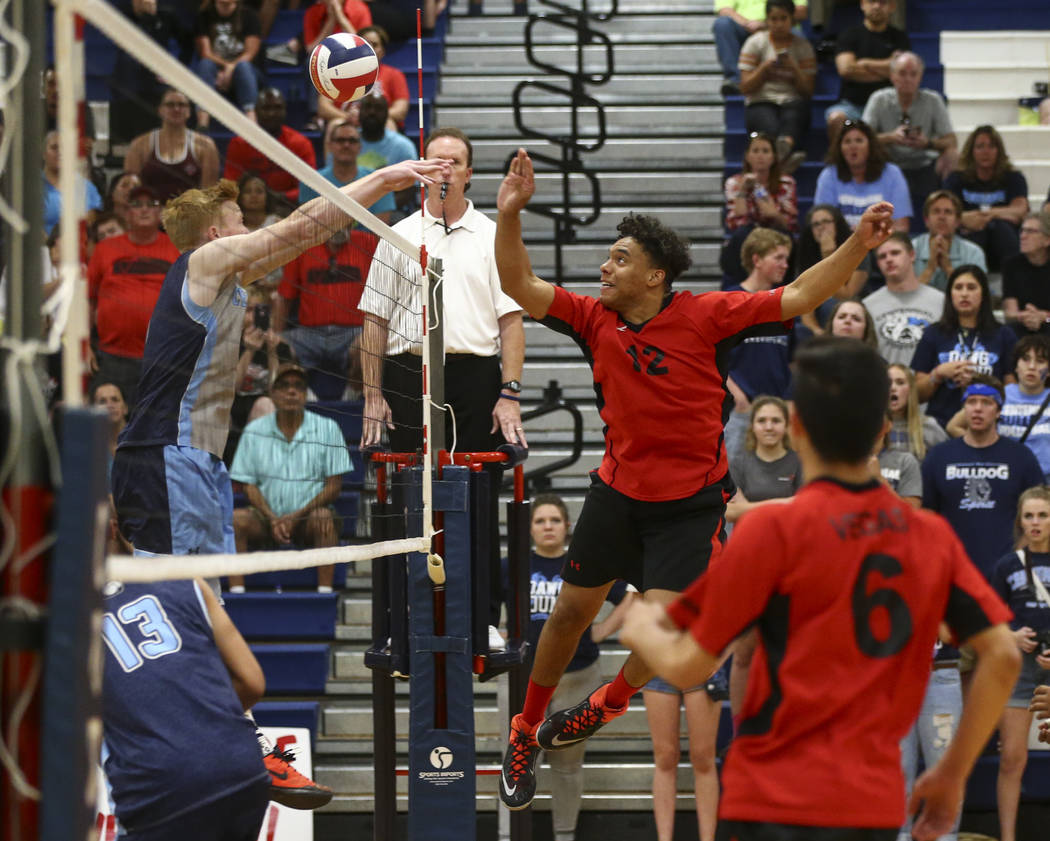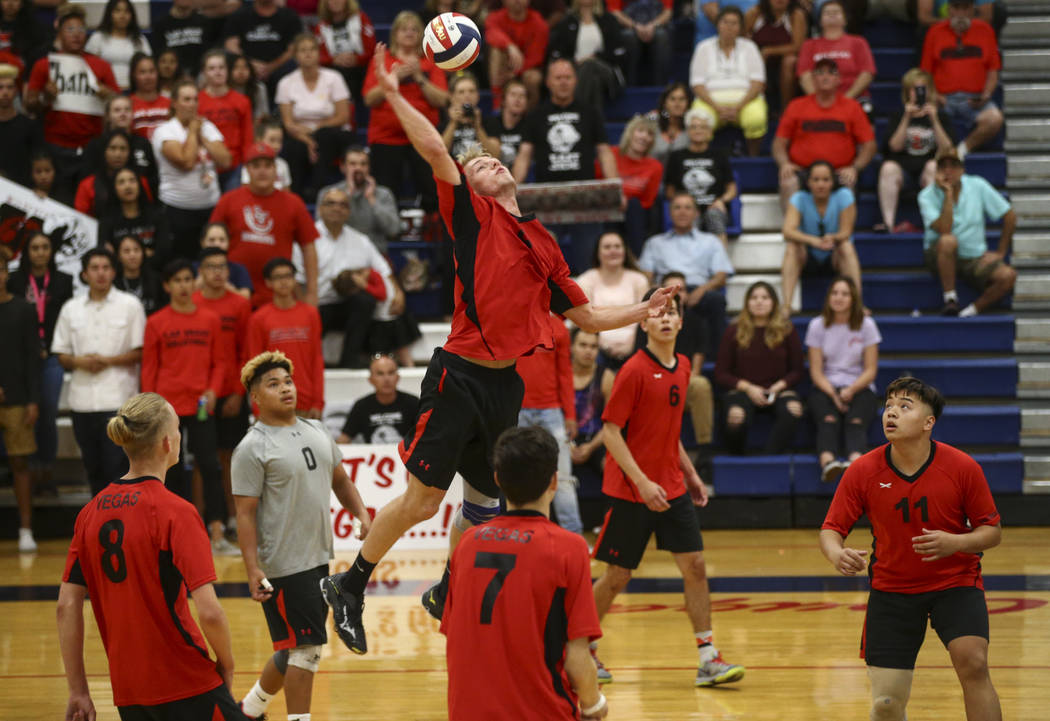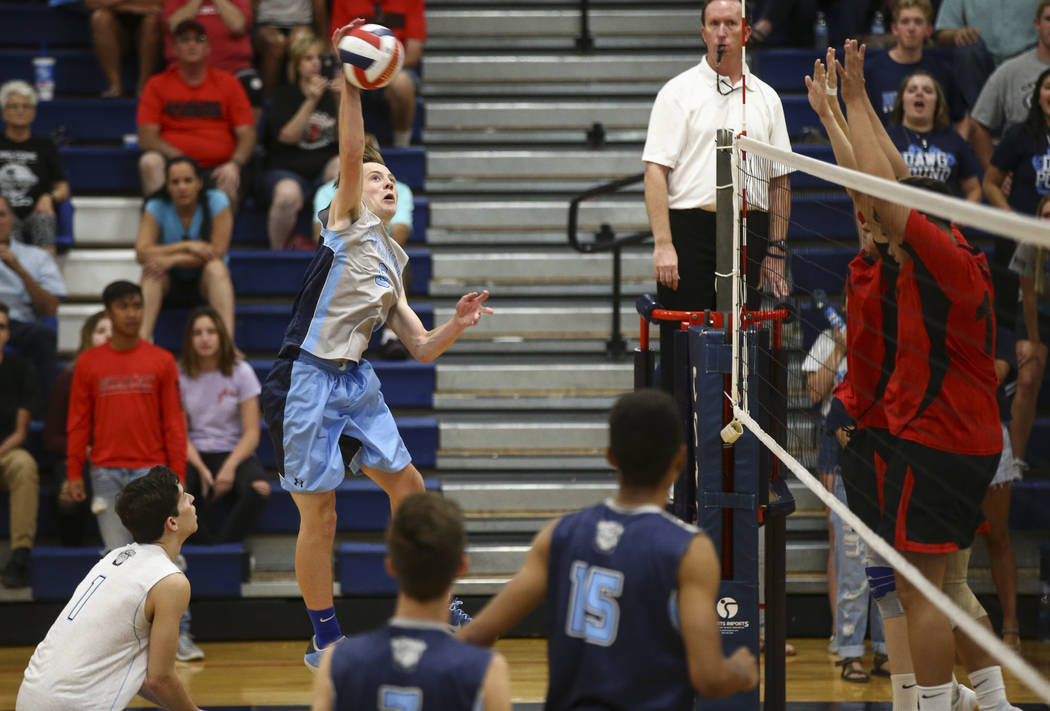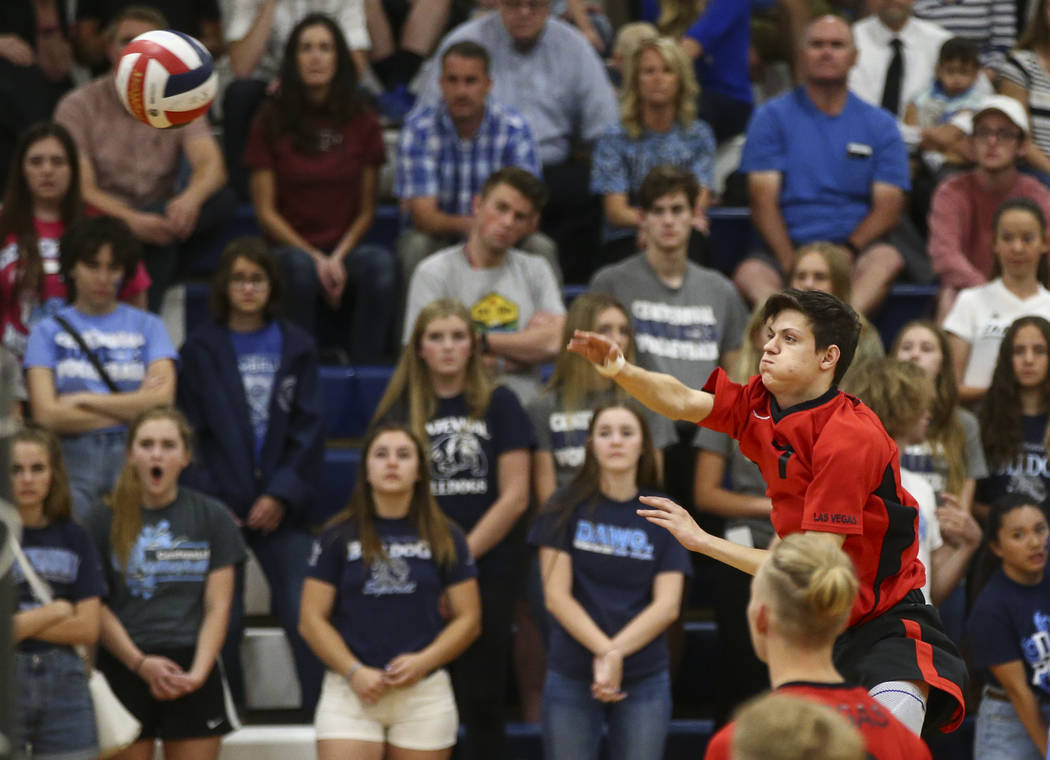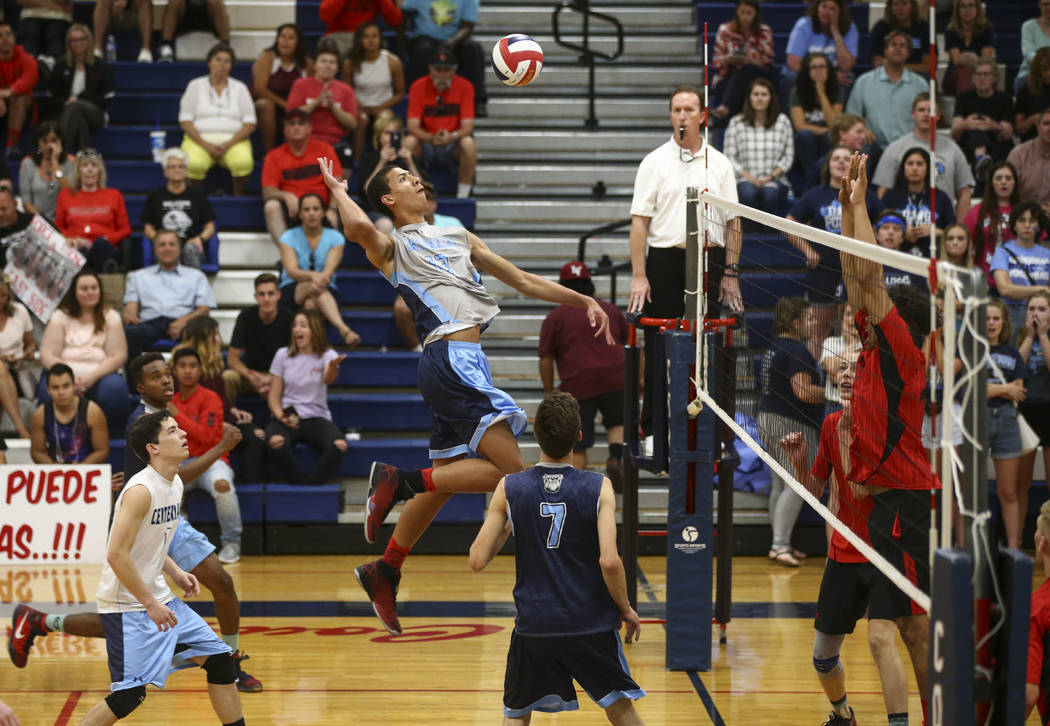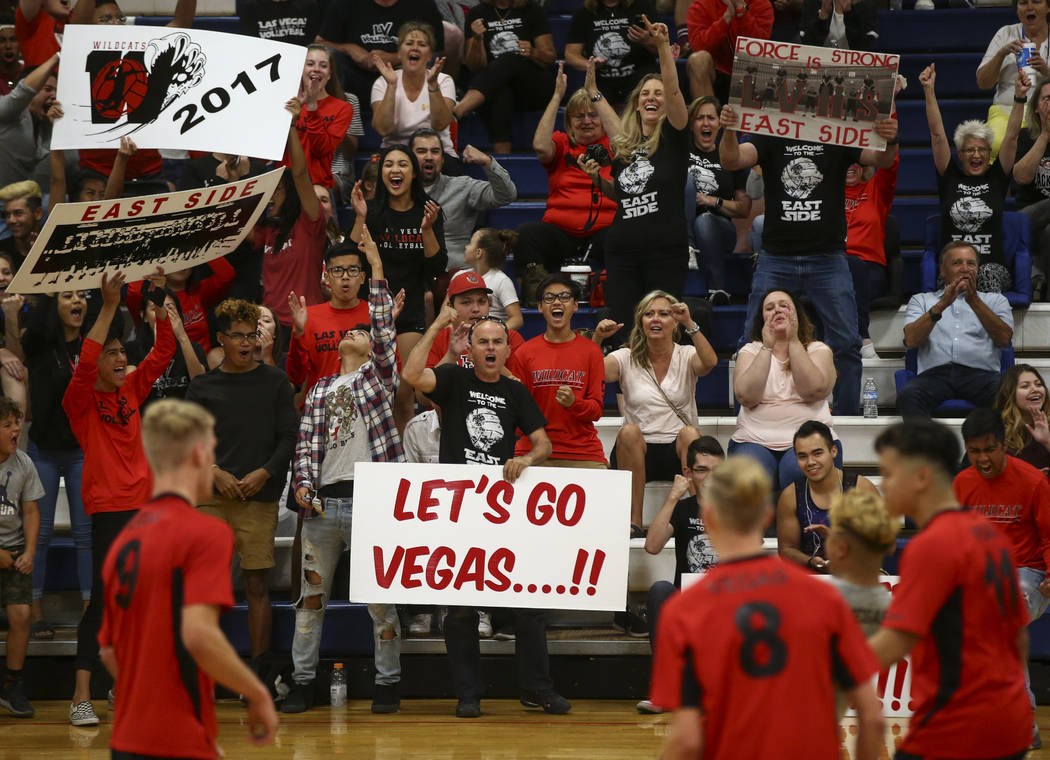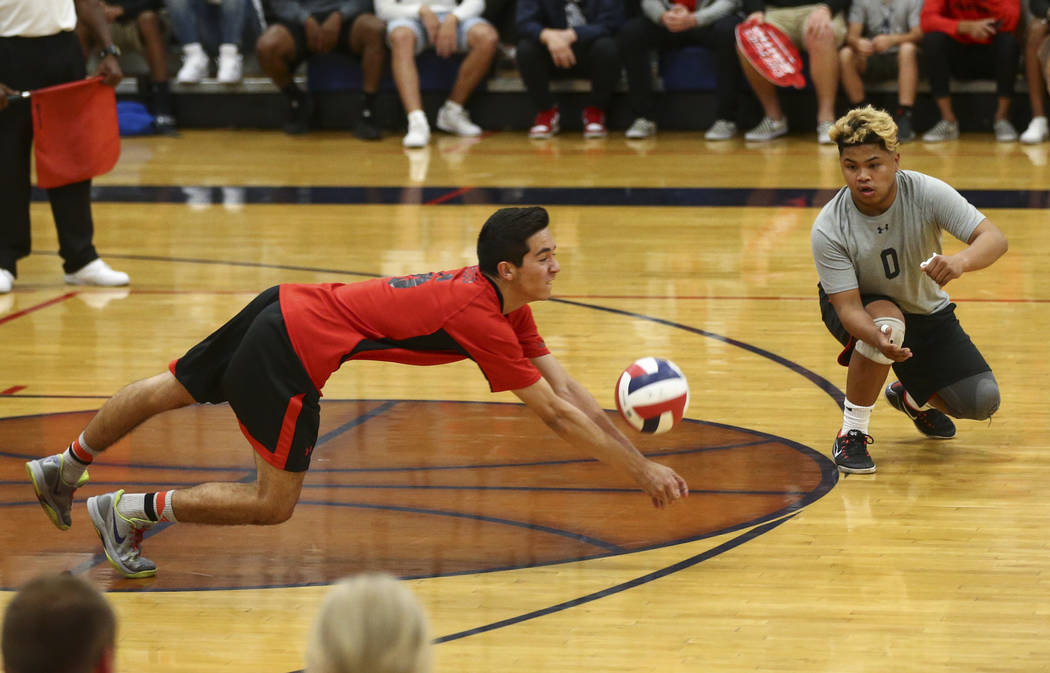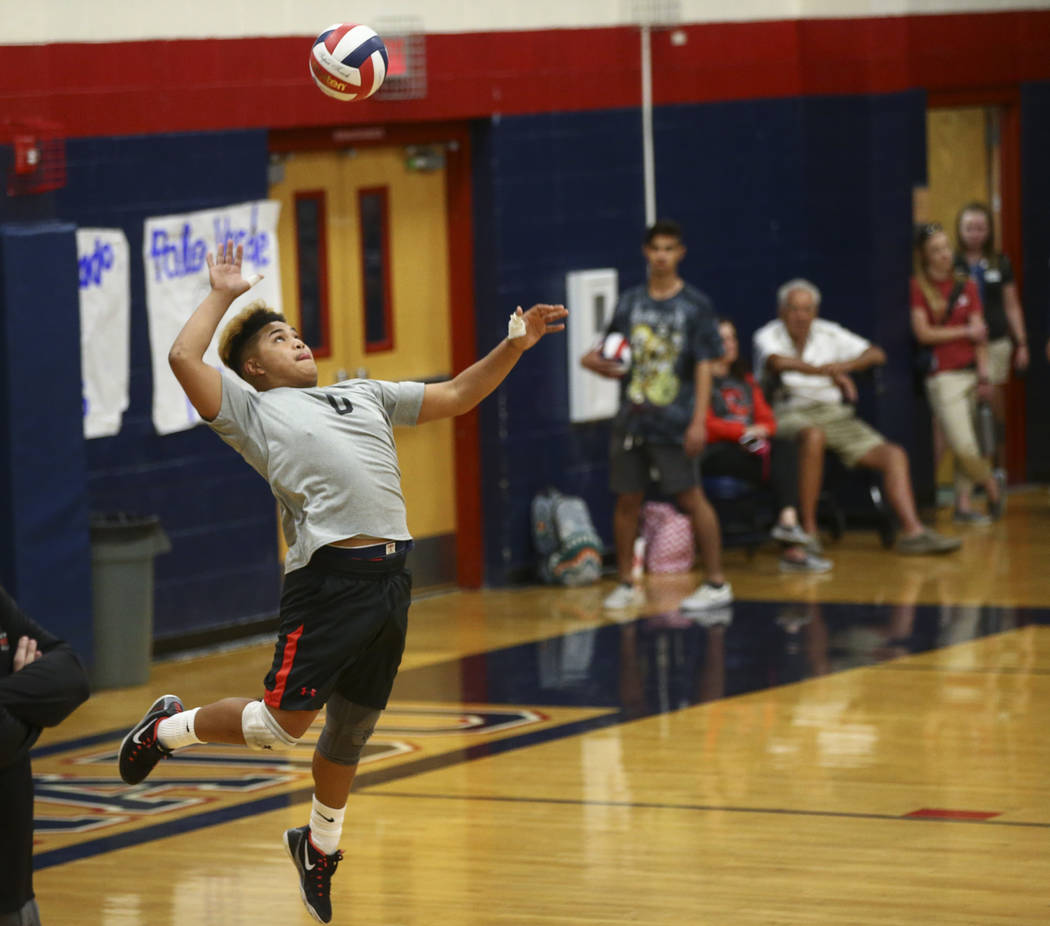 Diving for loose balls, running into bleachers, and tracking balls off the overhead basketball hoops were all part of the norm Tuesday night.
It was just your typical Las Vegas High boys volleyball match.
Brandon Kampshoff had 20 kills and 16 digs, and Kyle Monton added 35 digs to help the defensive-minded Wildcats outlast Centennial 25-21, 21-25, 25-23, 21-25, 15-10 in a Class 4A state semifinal at Coronado.
Las Vegas (32-13) will face Palo Verde (28-9) — a three-set winner over Coronado — in a matchup of region champions in the state final at 7 p.m. on Wednesday at Chaparral.
"It's something about kids from our side of town," Las Vegas coach Justin Graham said. "It's how they live their lives. It's a heart or toughness. It's just what they bring to the table.
"We needed every kid (Tuesday) to beat a team like that. Centennial has been fantastic all year, and they've got a tremendously balanced attack. They bring a lot, so we needed to match them."
And they did for five back-and-forth sets. The Wildcats, never known to be an offensive team, turned to their defense to lengthen rallies and effectively bring on a conditioning exercise.
"Part of that is them adjusting," Graham said. "Our slide (defense) was really working at the beginning, but they kind of started following that and shut it down. … We tried to make (their outside hitters) uncomfortable. We try and take away the line on a block, which a lot of teams don't focus on, and that starts to make outsides uncomfortable."
After the teams traded the first two sets, Las Vegas held on to a 10-point lead in the third to grab a one-set advantage. The Wildcats led 20-10 — and won 25-23 — when Centennial's Kade Frischknecht was called for being underneath the net.
But the Bulldogs didn't panic and rallied from a six-point deficit in the fourth. Teon Taylor won a joust at the net over Las Vegas' Shaun Kampshoff to extend the match.
In the fifth set, Brandon Kampshoff was the difference-maker for Las Vegas. The senior posted five kills and a block and scored the match-winning point when he took a set from younger brother, Shaun, in the center of the court and found an open spot in the left corner.
"At the end of the fourth (set), Brandon took it upon himself that he wasn't going to let that happen again," Graham said. "He was going to put some of the burden on his shoulders. Our setters can see who wants to swing, and they gave him the ball when we needed to. He went and made some plays that he really had to."
Shaun Kampshoff had 14 kills, 22 assists and 20 digs, and Romeo Gray notched 10 kills and five blocks for Las Vegas, which also got seven kills, nine digs and seven blocks from Foster Palo. Jon Sosa added 11 kills and 13 digs, Elliott Silveira had 24 assists for the Wildcats, who will be seeking their first state title since 2008.
Las Vegas was state runner-up in 2014.
"A lot of older brothers were on that team," Graham said. "The little brothers are playing here (now). All these kids watched that happen. So they saw what that was like, and they want that. We're going to see a fantastic team tomorrow, and they're going to have to bring everything. But that's what we've been working on all year, so we'll take our chances."
Frischknecht had 22 kills, 14 digs and two aces, and Farries Gardner added 13 kills, three digs and six aces to lead Centennial (32-11).
"It's fitting that our season ends in five sets," Centennial coach Erik Davis said. "These kids are fighters, and they fought every step of the way."
Palo Verde 3, Coronado 0 — Stephen Banks had a match-high 13 kills, and Scott Solan added nine kills and five blocks to lead the balanced Panthers to a 26-24, 25-20, 25-17 sweep of the Cougars in the other semifinal.
"Even for being balanced, guys in stretches kind of took over," Palo Verde coach Phil Clarke said. "It was Scott for a stretch, then Stephen for a stretch. They kind of took turns when we needed it. (The match) was kind of back-and-forth, but we never really put ourselves in a rut."
In the first set, Palo Verde nearly fell apart late but showed championship pedigree in winning. After blowing a three-point lead and finding themselves tied at 24, the Panthers scored the next two points to take the opening set.
The left-handed Solan put down a monster kill, and Palo Verde grabbed the set after a Coronado hitting error ended a back-and-forth rally.
"Honestly, we don't even have to say anything," Clarke said. "It's more them. We'll just step back. It starts with Grant (Tingey) and Chandler (Juilfs) — the captains — but being so senior-heavy, they all kind of know."
Tingey had seven kills and five blocks, and Josh Horn had eight kills for Palo Verde, which also got contributions from Kainoa Villa (seven kills, 27 assists) and Haden Van Orden (17 assists).
On Wednesday, the Panthers will be looking for their first state title since 2015.
"It's going to be a battle," Clarke said. "We've done a great job getting there, but anything that's happened before doesn't mean anything. We're both here. Two teams in the same spot. It feels good to be back."
Ryan Garlick had 12 kills and six digs, and Alex White had 36 assists and five digs to lead Coronado. Ben Truman and Stuart White each added nine kills for the Cougars (27-16).
"I'm super proud of these guys," Coronado coach Matt Johnson said. "We're kind of a mish-mash group of guys. I've got a football player, a soccer player, guys that don't play year-round. So I'm proud of the work that we did throughout the season. To say we're just happy to be here is not good enough. But we're happy to be here, and happy that we were able to compete against a really good and experienced Palo Verde team. I thought we played our hearts out."
Box scores: