DIVISION I VOLLEYBALL: Comeback kids of Coronado champs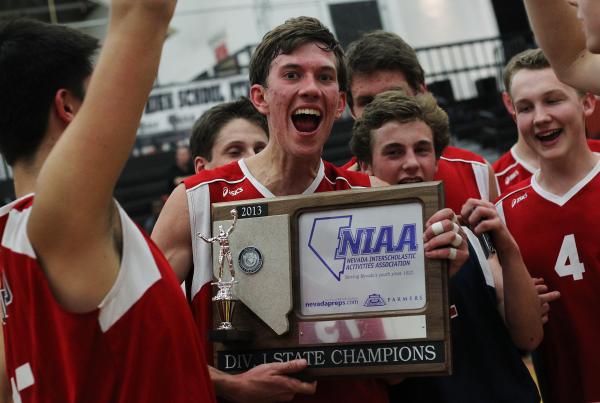 One of the hallmarks of the Coronado boys volleyball team this season is its ability to come from behind.
That trait was on display once again Wednesday.
The Cougars overcame deficits in the second and fourth sets, and held off Foothill 25-20, 25-21, 22-25, 25-20 in the final of the Division I state tournament at Chaparral.
It is the second straight title for the Cougars (26-4), who have reached the state final five consecutive years.
"This group of guys is resilient and they weather tough moments," Coronado coach Matt Johnson said. "I'm proud of the guys. This is the first group of guys I came in with. It's really nice to keep it going the last four years, and hopefully we can keep it going in the future."
Tyler Cucullu led the Cougars with 16 kills, 10 digs and six blocks. Max Osmundson added 14 kills, and Connor Stephenson dished out 41 assists.
"This is how I wanted to end my senior year," Cucullu said. "Last year was great, but this year is 100 times better."
The Cougars rolled in the first set before falling behind 15-11 in the second set. However, Coronado scored 10 of the next 12 points, and back-to-back kills by Matt Pettit closed out the set.
Foothill (31-12) answered by winning the third set as Caleb Hutchinson rallied the Falcons from a 21-18 deficit, and Foothill led 15-12 in the fourth set.
But Osmundson sparked a 7-0 spurt to give Coronado a 19-16 lead. The Falcons then survived three match points before Cucullu put away the match winner, setting off a huge celebration.
"When we were behind, we didn't try to do anything special," Cucullu said. "We just ran our normal offense and let them make the mistakes. Once we had the lead, we didn't give it up, and we kept fighting."
Hutchinson led the Falcons with 15 kills and teammate Kendell Andrews added 11 kills.
"They caught us in a couple of our weaker rotations in bad times, but that's volleyball," Foothill coach Chris Sisson said. "I'm so proud of the guys. They could have rolled over, but they stepped up big."