Sunrise Volleyball: Basic takes out Liberty in four sets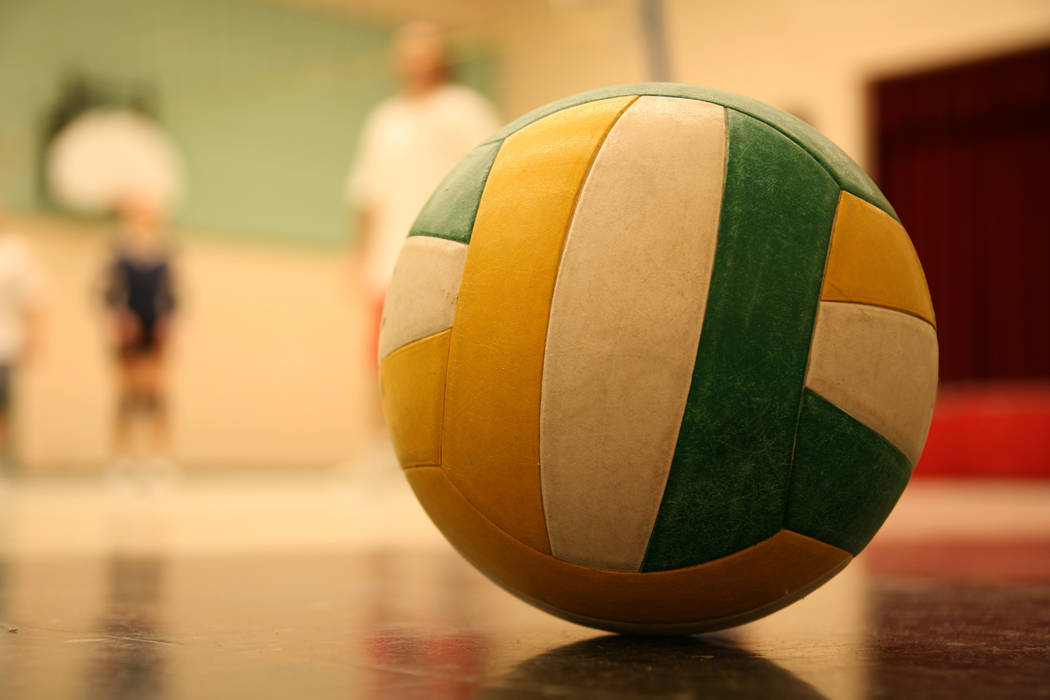 Basic's boys volleyball players congregated in a corner of Foothill's gymnasium, and celebrated the fact that there's practice on Wednesday.
Their season will continue.
For at least two more days.
The Wolves waltzed to a 25-14, 25-21, 24-26, 25-16 victory over Liberty on Tuesday night in the Sunrise Region tournament quarterfinals.
Basic (18-11) will play Foothill (29-11) at 5 p.m. Thursday at Las Vegas High for a berth in the region championship game.
"We're peaking right now in the season," Basic coach Dennis Muaina said. "We practiced really hard against what we they did. And so it was a matter of a good practice and us peaking at the right time."
Muaina said he wanted to neutralize Liberty's hitters, and Basic did just that with a surgical performance in the first set. The Wolves dominated the early part of the second set, too, grabbing a 13-2 lead, and held off the Patriots, who came rallied to tie at 18.
"When we play as a team and play our game, we play great," Basic outside hitter Trevor Robbins said.
Liberty (15-15) bounced back to claim the third set, but the Wolves were too good in the fourth set. Robbins was dynamic with a series of explosive kills, and Basic's front row stifled the Pariots hitters.
Just like Muaina had hoped.
"We had to work through a lot of personnel changes," he said. "We actually changed our defense and our offense. Because we changed that, everything is going the way that we practiced."
Martin Velasco had 46 assists and two digs for Liberty. Troy Fautanu added 16 kills, two aces and two blocks.
Foothill 3, Rancho 0 — At Foothill, Tanner Lester had two aces, eight kills and six digs to lead the Falcons to a 25-21, 25-23, 25-18 victory over Rancho.
Richard Reid added 13 kills for Foothill, and Caleb Stearman had 11 kills and 20 assists.
Brennan Berti had 18 kills for Rancho (15-17), and teammate Jesus Gonzalez had 13 assists.
Las Vegas 3, Silverado 0 — At Las Vegas, Shaun Kampshoff had 11 kills and nine assists as the Wildcats topped the Skyhawks, 25-20, 27-25, 25-18.
Jorge Hernandez and Leadner Gates each added eight kills, and Gerardo Lopez-Carpio had five blocks for Las Vegas. Hernandez also had 15 digs for the Wildcats (25-17), who will host Coronado (23-18) at 7 p.m. Thursday.
Jon Francis led Silverado (16-21) with 11 kills. Owen Cox added 17 digs, and Dillon Marshall had 12 digs for the Skyhawks.
Las Vegas plays Coronado on Thursday.
Coronado 3, Green Valley 0 — At Las Vegas High, Ben Bloss had 13 kills, five digs, two aces and two blocks to power the Cougars to a 25-18, 25-12, 25-23 victory over the Gators.
Alex White posted two kills, 14 assists, four aces and seven digs for Coronado, and Alex Winiarczyk had seven kills and 10 digs.
Green Valley finished 16-18.
Box Scores: