SUNRISE VOLLEYBALL: Liberty gets rid of Rancho hex in playoff opener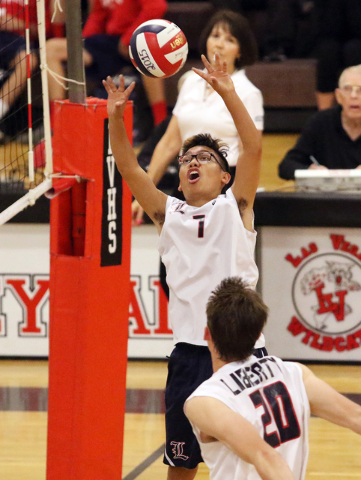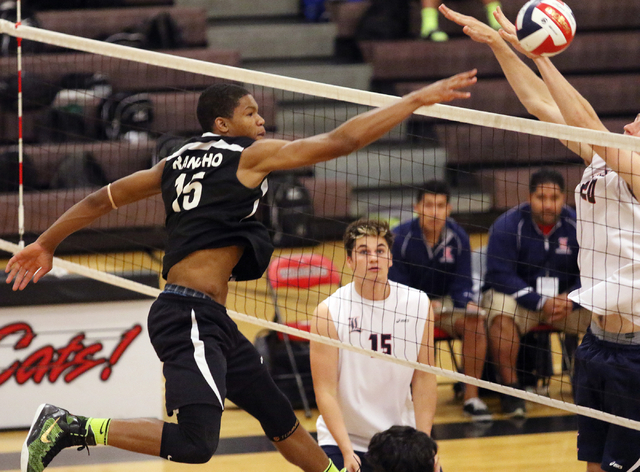 When his team took a two-set lead Tuesday, Liberty boys volleyball coach Brandon Kersting couldn't resist the urge to recall previous advantages the Patriots had given away.
Any anxiety was short-lived, as third-seeded Liberty took control early in the third set and closed out an upset of second-seeded Rancho 25-22, 31-29, 25-22 in the first round of the Sunrise Region tournament at Las Vegas High.
The victory lifted the Patriots into the semifinal round, where they will face Foothill at 7 p.m. Thursday.
Brandon Baliza and Ryan Taggart logged 14 kills apiece for the Wildcats, who lost all three of their regular-season matches against the Rams.
"We have struggled with leads this season. We tend to go up 2-0 and lose," Kersting said. "I think we've improved a lot. We're a lot smarter and more disciplined."
That discipline showed as Liberty fought off several first-set rallies by the Rams, pulling away late with the help of two key kills by Taggart.
The Rams (17-9) were not as easy to shake in the second set, as they rallied from an early deficit to go ahead 22-19 on a big block by Martin Rodriguez. But the Patriots battled back, taking a 30-29 lead on Daniel Lusung's block and winning on a kill by Jerry Ward.
"Several players stepped up in that set," Kersting said. "They did a good job leading the team like they were supposed to do. They never gave up when they were down. They had confidence, and they fought back to win."
Though Rancho fell behind early in the third set, the Rams again fought back to tie the score at 20. But Taggart came up with three more timely kills down the stretch, sealing it for Liberty with an emphatic blast that caromed off a defender's hand for match point.
Brycen Ivester had 36 assists to help Liberty (14-12), and Mike Meatovich added five kills and two blocks.
Rodriguez finished with 11 kills and two service aces for Rancho, and teammate Lamont Traylor added 16 kills and two blocks.
Foothill 3, Valley 1 — Mason Hansen logged 16 kills and seven digs to help the Falcons upset the Northeast League champion Vikings, 25-23, 30-28, 14-25, 25-22.
Colin Curi had 10 kills and eight digs to help Foothill (22-16), which seized control by winning a marathon second set. Teammate Shilo Chow had 34 assists, 12 digs and three kills, and Zachary Thompson added seven kills and five blocks.
Marty Heavey helped Valley (13-8) keep it close throughout, finishing with 21 kills. Teammate Jared Marchello added six kills and three blocks.
Las Vegas 3, Green Valley 2 — Ryan Magante had 21 digs and 18 kills to help the Wildcats rally past the Gators, 14-25, 17-25, 25-13, 25-16, 15-10.
Brandon Kampshoff had 18 kills, 15 digs and four aces to help Las Vegas (12-10), which appeared outmatched in losing the first two sets. Teammate Luis Wong has 28 assists and 11 digs, and Antonio Wong added 15 digs.
Las Vegas will meet Coronado (22-15) in a semifinal at 5 p.m. Thursday at Las Vegas.
Zachary Hewitt had 30 assists and seven digs to lead Green Valley (14-11), which was ultimately unable to match the depth of the Las Vegas bench. Teammate Chase Larson added 11 kills and two blocks.
Coronado 3, Silverado 0 — Karriem Beyah had 13 kills to help the Cougars rout the Skyhawks, 25-17, 25-9, 25-15.
Taylor Jones (seven kills), Cole Gerrard (10 digs), Travis Little (six kills), J.J. Meath (six kills) and Sam Cox (37 assists) also pitched in for Coronado.
Tyler Gralapp had 11 kills and five digs to lead Silverado (3-12). Teammate Taz Goon had eight kills, and Cody Steckel added 20 assists.
Box scores: