Sunset Region: Shadow Ridge claims "Golden" victory over Gorman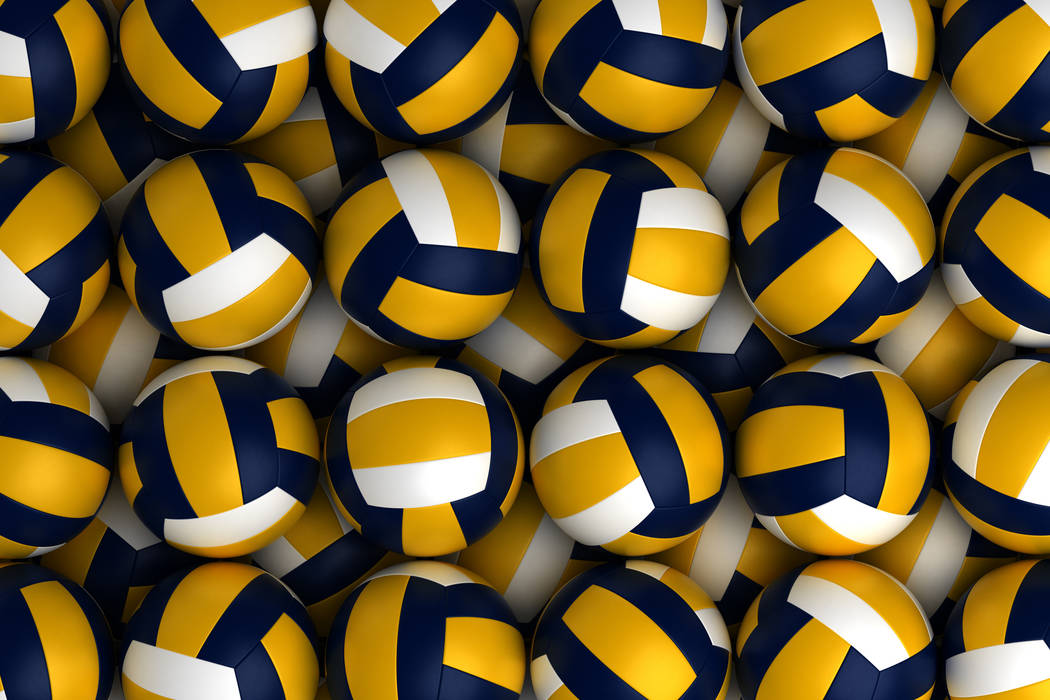 "Golden" is the one word that bests describes the Shadow Ridge boys volleyball team's performance Tuesday night in the first round of the Sunset Region tournament.
The top-seeded Mustangs put on a dominating performance with a 25-19, 25-11, 25-21 sweep of Bishop Gorman on a night the Mustangs dedicated to their heroes — the Vegas Golden Knights.
"We were hockey fans before this, and now we're even bigger hockey fans," senior outside hitter Tanner Franklin said. "They are our idols. We look up to them, and we want to represent our team the way they represent our city."
The Mustangs incorporated some of the Golden Knights magic into their pregame routine by wearing jerseys and other Knights gear. Head coach Luke Wilson even got into the spirit by donning a VGK polo.
"The players asked, 'They're in the playoffs, we're in the playoffs, can we do a Golden Knights team night?' I thought about it for a minute and said, 'Yeah let's do it,'" Wilson said. "This is awesome. Our city is going through something cool, and it's something I want to represent. They're in the playoffs, we're in the playoffs, why not go out and represent them and they can represent us, it's kind of cool.
"The kids love it. They've been to the games, and they have the jerseys. They love the team."
Shadow Ridge (33-1) actually fell behind 7-10 early in the first set before reeling off nine straight points to take a 16-10 lead. They extended their lead to 23-15 before Gorman rallied for four straight points to cut the lead to 23-19. However, the Mustangs held off the Gaels and ended the match with a kill from Franklin, who would finish the game with 10 kills and seven digs.
In the third set, the Gaels (12-11) kept it close, but every time they would get within a point, Franklin would end their rally with another powerful kill.
"The middle wasn't getting out, so I knew I had cross court all the time and could just pound it out there," he said.
Derek Robnett had seven kills, three aces and six digs, Andrew Wyatt dished out 21 assists, and Travis Hoadley had 18 digs for the Mustangs.
Wilson was impressed with his team's effort on the night. He was also pleased to get some of his bench players some extended time during a playoff game.
"It's definitely something we needed in the first round," Wilson said. "It's the first step, but it's only a step. We have more steps to take. We were able to play different players, able to put different players in different positions and were still able to succeed in a match we had to win. We also saw some good things from the serve line."
The Mustangs will face fourth-seeded Arbor View at 5 p.m. Thursday at Arbor View. Shadow Ridge won two matches against the Aggies this season, 2-0 and 3-1.
"We need to be able to consistently get the points from one point to the next, being able to serve and get multiple points from the serve line, not just defensively," Wilson said. "It doesn't matter what year it is or what the record is, it's Arbor View and Shadow Ridge. We live literally 4-5 miles apart. It doesn't matter what it is we're going to be ready for a battle."
Anthony Leach had six kills and 11 digs to lead the Gaels.
Arbor View 3, Cimarron-Memorial 2 — At Shadow Ridge, Gideon Belnap had 18 kills and 13 digs as the fourth-seeded Aggies downed the Spartans, 23-25, 25-22, 25-22, 20-25, 15-7.
After dropping the first set, the Aggies (28-8) won the next two sets and had a chance to end the game in the fourth set after taking a 20-17 lead. However, Jameson Valencia, who finished the game 12 kills, four digs and one block, rallied the Spartans (26-15) for the next eight points to win the match 25-20.
In the fifth set, the Aggies took early control, jumping out to a commanding 4-0 lead on the strength of a kill and block by Jaylen Harris, who finished the game with 11 kills and six kills.
Jake Reid had 14 kills, had nine digs and served up two aces, and Sam Belnap dished out 48 assists, served up three assists and had 10 digs.
Fred Tito had 12 kills and 27 digs, Alex Olson had two kills, dished out 45 assists and had eight digs, and Johnathan Mika finished with 38 digs for the Spartans.
Centennial 3, Durango 0 — At Centennial, Farries Gardner had eight kills, seven digs and two blocks to lead the Bulldogs over the Trailblazers.
Nahmani Brown had eight kills, and Justin Madsen had seven kills and 10 digs for the Bulldgos (36-5). Sam Durkin had 23 assists and three aces for Centennial, which plays Palo Verde in the semifinals at 7 p.m. on Thursday at Arbor View.
Tai Foster and Tim Kedrowski each had four kills for Durango, and Braetin Foster had 22 digs for the Trailblazers (18-21).
Palo Verde 3, Sierra Vista 0 — At Palo Verde, Cooper Jarman supplied 16 assists to power the Panthers past the Mountain Lions, 25-16, 25-21, 25-16.
Luke Johnston had 15 assists, Jared Brady dropped 14 kills, and Andrew Tingey added nine kills for Palo Verde (30-7).
Sierra Vista finished 18-23.
Box scores:
Arbor View 3, Cimarron-Memorial 2
Shadow Ridge 3, Bishop Gorman 0