SUNSET VOLLEYBALL: Revenge-minded Panthers savor win over Mustangs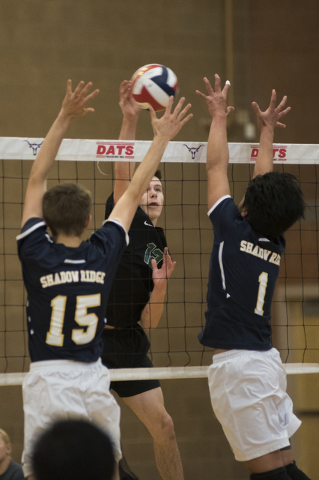 Palo Verde's boys volleyball team hadn't experienced much success against Shadow Ridge in recent years, so the Panthers had revenge in mind when they faced the Mustangs on Thursday in the Sunset Region semifinals at Legacy.
They got it.
The Panthers took control from the start and blazed through a 25-21, 25-18, 25-18 victory over Shadow Ridge in a match that took just 71 minutes.
"From the moment they stepped off the bus, they had a focus unlike what I've seen all season," Palo Verde coach Phil Clarke said. "It's become such an intense rivalry against Shadow Ridge, but you can tell the guys really wanted this tonight."
Palo Verde (30-10) will play Legacy (17-6) in the region final at 7 p.m. Friday at Las Vegas High.
Shadow Ridge beat Palo Verde in the Sunset semifinals last season and took three of four meetings this year.
But the Panthers used a key six-point run fueled by the play of Michael Simister to take control in the first set.
Simister's third block down the left side gave the Panthers a 24-20 cushion, and they never looked back.
"We came out with plenty of energy," said Simister, who had 12 kills and 22 digs. "We really remembered losing in this round last season, and we wanted revenge. We were focused for this game, no doubt about it."
The Panthers continued using their middle game to frustrate the Mustangs (20-8), as Palo Verde got kills from Grant Tingey, Tristan Bradford and Simister during an 8-0 run in the second set. Once Palo Verde gained control, the closest Shadow Ridge would get in the middle game was four points.
"It was one of those nights," Shadow Ridge coach Travis Underwood said. "Palo Verde has a very good team, with each player knowing their role. They came out with a game plan, and they stuck to it. The key was when things got a bit out of control, they handled things better than us."
The third set had its out-of-control moments, including back-to-back mishits by the Mustangs. But in the end, it was another Palo Verde run that Shadow Ridge couldn't overcome.
With the game tied 10-10, the Panthers used kills from Simister, Bradford and Tyler Klingensmith during a 7-1 spurt.
"Palo Verde concentrated on the middle, and that was the difference," Underwood said. "But this loss doesn't diminish what we have accomplished this season. The future is bright, and we will be back."
Quinn Peterson led the Mustangs with 14 kills, three blocks and six digs. A.J. Makaiwi had 21 digs, and N.J. Makaiwi had 17 assists and 18 digs.
Simister finished with 12 kills and 22 digs for the Panthers, Bradford had 10 kills and Chandler Juilfs seven. Jonathan Hecker had 12 digs.
Legacy 3, Arbor View 1 — Anthony Delgado had 34 assists, and Zaire Franklin added 11 kills as the defending state champion Longhorns advanced to the region final with a 25-21, 22-25, 25-23, 25-21 win over the Aggies.
Anthony Guevara had six kills and eight digs for Legacy, and teammate Omari Wheeler had 16 kills and three blocks.
Ben Martin had 33 assists, seven digs, two blocks and an ace, and Sam Buckels added 16 kills for the Aggies (14-9).
Box scores: