VOLLEYBALL HONORS: Diminutive Marquez earns big award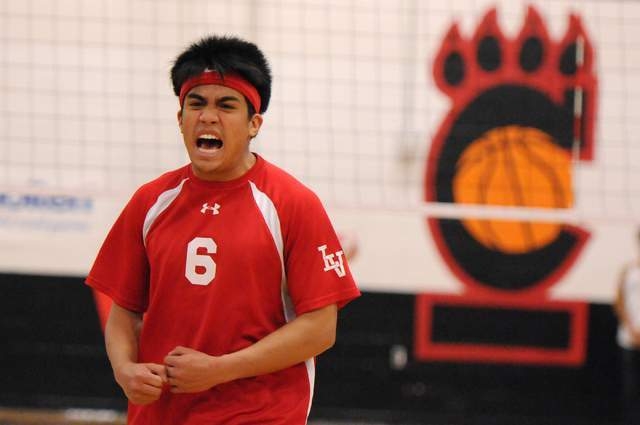 Las Vegas High's Shayne Marquez might not have been the most physically imposing player on the volleyball court this past season.
But his contributions were certainly felt in every match he participated in.
The 5-foot-3-inch, 135-pound senior was key in helping the Wildcats reach the state championship match. And as a setter, Marquez successfully controlled the tempo of matches and created offense for his big outside-hitters. For his efforts, he was named the Sunrise Region Most Valuable Player by the coaches.
"He works hard in everything that he does," Las Vegas coach Sue Thurman said. "He's a truly amazing kid. Every time he's on the court, in the gym, in the classroom, kids follow him. And he backs up what he says with his actions."
Marquez, who's also in the running for school Salutatorian, continued his high level of play well into the playoffs. His 53 assists and seven digs in a five-set win over Valley on May 16 helped the Wildcats claim their first Sunrise championship since 2010.
Marquez was also named first team All-Southern Nevada, and was joined by teammates T.J. Esporas and Chris Kampshoff.
"They've all come through the program together," Thurman said. "Our program is a family, from our alumni to our freshman. It's going to be very emotional to lose them. I see these three kids being role models for the kids growing up in the program now."
Thurman, who's been the boy's volleyball coach since 2005, was named the Sunrise Region Coach of the Year.
"It's absolutely an honor," she said. "I'd prefer it to be 'Coaching Staff of the Year' because I've been so honored and blessed to work with my staff. It's been a combined effort with every one involved. It wasn't just me. We had an incredible season. I don't see anything other than success when I look at this season."
Legacy's Tanner Compton was named the Southern Nevada's Most Valuable Player, and his coach Ray Lewis earned Coach of the Year after leading the Longhorns to their first state championship in school history.
Compton also made first team All-Southern Nevada team, along with teammates Trent Compton, Branden Liu and Zaire Franklin. Valley's Jack Heavey and Coronado's Max Osmundson rounded out the rest of the first team.
On the second team was Valley's David Delaney and Matt Ballaro, Shadow Ridge's Quinn Peterson and A.J. Makaiwi, Arbor View's Darien Bradley and Chris Heron, Legacy's Anthony Cabrera, Centennial's Chet Durkin and Las Vegas' Chris Marx.