4A VOLLEYBALL: Second-set comeback keys Bishop Gorman win
November 11, 2016 - 10:44 pm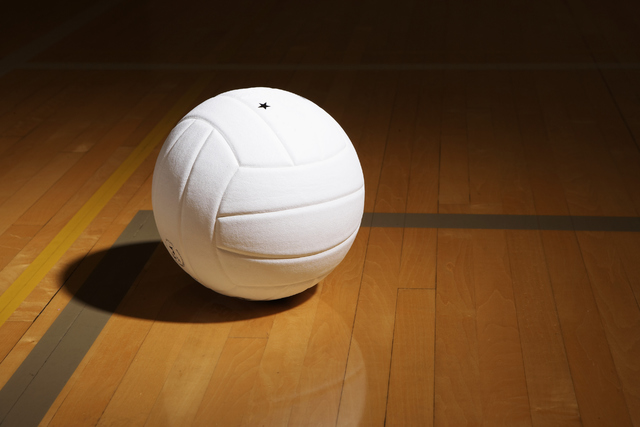 RENO — Sometimes in practice, Bishop Gorman coach Ed Van Meetren will put a score on the scoreboard and have his team work on coming from behind.
That drill paid off for the Gaels, as a second-set comeback keyed their 25-20, 26-24, 25-16 win over Douglas in the Class 4A state semifinals at Damonte Ranch on Friday night.
The Gaels trailed 23-20 in the second set, but finished with a 6-1 run to take a 2-0 lead and deflate the Tigers.
"We've been working a lot on coming from behind," Van Meetren said. "Usually it's 15-10 or 10-5, but we've done 23-20 plenty of times before, so the girls believe they can win no matter what the score is."
Gorman (28-10) will play Reno (21-5) in the state final at 2 p.m. Saturday.
Gorman junior Sydney Lobato said the Gaels talked about those drills during a timeout called by Van Meetren.
"Everyone was all calm and we kept together as a team," Lobato said.
The Gaels jumped out to a 7-1 lead in the third set, taking advantage of their momentum and a deflated Douglas squad. Douglas (25-9) got as close as 17-13, but Tommi Stockham and Abbey Archambault put down kills as the Gaels finished the match with another rush.
"It's just so exciting for the whole team," Lobato said. "We're going to fight to win it all."
Bishop Gorman has made several state tournament appearances without winning a championship, including one finals appearance in 2005.
"If you can get to the final game you have a good chance," Van Meetren said. "This year we're a pretty solid team ourselves and we're a balanced team, we can attack all over the court."
That balance was evident with seven players recording kills.
Stockham led the team with 12 kills. Kylie Gibson had seven kills, Lobato had 19 assists, four kills, and two aces, and Lilly Hoff had 12 assists, two kills, two aces and six digs for the Gaels.
Reno advanced with a 21-25, 25-21, 25-23, 19-25, 15-10 win over Silverado.
"Silverado was very, very good," Reno coach Gordon Nakagawa said. "Those Vegas teams are no slouches."
Sydney Berenyi had 21 kills and 10 digs for Silverado (30-8). MacKenzie Carter added 19 kills and two blocks, and Mariah Morris had nine kills and two blocks for the Skyhawks.
"It wasn't the fifth game, it was the second and third where it got away from us," Silverado coach Eric Drum said. "I didn't think they were outplaying us. They weren't putting the ball away on us, but we gave them a lot."
Reno got its attack going late in the match, with Parker Buddy finishing with 22 kills and 15 digs. Kaitlynn Biassou had 13 kills, and Kyra Johannessen added seven kills and three aces for the Huskies.
Box scores: