September 18, 2015 - 2:15 pm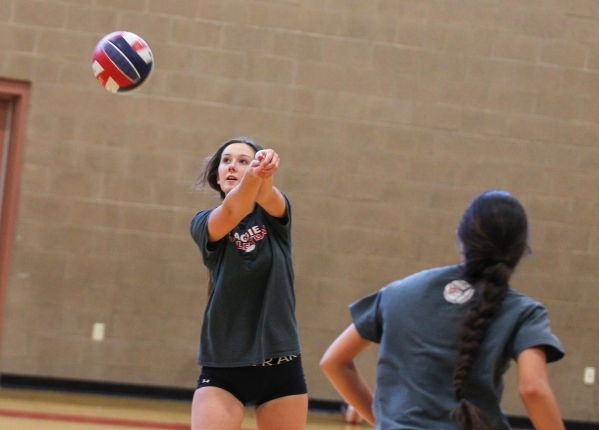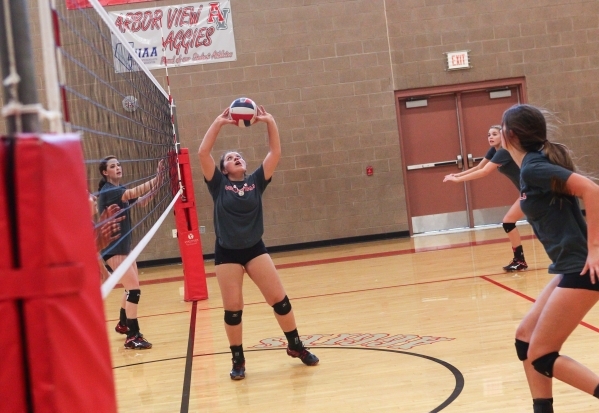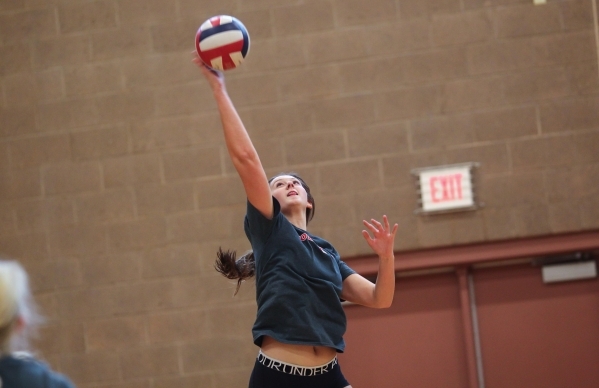 Most high school teams, regardless of sport, would like to believe they have one big family on their playing field.
For Arbor View girls volleyball coach Jay Renneker, it's not a matter of belief.
He has three pairs of sisters on a 14-player roster, five of whom start.
"And the rest of the team is like sisters," he said. "We have a very close group. We believe in building a team and a family. We preach that at Arbor View. It does make for a really good dynamic on the floor."
Renneker, who entered his 19th year in the Clark County School District this season after previous stops at Western, Coronado and Chaparral, is finding success at his latest school and appears to be in position for a deep playoff run in his third year.
The Aggies, the defending Northwest League champions, are 9-2, including a 5-2 record in the Las Vegas Invitational.
"Best start in Arbor View's history," Renneker said. "So they're doing fantastic. … They learned they can compete and that they're kind of scary. If they play, the sky is the limit."
The immediate success isn't the least bit shocking, though. Just take one look at the roster.
There are the Goddard sisters, senior Hannah and sophomore Sarah; the Jeeves, sophomore Alyson and junior Alyssa; and the Kershaws, freshman Alexis and senior Kasey.
More important than any contribution on the court, the siblings have helped shape the Aggies behind the scenes and have formed a togetherness many teams wish they had.
"I was hoping it would be good (start), obviously, but we were a little surprised," senior middle blocker Kasey Kershaw said. "We put it together really fast. Faster than we normally do.
"We're all best friends, so it works really well."
Hannah and Sarah Goddard, who both were first-team All-Northwest selections last year, lead the team's towering front line and are the statistical leaders this season.
Renneker said it's their sibling competitiveness that brings the level of play up for everyone.
"They probably push each other more than anybody," he said of the 6-foot sisters. "They're each other's biggest fans, but also their biggest critics."
But it doesn't stop with the Goddards.
"All the sisters know each other really well," Renneker said. "Sometimes they fight more with each other. But they are very competitive, and that's always a bonus."
Senior middle blocker Sofia Valenzuela is the only starter who doesn't have a sibling on the floor with her.
But she doesn't ever feel neglected.
"In a way, I'm like their sister," she said. "I don't feel left out at all. It's awesome. I just love them all."
The close-knit Aggies will be looking for their best finish in school history this season, something Renneker said is completely possible.
"Over the summer, things started to click," he said. "We went to the UNLV camp and a few other things. We saw kids that want to play hard for each other. They want to be a team. … The expectation is to win a league championship again and to go to state."
The players also like their chances.
Despite having just four seniors, many said it feels as if they've played together for years.
"The whole program is one big family now," Hannah Goddard said. "And I really like that."
Contact reporter Ashton Ferguson at aferguson@reviewjournal.com or 702-383-0430. Follow him on Twitter: @af_ferguson