Roundup: Chloe Geiman, Centennial top Legacy
September 27, 2018 - 9:48 pm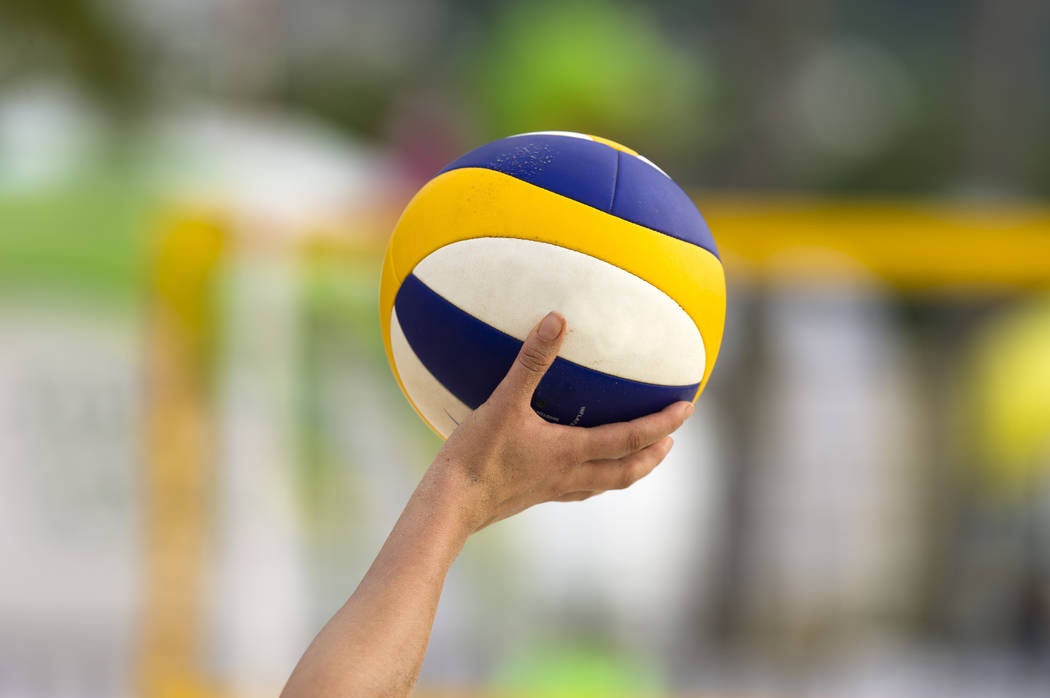 Chloe Geiman had nine kills and six aces Thursday to lead Centennial's girls volleyball team to a 25-22, 19-25, 25-18, 30-28 home victory over Legacy.
Alexis Yeghiayan have seven kills, Elaina Young had four aces and 11 digs, and Kaya Anderson dished out 27 assists for the Bulldogs.
Jazmyne Walker had 22 kills and 15 digs to lead Legacy. Alyssa Fuller had five aces and 41 digs, Jessica Liu had 15 digs, and Juliette Kirk added 39 assists and 18 digs for the Longhorns.
Arbor View 3, Rancho 1 — At Rancho, Alina Oranchak had 21 kills and 20 digs to lead the Aggies past the Rams, 25-22, 15-25, 25-20, 27-25.
Bailey Olbur had 17 kills and three blocks, and Sadae Cintron added 46 assists, four kills, three aces, 11 digs and two blocks for Arbor View.
Rancho's Angelina Robles had 11 kills, four aces and 19 digs, and Jan Duhaylunsgod added 29 assists, seven aces, three kills and 21 digs for the Rams.
Faith Lutheran 3, Las Vegas 0 — At Faith Lutheran, Kyrie Lorfing had 12 kills, 15 assists and eight kills as the Crusaders defeated the Wildcats, 25-17, 25-23, 25-15.
Hailey Carroll had 26 assists, three aces and eight digs for Faith Lutheran, and Isabelle Guerrero had 14 kills and seven digs for the Crusaders.
Brooklyn Stone led Las Vegas with 26 assists. Skyla Faught had 14 kills and four blocks for the Wildcats.
Palo Verde 3, Bonanza 0 — At Palo Verde, Alyssa Hewitt had eight kills to help the Panthers beat the Bengals, 25-12, 25-21, 25-19.
Kaila Yang added seven kills, and Rilee Read had 25 assists for Palo Verde.
Jaelynn Scott led Bonanza with six kills, and teammate Nicole Degro had 20 assists.
Cimarron-Memorial 3, Desert Pines 0 — At Cimarron, Natasha Obradovic had seven kills, two aces and eight digs to lead the Spartans past the Jaguars, 25-6, 25-18, 25-14.
Katherine Robianes had eight aces and two digs, and Destiny Garcia added 24 assists, two aces and two digs for the Spartans.
Cheyenne 3, Eldorado 0 — At Cheyenne, Miya Burns had eight kills and 10 aces as the Desert Shields took down the Sundevils, 25-21, 25-13, 25-11.
Arabic McLaurin had seven aces for Cheyenne, and Shaniya Mouton had two kills, five aces and two blocks for the Desert Shields.
Deanna Contreras had two kills, two aces, three digs and two blocks for Eldorado.
Amber Castro added three kills, four assists, two aces and two digs for the Sundevils.
Del Sol 3, Democracy Prep 0 — At Del Sol, Paige Birch had eight kills to lead the Dragons to a 25-21, 25-13, 25-7 victory over the Blue Knights.
Genessa Galibut added four kills, 24 assists and six aces, and Julie Robles had four kills, 15 digs and two aces for Del Sol.
Sierra Rivera had five kills and 13 digs for the Dragons.
Boulder City 3, Virgin Valley 0 — At Boulder City, Zoey Robinson served eight aces as the Eagles soared to a 25-13, 25-5, 25-10 victory over the Bulldogs.
Kamry Bailey added 10 kills, and Ava Wright added 22 assists for Boulder City. Rachel Krumm had six digs for the Eagles.
Maleena Felshaw and Sydney Ludvigson each had two digs for Virgin Valley.
Sky Pointe 3, Sunrise Mountain 0 — At Sky Pointe, Katie Piet had 25 assists and a trio of Eagles had seven kills in their 25-19, 25-10, 25-17 win over Sunrise Mountain.
Jayden Sanders, Jocelyn Sanders and Kylie Poulsen all had seven kills for kSky Pointe.
Sunrise Mountain's Addie Tinsley had four digs, two aces and two kills.
Mojave 3, Valley 0 — At Valley, Chania Scott had 14 kills to lead the Rattlers to a 25-12, 25-5, 25-19 win over Sunrise Mountain.
Aqeelah Muhammad had 28 assists for Mojave.
Andrea Munguia had six assists, four digs and two aces for the Vikings, Krystal Carter had five digs and four kills, and Frida Ochoa-Uribe had 12 digs.
Box scores:
Boulder City 3, Virgin Valley 0
Cimarron-Memorial 3, Desert Pines 0
Sky Pointe 3, Sunrise Mountain 0