Roundup: Emilia Mason leads Spring Valley past Canyon Springs
August 30, 2018 - 9:33 pm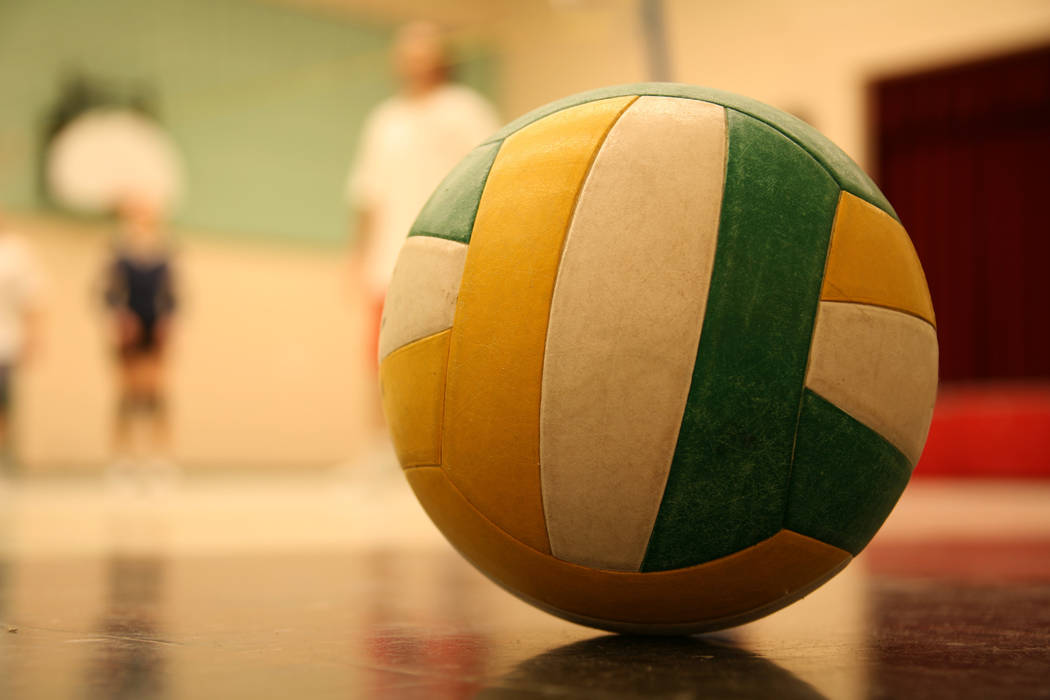 Emilia Mason had 20 assists and five aces Thursday to lead Spring Valley's girls volleyball team to a 25-19, 22-25, 23-25, 25-22, 15-13 victory over host Canyon Springs.
Simone Beane had 10 kills and six blocks, and Sanaa Lloyd had nine kills and six blocks for the Grizzlies.
Jeanette Fine had 10 kills, seven aces, and three blocks to lead the Pioneers. Mariah Hernandez added eight kills and three aces for Canyon Springs.
Coronado 3, Palo Verde 1 — At Coronado, Sasha Bolla recorded 24 kills as the Cougars beat the Panthers, 25-22, 17-25, 25-20, 25-18.
McCallister Gayle added 14 kills and four blocks, and Cassandra Smits-Van Oyen had 45 assists, six digs and two aces for Coronado.
Kennedi Steele had four kills and 19 digs for the Cougars.
Carli Tanner led Palo Verde with 12 kills. Elizabeth Gutierrez added 10 kills, and Arien Farfard had 31 assists and seven digs for the Panthers, who got 21 digs from Daphne Sadler.
Foothill 3, Rancho 2 — At Rancho, Brooke Bykowski had 15 kills, seven digs and two blocks as the Falcons outlasted the Rams, 17-25, 25-19, 21-25, 29-27, 15-11.
Riana Blount had seven kills, eight digs and four blocks, and Laynee Truscott had 38 assists for Foothill.
Jan Duhaylungsod had 14 assists, six aces and 20 digs to lead Rancho. Kekai States added 13 assists, and Mia Suzuki had 24 digs for the Rams.
Las Vegas 3, Liberty 2 — At Las Vegas High, Brooklyn Stone had 49 assists as the Wildcats took down the Patriots, 25-15, 25-17, 19-25, 23-25, 15-13.
Victoria Barney had 26 digs and 24 kills for Las Vegas, and Skyla Faught had 27 digs, three aces, and 17 kills for the Wildcats.
Sydnie Tuioti-Mariner had 47 assists, five kills, and two digs for Liberty. Jordyn Emmons added nine kills for the Patriots.
Chaparral 3, Clark 1 — At Clark, Bree'jahn Banks had 17 kills and six aces to power the Cowboys to a 25-13, 22-25, 25-15, 25-19 victory over the Chargers.
Maria Victoria Agao added 16 assists, and I'asia Mack had seven kills for Chaparral.
Amadi Wood led Clark with six aces and two kills.
Desert Oasis 3, Mojave 0 — At Desert Oasis, Nathlaie Van had 36 assists, eight digs and three aces to lead the Diamondbacks to a 25-12, 25-17, 25-13 victory over the Rattlers.
Paige Parlanti had 16 kills, eight digs and two aces, and Sophia Parlanti had 14 kills and two aces for Desert Oasis. Adriana Pizzolato added five kills for the Diamondbacks.
Vany Carballo led Mojave with 12 digs.
Boulder City 3, Basic 0 — At Boulder City, Ava Wright had 33 assists and seven digs to lead the Eagles to a 25-17, 25-22, 25-19 win over the Wolves.
Kamry Bailey had 16 kills, five aces, and seven digs, and Raegan Herr had eight kills for Boulder City.
Daisy Ramos had 17 digs for the Wolves.
Green Valley 3, Bonanza 0 — At Bonanza, Hailey McKinnis had eight kills, three aces and four blocks to power the Gators to a 25-11, 25-11, 25-11 win over the Bengals.
Julia Whiting-Reed added eight kills and two blocks, and teammate Deijah Spaight had seven kills and eight digs.
Melissa Fales led Bonanza with four kills. Sydney Evelyn Harner added 14 digs, and Nicole Degro had 10 assists for the Bengals.
Eldorado 3, Sunrise Mountain 0 — At Eldorado, Melissa Cuevas had five kills as the Sundevils beat the Miners, 25-18, 25-14, 25-14.
Amber Castro had three kills, eight assists, and four aces for Eldorado.
Julia Miles had two kills and three aces, and Elena Barriga had four kills or Sunrise Mountain.
Cimarron-Memorial 3, Del Sol 0 — At Cimarron, Natasha Obradovic had 12 kills, three aces and three digs as the Spartans beat the Dragons, 25-4, 25-13, 25-13.
Destiny Garcia had 14 assists, three aces and two digs, and teammate Andrea Aldaco had four aces and four digs for Cimarron.
Sky Pointe 3, Liberty Baptist 0 — At Sky Pointe, Katie Piet had 20 assists as the Eagles defeated the Knights, 25-23, 25-23, 25-17.
Jocelyn Sanders had 10 kills for Sky Pointe, and Kylie Poulsen had six kills for the Eagles.
SLAM Academy 3, Somerset-Losee 0 — At SLAM Academy, Amanda Lara had six aces and seven kills as the Bulls swept the Lions, 25-17, 25-22, 27-25.
Natalya Barney had six kills and five aces for SLAM Academy.
El Capitan (Ariz.) 3, Beaver Dam 0 — At Colorado City, Arizona, the Eagles swept the Diamondbacks, 25-15, 25-18, 25-19
Dakota Hurst had five kills, and Nancy Lopez had two aces and two digs for Beaver Dam, which got two digs from Elizabeth Jensen.
Box scores:
Cimarron-Memorial 3, Del Sol 0
El Capitan (Ariz.) 3, Beaver Dam 0
Eldorado 3, Sunrise Mountain 0
Sky Pointe 3, Liberty Baptist 0
SLAM Academy 3, Someret-Losee 0
Spring Valley 3, Canyon Springs 2