ROUNDUP: Henderson International volleyball team posts first Class 1A Southern League win
September 30, 2008 - 11:08 pm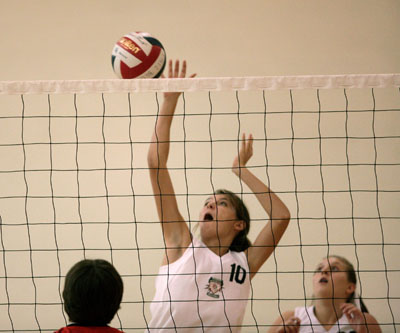 With a roster of all freshmen and sophomores and an 0-6 start, it makes sense that the Henderson International girls volleyball team already has an eye on next season.
But the Wolverines just might have something to look forward to this year.
Henderson International gave its postseason hopes a spike Tuesday by picking up its first Class 1A Southern League win.
The Wolverines didn't trail until the third game on their way to a 25-12, 25-13, 25-23 sweep of visiting Sandy Valley.
"We get a couple more wins and we should make the playoffs," Henderson International coach Linda Staley said. "It's all building and building (for next season), but I don't want to get ahead of ourselves because I think we can finish up this year pretty strong."
The Wolverines (5-13, 1-2) opened the season with one win in their first nine matches. But since Sept. 18, they are 3-3 and have swept two matches 3-0.
And with eight of the 10 eligible 1A Southern League teams reaching the postseason, the Wolverines put themselves in position Tuesday to sneak in as the final seed.
"I'm very pleased with them," Staley said. "Couldn't be happier. I think it's good for the girls to get a league win under their belts. I think it'll build some confidence because we've got some tougher teams coming up."
Teams such as Lake Mead, Pahranagat Valley and Tonopah — none of whom Henderson International has defeated this season.
But on Tuesday, the Wolverines showed flashes of dominance. They bolted to 18-8 leads in the first and second games and held double-digit leads to the finish.
Sandy Valley (1-10, 0-3) jumped to an early 3-1 lead in the third game before Henderson International rattled off 11 of the next 14 points.
After the Wolverines started substituting freely with a 12-6 lead, the Sidewinders rallied for a 23-22 lead. They couldn't hold on, though, and were swept 3-0 for the sixth straight match.
It didn't help that Sandy Valley was without versatile sophomore Abigail Luna, who sat out with an ankle injury.
Still, Sidewinders coach Electra Smith cited improved teamwork as something her team can build upon.
"They've really started to work well together, start to communicate with each other," she said. "We have mostly freshmen and sophomores, and they have absolutely no experience."
Outside hitter Pamela Sakuma led the Wolverines with five kills. Lauren Mushkin added three kills and Fabi Pachas and Kelsea Fulton chipped in two apiece for Henderson International.
"Pamela's going to be one of the best hitters in our league eventually," Staley said. "She had never touched a ball until about two months ago. Come next season, she will be one of the most dominant hitters in our league."
With Sakuma and middle blocker Lee Harrison to build around, Staley can't help but start pondering the future.
"I have four freshmen on the court sometimes at one time, so they're doing a very good job for us," she said. "Next year, we're going to be very, very good."
Faith Lutheran 3, Pine View (Utah) 2 — At St. George, Utah, Meagan Hauser had 12 kills to lead the Crusaders to a 23-25, 25-21, 25-15, 22-25, 15-11 win.
Hayley Washinsky added 10 kills and four aces, and Kelsey McCourt had 32 assists and four aces for Faith Lutheran.
Mountain View 3, Indian Springs 0 — At Mountain View, Charde Page had six aces and four kills to help the Saints to a 25-11, 25-15, 25-13 win over the Thunderbirds.
Zari Riley added eight kills for the Saints. Felicia Joiner had four aces, and teammate Brianna Collier added three aces and two kills for Mountain View.

Lake Mead 3, Calvary Chapel 0 — At Calvary Chapel, Ashley Newton had 20 kills, six blocks, four aces and four digs to power the Eagles to a 25-5, 25-12, 25-5 win over the Lions.
Jessica Rinaldi added 15 assists, eight digs and two kills for Lake Mead. Jocelyn Cox had nine digs, nine assists and three kills, and Amanda Wellman added six kills, four digs and two aces for the Eagles.