Roundup: Lilly Hoff, Gorman outlast Sierra Vista
October 19, 2017 - 8:41 pm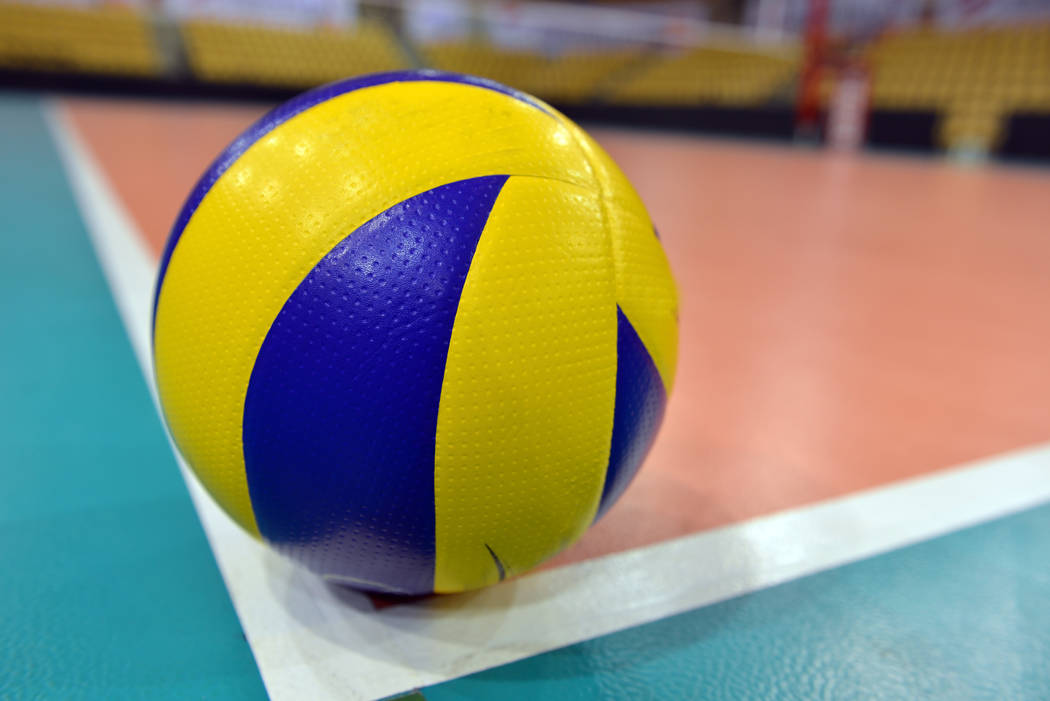 Lilly Hoff had 29 assists on Thursday to lead Bishop Gorman's girls volleyball team to a 25-18, 25-16, 20-25, 25-23, 16-14 road win over Sierra Vista.
Angleina Starck tallied eight kills and five aces for Gorman, which got 10 kills from Alexandra Washington.
Zoey Kriethe notched 23 assists and five digs to pace Sierra Vista. Anica Kruyer had 12 kills, and Caleyse Saunders supplied eight kills for the Mountain Lions.
Shadow Ridge 3, Legacy 1 — At Legacy, Whittnee Nihipali had 20 kills and 11 digs to lead the Mustangs past the Longhorns, 22-25, 25-13, 25-13, 25-21.
Kizzy Rodriguez had 29 digs, and Autumn Spendlove added seven assists and had six digs for the Mustangs.
Jazmyne Walker had 10 kills and nine digs, and Myah Maxwell had 10 kills and 11 digs to lead the Longhorns.
Kamaile Mendonsa had 17 kills and eight digs, and Alyssa Fuller had 17 digs for Legacy.
Durango 3, Centennial 0 — At Durango, Naomi Harris had 15 kills, 10 digs and three aces to lead the Trailblazers past the Bulldogs, 25-22, 25-23, 25-18.
Jaylin Ellis had 12 kills and 10 digs, Sierra Leone Sanchez had 17 digs, and Tehani Faitau dished out 23 assists for the Trailblazers.
Emily Anderson had nine kills and 10 digs to lead Centennial.
Siara Roberts had seven kills and 28 assists, and Kylie Saunders had 10 digs for Centennial.
Palo Verde 3, Desert Oasis 1 — At Palo Verde, Arien Fafard supplied 26 assists and six kills in the Panthers' 25-10, 25-9, 25-27, 25-15 victory over the Diamondbacks.
Mia Sadler had 16 digs, and Elizabeth Gutierrez added eight kills for Palo Verde, which got seven blocks from Jacquelyn Fields.
Laityn Sarna had 18 assists and five digs for Desert Oasis, and teammate Kierston-Joy tallied nine kills and six digs.
Bonanza 3, Spring Valley 0 — At Bonanza, Zhanna Colin had 13 kills and two aces to lead the Bengals past the Grizzlies, 25-10, 25-19, 25-13.
Keirra Bell had four blocks, Chloe King served up three aces, and Sydney Dunn had two aces and 31 assists for Bonanza.
Brooke Robinson had five kills and two aces to lead the Grizzlies.
Vaden Mangler had five kills, Emma Lily Marple added nine assists, and Cashmere Buford had nine digs for Spring Valley.
Faith Lutheran 3, Cimarron-Memorial 0 — At Cimarron-Memorial, Hailey Carroll had 11 kills to lead the Crusaders to a 25-15, 25-17, 25-22 victory over the Spartans.
Alexi Johnson added five aces and 18 digs for Faith Lutheran. Mary Vancura and Kyrie Lorfing had 17 and 16 assists, respectively, for the Crusadres.
Elise Young led Cimarron with 10 digs and six kills. Michelle Mockbee had seven kills, and teammate Cherish Co tallied seven digs for the Spartans.
Arbor View 3, Clark 0 — At Clark, Makayla Snyder had seven kills to lead the Aggies to a sweep of the Chargers, 25-13, 25-4, 25-10.
Bailey Olbur had six kills, Alexis Kershaw had five kills, and Shiloh Lively had four kills for Arbor View.
Coraly Dupree had four kills and three digs to lead the Chargers. Natalyn Ngo had two digs and five assists for Clark.
Moapa Valley 3, Del Sol 0 — At Del Sol, Eden Whitmore tallied 16 kills in the Pirates' 25-22, 25-11, 25-8 victory over the Dragons.
Shelbi Walker had eight aces for Moapa Valley. Abbie Evans supplied seven kills and Shyanne Matheson added five aces for the Pirates.
Boulder City 3, Tech 0 — At Boulder City, Maggie Roe notched 12 assists, eight kills and seven aces as the Eagles defeated the Roadrunners, 25-18, 25-14, 25-10.
Kamry Bailey had 14 digs, and teammate Raegan Herr added six kills for Boulder City.
Makenna Faught paced Tech with 11 assists and seven digs. Kayla Cook had nine digs, and Fuatino Aima'asu contributed five kills for the Roadrunners.
Somerset-Sky Pointe 3, Virgin Valley 2 — At Somerset-Sky Pointe, Emily Lemmon supplied 29 digs and five kills in the Eagles' 14-25, 25-16, 23-25, 25-18, 16-14 win over the Bulldogs.
Katie Piet had 20 digs and five kills, Brinley Peterson notched 18 digs, and Kylie Poulson added five kills for Somerset-Sky Pointe.
Mojave 3, Sunrise Mountain 0 — At Sunrise Mountain, the Rattlers defeated the Miners, 25-13, 25-14, 25-17.
Destiny Chavez had 14 assists and 10 digs for Sunrise Mountain.
The Meadows 2-2, Adelson School 0-0 — At Adelson School, the Mustangs swept the Lions, 25-13, 25-6 and 25-9, 25-8.
Mira Gollard dished out 15 assists, Vivian Pallares had 15 digs, and Emily Ebel added six digs in the opener for The Meadows.
In the second match, Dani Mason contributed six aces, six digs and five kills to lea the Mustangs.
Ilana Cohen had 12 assists, and Vivian Pallares added nine digs for The Meadows.
Beaver Dam 3, Somerset-Losee 0 — At Somerset-Losee, the Sidewinders beat the Lions.
Victoria Thompson had five Kills to lead Somerset-Losee. Kathryn Howzell added 15 digs and two kills, and Sabrina Wright had three kills, 11 assists and 10 digs for the Lions.
Lake Mead 2-2, Democracy Prep 0-0 — At Lake Mead, the Eagles swept a doubleheader from the Blue Knights.
Lake Mead won the first match 25-13, 25-15, and took the second 25-11, 25-11.
Box scores:
Beaver Dam 3, Somerset-Losee 0
Bishop Gorman 3, Sierra Vista 2
Faith Lutheran 3, Cimarron-Memorial 0
The Meadows 2, Adelson School 0
The Meadows 2, Adelson School 0
Somerset-Sky Pointe 3, Virgin Valley 2