Roundup: Sierra Vista beats Liberty in 5 sets
September 6, 2018 - 9:27 pm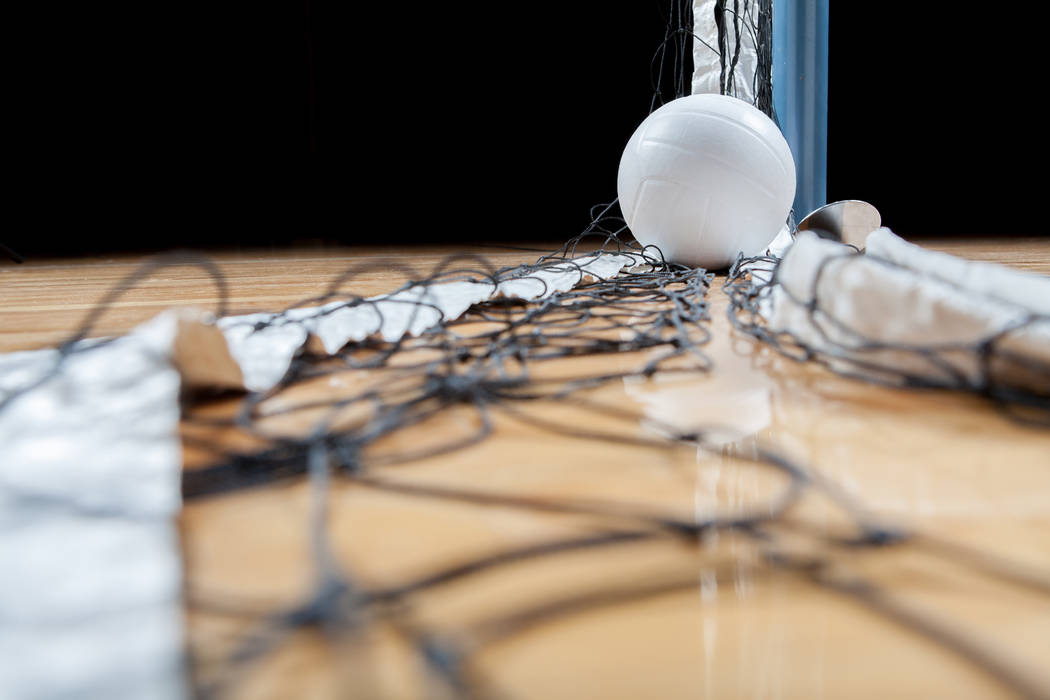 Leilani Vitale had 12 kills on Thursday to lead Sierra Vista's girls volleyball team to a 25-23, 19-25, 27-25, 18-25, 16-14 road win over Liberty.
Audry Dayton added nine kills, and Mia Buranamontri had six digs for the Mountain Lions.
Sydnie Tuioti-Marineer led Liberty with 25 assists and four kills. Kayla Watanabe and Brooklyn Slater each added eight kills for the Patriots, and teammate Aiyana Evans had 17 assists and two kills.
Valley 3, Del Sol 1 — At Del Sol, Isabel Lopez-Figueroa had four kills and six aces to help the Vikings battle back for a 13-25, 25-22, 25-14, 28-26 win over the Dragons.
Andrea Munguia had 20 assists and six aces, and Krystal Carter added five kills, 11 digs and two aces for Valley.
Sierra Rivera had five kills and three aces for Del Sol. Julie Robles added four kills, two assists and two aces, and Melody Isaia had three kills and four blocks for the Dragons.
Desert Oasis 3, Green Valley 0 — At Desert Oasis, Paige Parlanti had 12 kills, two aces and 10 digs to lead the Diamondbacks past the Cougars, 25-17, 27-25, 26-24.
Kierston-Joy Kuresa had 14 kills, Holly Severance had eight kills and two blocks, and Nathalie Van dished out 32 assists for Desert Oasis.
Hailey McKinnis had six kills and two aces to lead Green Valley, and Jennifer Soha had five kills and two blocks for the Gators.
Coronado 3, Silverado 0 — At Silverado, Sasha Bolla had 15 kills to lead the Cougars past the Skyhawks, 25-9, 25-19, 26-24.
Ashlynn Ammerman had seven kills and two blocks, Cassandra Smits-Van Oyen had 19 assists, seven aces and six digs, and Emily King had 12 digs for Coronado.
Ilaisaane Fonua had six kills, two aces and six digs to lead Silverado. Audrey Wood had five kills, and Brielen Aquino had 13 digs for the Skyhawks.
Rancho 3, Boulder City 0 — At Boulder City, Jan Duhaylungsod tallied 23 assists and 12 digs as the Rams downed the Eagles, 25-17, 25-12, 25-23.
Angelina Robles had 12 kills and 11 digs for Rancho, which got 10 digs from Mia Suzuki.
Kamry Bailey led Boulder City with 10 digs and nine kills, and teammate Raegan Herr notched six kills for the Eagles.
Cheyenne 3, Western 0 — At Western, Arabic McLaurin supplied eight assists and four aces to help lift the Desert Shields to a 25-11, 25-19, 25-23 sweep of the Warriors.
E'leseana Patterson added five kills and two aces for Cheyenne.
Destiny Double had three digs to pace Western.
Mojave 3, Somerset-Losee 0 — At Somerset-Losee, Aqeelah Muhammad dished out 26 assists to help the Rattlers defeat the Lions, 25-19, 25-14, 25-20.
Chania Scott had 14 kills, and Victoria Tremillo added six kills for Mojave.
Sabrina Wright and Bella Pelupelu each supplied three kills, and teammate Brejanae Grant notched three blocks to pace Somerset-Losee.
Foothill 3, Clark 0 — At Clark, Brooke Bykowski had seven kills, and Taylor Bair added six kills as the Falcons rolled to a 25-19, 25-2, 25-14 victory over the Chargers.
Laynee Truscott had 24 assists and seven aces for Foothill.
Pahrump Valley 3, Democracy Prep 0 — At Democracy Prep, Kathryn Daffer contributed six kills in the Trojans' 25-9, 25-6, 25-17 sweep of the Blue Knights.
Bishop Gorman 3, Tech 0 — At Tech, the Gaels swept the Roadrunners, 25-3, 25-16, 25-11.
Seidi Trevizo had 13 digs to lead Tech, which got four assists from Kaitlyn Harvey.
Adelson School 3, Word of Life 0 — At Adelson School, Dana Bluevise had seven kills and nine aces to power the Lions to a 25-8, 25-20, 25-14 win over the Eagles.
Elizabeth Gutierrez had eight kills and three aces for Adelson School.
Box scores:
Adelson School 3, Word of Life 0
Desert Oasis 3, Green Valley 0
Pahrump Valley 3, Democracy Prep 0