SUNSET VOLLEYBALL: Panthers ease coach's jitters, roll into final
November 6, 2014 - 11:03 pm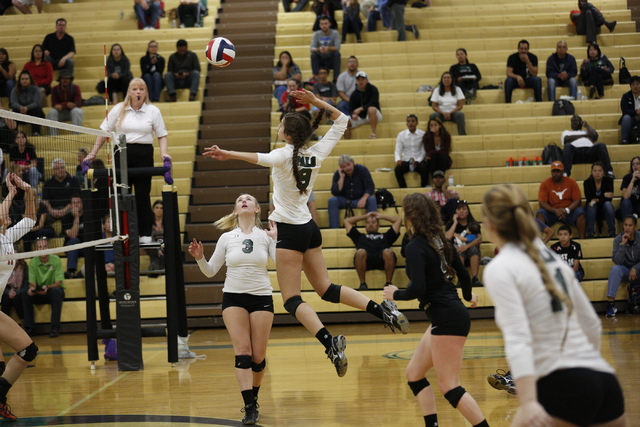 Palo Verde girls volleyball coach Phil Clarke admitted he had a few butterflies in his stomach before the Panthers met Legacy in the semifinals of the Sunset Region tournament Thursday at Silverado.
And those jitters were amped just a bit when a fire alarm was set off just before the start, causing a 38-minute delay.
But Clarke's nerves were soothed from there, as Palo Verde needed just 55 minutes to down Legacy 25-8, 25-14, 25-12 and advance to its second straight regional final.
The Panthers (28-9) will face Shadow Ridge (24-9) at 7 p.m. today at Silverado.
It was quite evident Palo Verde played with a purpose after having lost to the Longhorns in the regular-season finale eight days ago.
"No matter who we play, I will always have butterflies before the start because it's a Clarke thing," Clarke said. "Of course, it's tough to play someone twice in just over a week. However, the girls came out focused from the beginning."
The Panthers, winners of nine of their past 10 matches, scored 17 of the first 22 points in the first set. Palo Verde raced to an 11-6 lead in the second set, sparked by three consecutive kills from senior Kendal Cheval.
After a Legacy timeout, Palo Verde went on another streak, using a 7-1 run to take control. Cheval and Kayla Kinney each had two kills in the run.
The third set saw the Longhorns play with a bit more emotion, as Ashly Goor had four kills to keep Legacy close early. But another Panthers streak proved huge, as a kill from Kinney helped Palo Verde gain a 13-10 advantage. From there, the Panthers scored 12 of the final 13 points to take the match.
"It's great to be a win away from another trip to state," Clarke said. "We play the same type of game as Legacy, with lots of emotion. We had much more emotion tonight, and that was the key."
Cheval had 14 digs and nine kills for Palo Verde, and McKenzie Paulk added 26 assists. Fayrn Duncan had 25 digs for the Panthers, and teammate Aaliah Largusa added 10 kills.
Goor had eight kills and three aces for Legacy (12-19), which has only one senior on its roster. Saipeti Fuiava had two kills and two aces for the Longhorns.
Shadow Ridge 3, Bishop Gorman 0 — In the other semifinal, Ashley Smith had 16 kills and 12 digs as the Mustangs knocked off defending tourney champ Gorman, 25-16, 25-18, 25-17.
Chloe Gruwell added 14 kills, eight digs and four aces for the Mustangs (24-9), who lost to the Gaels on Oct. 29. Eadara Files had 31 assists and seven digs for Shadow Ridge.
Victoria Ewalefo had four kills to lead the Gaels. Danni Redding and Hailey Kraft each added three kills, and Lexi Bradford had 12 assists for Gorman (11-14).
Box scores:
Shadow Ridge 3, Bishop Gorman 0