VOLLEYBALL: Palo Verde tops Faith Lutheran for second place in Northwest
October 27, 2016 - 5:16 pm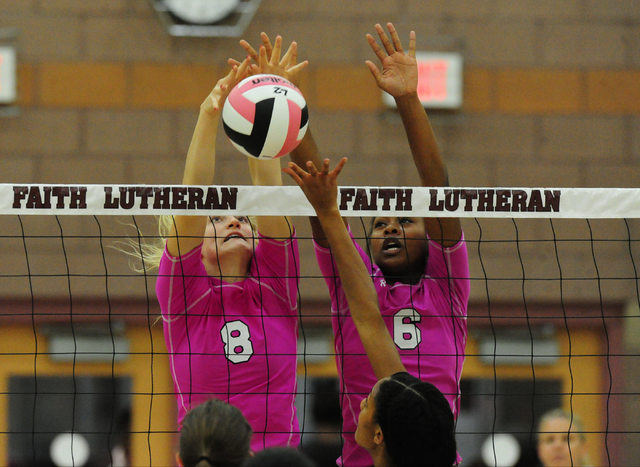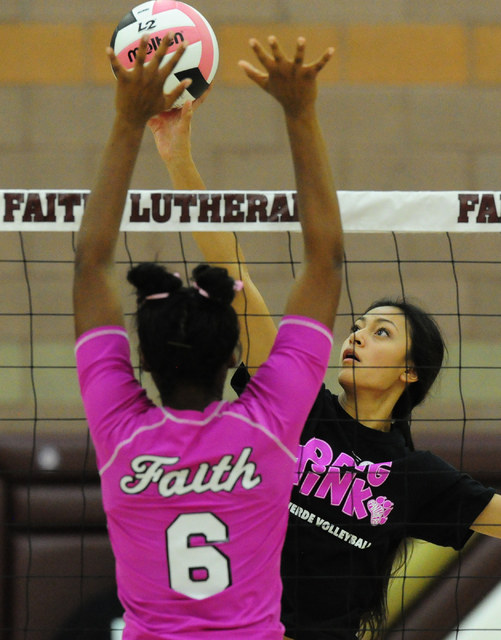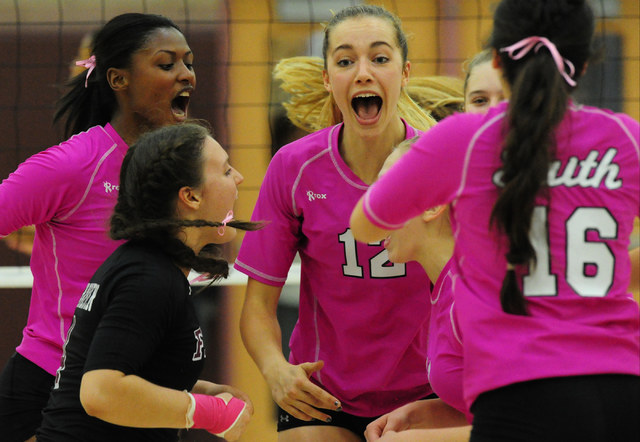 Approximately a couple hundred Faith Lutheran volleyball fans packed the home bleachers to watch their Crusaders take on Palo Verde for senior night. And for second place in the Northwest League.
The Panthers weren't distracted, rattled or fazed.
They reveled in the hostility.
Palo Verde beat Faith Lutheran 25-17, 23-25, 25-20, 25-18 on Tuesday to clinch the league's No. 2 seed for the Class 4A Sunset Region tournament.
The Panthers (20-14, 8-3 Northwest) close their regular season against Shadow Ridge on Thursday. The Crusaders (19-17, 7-4) will finish their year with Legacy.
"We knew this was going to be a hard match, and we knew it was going to be important to win, going into the playoffs," Palo Verde sophomore Mia Sadler said. "My team feeds off of energy. Their energy, our energy. The more energy and loudness, the better we play."
The Panthers were fluid with their passing and finishing en route to a first-set victory. They nearly rallied to steal the second set from Faith Lutheran, but the Crusaders held on to tie the match at 1-1.
Faith Lutheran coach Amy Fisher said she wasn't sure what swung the match, but the Panthers pulled ahead midway through the third set and earned a 25-20 set victory.
"Both teams played well. Both teams had down times during the match. Both teams had up times," Fisher said. "That's just volleyball. I think you saw two teams that were tied for second battling it out. Wish it would have went five (games) because that would have been the true battle."
It didn't, though.
Palo Verde rushed out to another early lead in the fourth set and staved off Faith Lutheran down the stretch.
Sadler finished with 21 assists and 14 digs. Teammate Carli Tanner added 11 kills and 10 digs, and Arien Fafard had nine kills and 17 assists for the Panthers.
Bryanna Neagle and Elizabeth Tuls had 12 kills apiece for Faith Lutheran. Logan Van Reken added 23 digs.
Palo Verde coach Phil Clarke was pleased with the victory and made a point to credit the Crusaders, who are playing in Class 4A — and are one of the top teams in their league — after winning the past three Class 3A (then Division I-A) state titles.
"I don't know if other people are surprised, I know we're not surprised at the success they're having," Clarke said. "We've beaten them sometimes. They've beaten us sometimes. The fact that they're doing what they're doing in our division, it may look surprising … but they're a good team, they're a good program. It doesn't surprise us."
Box Score:
Palo Verde 3, Faith Lutheran 1