'Connected' Gators capture sixth straight championship
February 11, 2017 - 10:48 pm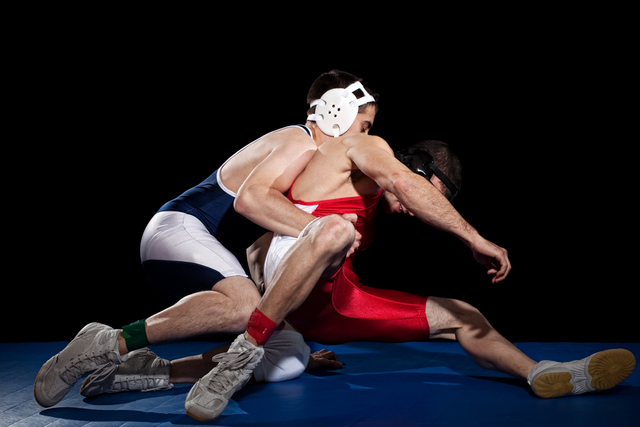 SPARKS — Steele Dias has been a member of the Green Valley wrestling team for only two seasons, but he has a clear idea of where this season's squad ranks in program history.
The Green Valley sophomore won the 106-pound state championship to help the Gators to their sixth consecutive state title Saturday at Spanish Springs High School.
"I love our team," Dias said. "It's our best team from Green Valley because we're more connected. We're all one big family."
Dias was the team's only individual champion, but he was one of 13 wrestlers to score a point as the Gators easily outdistanced second-place Spanish Springs 152-125 for the Class 4A crown. Las Vegas finished third with 84½ points.
The Gators had clinched the team title before the championship round, affirming coach Jon Ferry's prediction that the consolation rounds would decide the winner. Green Valley went 4-1 in third-place matches to extend its margin.
"I'm so proud of our kids, and I'm proud of our coaching staff to be able to develop a complete team," Ferry said. "The tournament was won this morning and afternoon by wrestling back."
Green Valley entered the day with 93 points and won one of four matches in the championship round, a pin by Dias over Reno's Eric Lopez in 35 seconds.
Dias wasn't a part of last year's state championship team because of a zone variance.
"It means a lot to me, because it's my first one, and I did it for my team, and I did it for my family," he said. "It's one to remember."
Other Southern 4A individual champions were Alika Villiatora of Shadow Ridge at 132 pounds, Wyatt English of Foothill (138), Peter Enos of Faith Lutheran (145), Connor Bourne of Faith Lutheran (182) and Mauricio Jimenez of Las Vegas (220).
The most dramatic of those was Bourne's win over Drake McAdow of Damonte Ranch by a pin with 22 seconds left in overtime.
"I was so tired at the end of it," Bourne said. "He was easily the hardest person I've ever wrestled."
The match went to overtime tied 4-4, and with time running down, Bourne suddenly found himself on top when McAdow tried an over-and-under move and landed on his back.
"I was going to go for a shot and then that happened," Bourne said.
Bourne entered last year's state tournament as a No. 1 seed and didn't place, and he said that has driven him for a year.
"I choked real hard, and I did not want to repeat last year at all," he said.
CLASS 3A
Western coach Mark Seglin could barely contain himself when junior Diego Ortega scored a takedown with about 20 seconds left in his match. Ortega led 3-2, but he scored two consecutive takedowns in the closing seconds to win the 113-pound championship with a 7-2 victory over Tommy McCormick of Churchill County.
Seglin jumped out of his seat dancing and pumping his fists as the referee signaled two points, then he rushed over and lifted Ortega off the ground at the final whistle.
"He's worked so hard the last three years, and he's just a special kid," Seglin said. "It's hard to explain what this means."
The win capped what Ortega called his comeback year from a disappointing sophomore season.
"It means making my whole family proud, making my coaches proud and my whole team," he said. "It's just me proving myself to people."
Spring Creek won the team championship with 135 points, edging Churchill County, which scored 132. Boulder City finished third with 123½, and Virgin Valley crowned four individuals and was fourth with 107.
Rudy Cannon (106), Ty Smith (120), Jacob Baird (132) and Cresent Crandall (170) won titles for the Bulldogs.
Del Sol's Victor Torres-Parra was first at 182.
CLASS 2A
Battle Mountain had five individual champions and won the team title with 194 points. Pershing County finished second with 154½, followed by Yerington (80) and Tonopah (71).
Lincoln County's Zachary Rowe won the title at 132, and Tonopah's Tanner Otteson was the champion at 145.
Results: