Faith Lutheran's Lawrie shoots for second state wrestling title
December 10, 2014 - 11:35 pm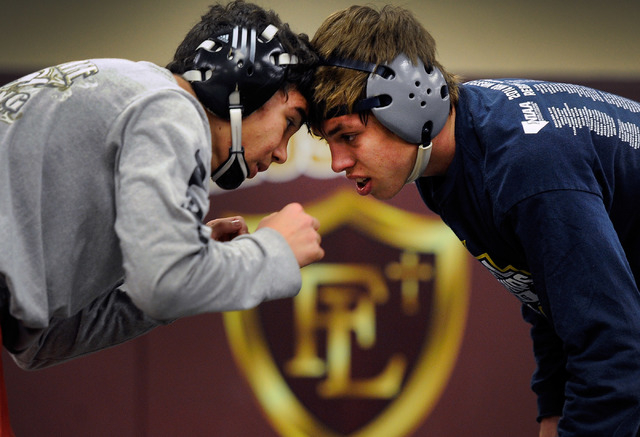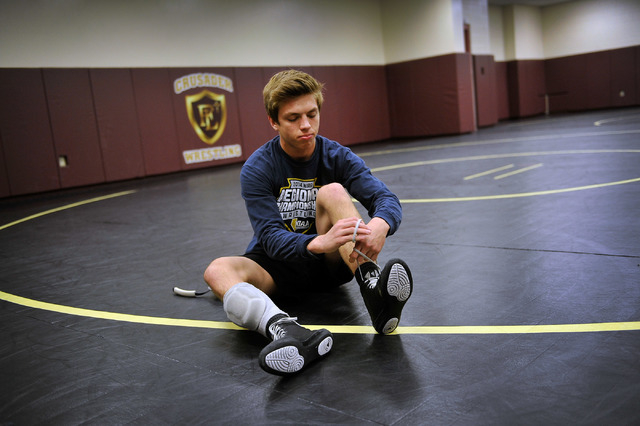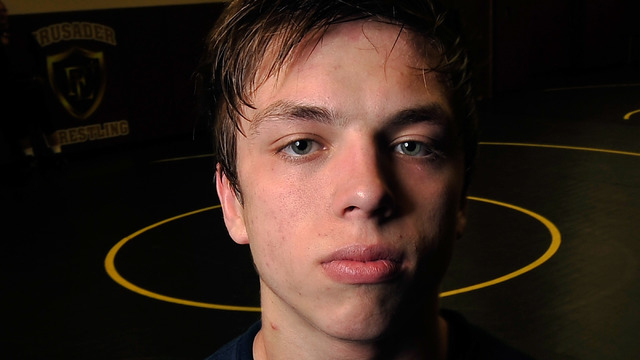 Owen Lawrie is the son every parent dreams of having, the athlete every coach strives of developing and the student every teacher hopes of mentoring.
He's just that type of kid.
Lawrie, a senior at Faith Lutheran, already is a scholar in the classroom and a state champion on the wrestling mat. But before he attends college next fall, perhaps at an Ivy League school, the high schooler says there's one more thing on his to-do list: become the first two-time state champion wrestler in school history.
"He does have a good shot," third-year Faith Lutheran coach Tim Jeffries said. "He's a dedicated, committed, hard-worker. He works hard in practice, and we use him as an example in the room."
Lawrie, who went 44-2 with 30 pins last season, never lost to an in-state opponent before capturing his first Division I-A individual state title at 126 pounds for the Crusaders.
He's since bumped up a few pounds, and has competed in a couple of prestigious national tournaments, such as the Reno World Championships, where he took sixth, and the USA Pre-Season Nationals in Cedar Falls, Iowa, where he took fifth.
Lawrie, who will be competing at 138 pounds this season, believes the jump of two weight classes will not affect his approach because it feels like a natural weight for him.
Plus, he's already gotten some experience in the long offseason.
"I've cut a lot of weight since I've been here," Lawrie said. "They don't really like seeing me all sucked out and dry. We felt like at 138, I'd feel my best and perform. So far, it's worked out. I don't feel like I'm weaker than these guys. … Every time you move up, they get a little bit stronger, a little bit different technique. This is more getting inside, hand control and fighting hand position for your shots rather than outside shooting, low-level stuff. It's good. I've been able to get my style changed and use a little bit of both (techniques) in there."
To help with the adjustment, Lawrie also chooses to partner with his 160-pound teammate Billy Bigelow, an experienced Palo Verde transfer. Despite giving up almost 30 pounds, Lawrie prefers working with Bigelow because it forces him to minimize his mistakes.
"Billy and I have been training together all offseason," Lawrie said. "We've got a good dynamic. He's bigger, but I teach him to get his feet moving and the rest of that little-guy style. And he shows me to get good position and not shoot bad shots or you'll get stuffed."
Lawrie, who ranks third in his class with a 4.38 grade point average, has received interest from Brown, Columbia and Duke. But before he decides his college fate, he's focused on capturing that second title. He knows it might be a little harder with the target on his back.
"I just go out there and have fun," Lawrie said. "I'm excited. I feel like I thrive under the pressure, and that just fuels my fire to get out there and win two."
Jeffries, who's coached at various schools in town for over 30 years, knows a competitive wrestler when he sees one. And he believes he's got a pretty good one in Lawrie.
"The sky's the limit for Owen," he said. "He can win state and go on and place in the national tournaments and set himself up, hopefully, to go to college. He's got a desire to do it. He's really sharp."
Contact reporter Ashton Ferguson at aferguson@reviewjournal.com or 702-383-0430. Follow him on Twitter: @af_ferguson.