NOTES: Faith Lutheran wrestling coach Tim Jeffries retires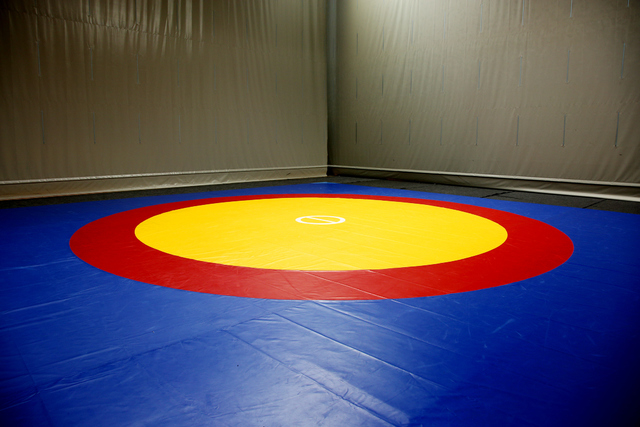 Tim Jeffries tried to retire once but couldn't do it.
"This time," Jeffries said, "I retired for good."
Jeffries, one of the most successful wrestling coaches in state history, said Tuesday he is resigning as Faith Lutheran's coach after five seasons.
Jeffries, who turns 62 next month, will be replaced by Rayes Gonzales, a former state champion at Cimarron-Memorial.
"After 36 years of coaching and teaching, I just realized it was a good time to go," Jeffries said.
Jeffries spent most of his career at Cimarron and was one of the architects of the Spartans' dynasty.
Under Jeffries and co-coach Mike Garcia, Cimarron won seven state titles — including four straight from 2003 to 2006.
Jeffries was set to retire from Cimarron in 2012, but was hired at Faith Lutheran before he filed his retirement papers with the Clark County School District.
The Crusaders finished eighth at the Division I-A state meet in 2016 and were sixth in Class 4A this season after moving up a classification, as Peter Enos and Connor Bourne won individual state titles.
"Everyone wants to talk about all the state championships and all the individual wrestlers," Jeffries said. "We were trying to build and instill character and make good citizens, husbands and fathers."
Jeffries said he plans to visit family over the next year and said he probably will be a volunteer coach in the future.
"I'm proud of what has happened here and the direction the program is going," Jeffries said. "(Gonzales) is going to take it to the next level."
Lake Mead's Baker gets win No. 500
Second-year Lake Mead softball coach Cary Baker got his 500th career victory last week during the Eagles' Class 2A Southern League doubleheader sweep of Mountain View.
"It was a pretty special moment," Baker said when reached Friday after the milestone.
Baker coached at Fountain Valley (California) for 25 seasons. He then started the softball program at San Juan Hills (California) in 2007 and coached there for five seasons.
A former special education teacher, Baker retired to Henderson in 2012 but couldn't stay away from the game. He was an assistant at Basic and is in his second season with the Eagles (9-5, 7-2 Southern League).
"Cary is an exceptional coach, one who has a great sense of humor, a great disposition on life," Lake Mead athletic director Jeff Newton said in a statement. "He knows how to motivate and comes across with old-school, no-nonsense coaching qualities. We are fortunate to have him."
Recent commitments
■ Valley senior Jacob Cruz to Taft College (California), Foothill senior Alex Elizondo to University of Sioux Falls (South Dakota), and Del Sol senior Tyler Foreman and Shadow Ridge senior Anthony Spor-Orellana to Dominican University (Illinois) for baseball.
■ Desert Oasis senior Tyler McClendon to Mt. Hood Community College (Ore.) for men's basketball.
■ Desert Oasis senior Mikala Kirby to Lassen Community College (California) for women's basketball.
■ Palo Verde senior Nick Frost to Spokane Community College (Washington) and Bishop Gorman senior Nicholas Turk to Howard University for men's soccer.
■ Arbor View junior Allyssa Larkin to Cal Poly-Pomona for women's soccer.
■ Tech senior Avery Rayos to College of Southern Nevada for softball.
■ Arbor View senior Brady Moll to Air Force for men's swimming.
■ Arbor View senior Timothy Myers to South Dakota School of Mines and Technology for track and field/cross country.
■ Liberty senior Maggie Heim, and Desert Oasis seniors Emily Ragsdale and Madison Wolfe to College of Southern Nevada for women's volleyball.
■ Las Vegas senior Robert Kaempfer to Shasta Community College (California) for men's wrestling.
■ Rancho senior Leiana Nacapuy to Oklahoma City University for women's wrestling.
Contact David Schoen at dschoen@reviewjournal.com or 702-387-5203. Follow @DavidSchoenLVRJ on Twitter.