SLAM Academy wins 2nd consecutive 5A wrestling state title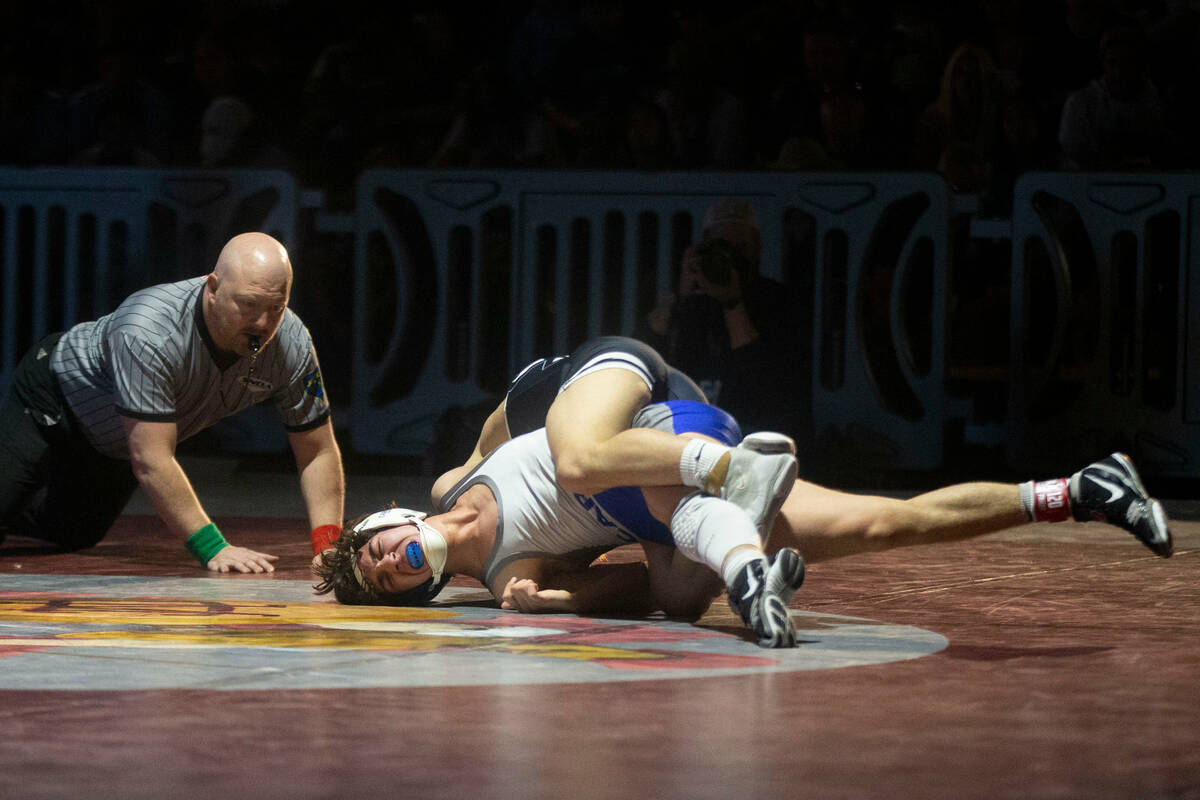 SLAM Academy rolled to its second consecutive Class 5A wrestling state team championship, scoring 171.5 points at the 5A state wrestling meet Friday and Saturday in Winnemucca.
Five SLAM Academy wrestlers won individual titles: Josiah Maestas (113-pound weight class), Drake Hoolman (120), Brenden Agcaolli (126), Manuel Saldate (132) and Gabriel Delgado (157). Maestas and Saldate also won last season for the Bulls.
Spanish Springs finished second with 141 points, and Shadow Ridge was third with 95.5 points. McQueen (95) and Centennial (85) finished fourth and fifth, respectively.
Six other Southern Nevada wrestlers won individual state titles: Centennial's Nicholas Egbalic (144) and Brody Laughter (165), Shadow Ridge's Aaron Coverdell (175), Green Valley's Gavin Blondeaux (190), Liberty's Melvin Whitehead (215) and Foothill's Colt Abbott (285). Whitehead's title was his second in a row.
Girls Invitational
In the first year of the Girls State Wrestling Invitational, seven Southern Nevada girls wrestlers won individual titles.
Three SLAM Academy wrestlers won individual championships: Sofia Abramson (100), Emma Albanese (114) and Billie Bonwell (165).
Centennial's Juliana Alejandro (107), Durango's Victoria Morosini (126), Liberty's Skyla Philpot-Fernandez (132) and Western's Kitana Leafaatoto (235) also won individual titles.
Reed won the team title with 90 points. SLAM Academy finished second with 87 points, and Centennial came in third with 72. Liberty and McQueen finished tied for fourth with 56.
3A
Four Virgin Valley wrestlers won individual titles, but Elko won the team title with 118.5 points. The Bulldogs finished second with 99 points.
Decker Lee (126), Gunner Cortez (138), Ruben Silveyra (144) and Cutler Crandall (165) won individual titles for Virgin Valley.
Boulder City had three individual champions: Hunter Moore (175), Tyson Irby-Brownson (190) and Dylan Spencer (285). Pahrump Valley's Brennen Benedict won the 150-pound title.
Cortez, Moore and Irby-Brownson also won last season.
Lowry (93) finished third, and Boulder City (91) was fourth. Fernley and Moapa Valley tied for fifth at 80.5.
2A
Battle Mountain cruised to its third straight 2A title with a score of 157 points. Yerington finished second (95).
Five Southern Nevada wrestlers won individual championships: The Meadows' Zack Ramsey (150), Pahranagat Valley's Alec Thorton (175) and Shawn Twitchell (215), and Lake Mead Academy's Gage Calton (190) and Vance Maheu (285).
Pahranagat Valley finished in third with 91 points, and Lake Mead Academy was fourth (90). White Pine finished fifth (86).
The 4A state wrestling meet is Feb. 18 at Western.
Contact Alex Wright at awright@reviewjournal.com. Follow @AlexWright1028 on Twitter.