Sunrise Region: Xzavier Maheia's fight goes beyond the wrestling mat
February 2, 2018 - 9:50 pm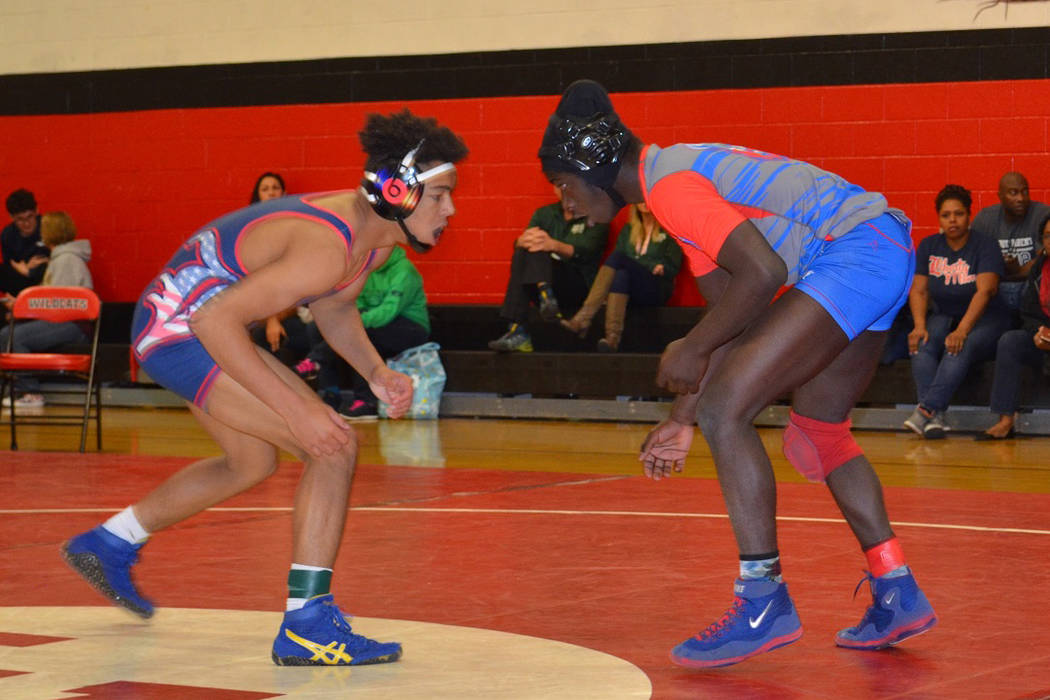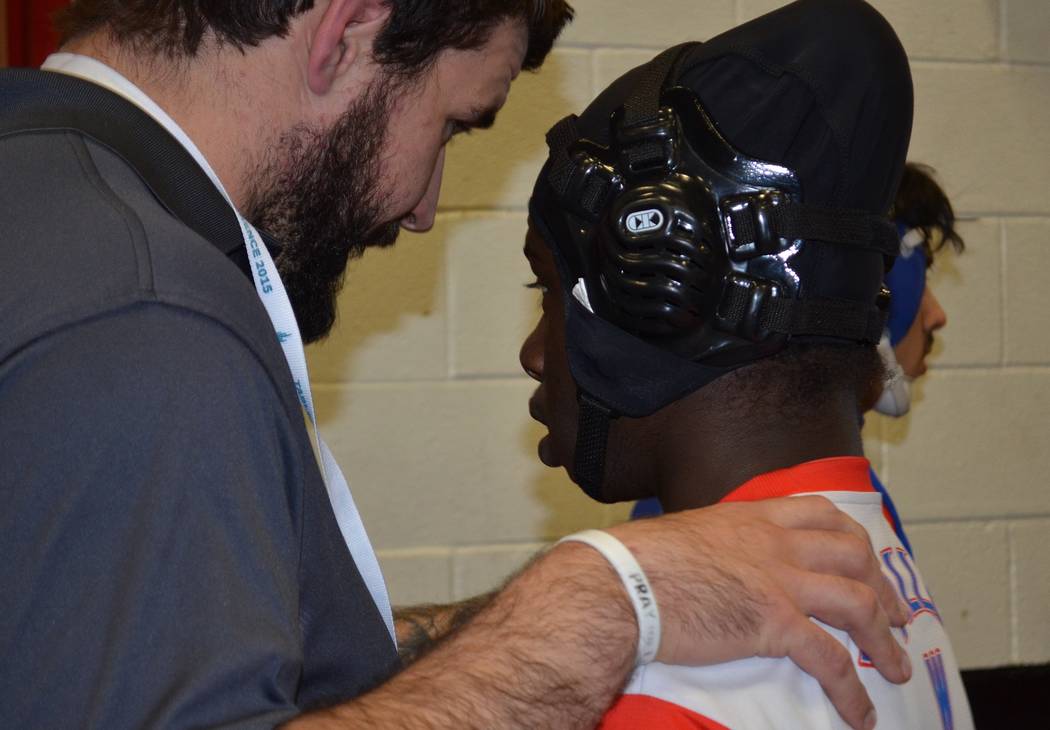 Valley junior Xzavier Maheia says wrestling has saved his future.
Vikings coach Tyler Perry says the sport may have saved Maheia's life.
A little more than two years ago, Maheia's step-brother Kishawn Washington was killed in North Las Vegas after suffering a gunshot wound to the chest. The two were close since toddlers, and a grief-stricken Maheia struggled with the loss. He acted out violently, got into fights and ended up in a behavioral school.
After Perry saw surveillance footage of one of Maheia's fights, which included an impressive double-leg takedown, the coach suggested he started getting points for his tactics, rather than getting suspended from school.
"Coach saw something in me, that I was an athlete, and that I was good," Maheia said Friday, after staving off elimination in the consolation bracket of the Sunrise Region meet at Las Vegas High School. "He pushed me to do better, I started doing better in school, my grades jumped up and teachers started speaking highly of me."
With three wins on Saturday, beginning with Foothill's Wyatt Leonard, there may be much more than teachers speaking highly about the 145-pounder, who is hoping to nab third place in his weight class. The top three finishers in each region qualify for next week's state tournament at Orleans Arena.
Foothill closed Day 1 of the Sunrise Region tournament leading the pack with 67 points after sending 11 wrestlers to the semifinal round. The Falcons are trailed by host Las Vegas, which has 59½ points and sent 12 wrestlers to the semifinals. Seven-time defending region champ Green Valley is unfamiliar territory, sitting in third place with 54 points, with Liberty (45) and Basic (43½) rounding out the top five.
And while Valley is tied for eighth, Maheia is driven by his brother's memory to make a name for himself on the mat.
"I want to go farther, because I feel like I've made some great strides from where I started," said Maheia, who is 19-7 in just his second year of wrestling. "These guys I'm competing against have been wrestling since elementary school. I joined the bus late, but I don't think I'm that far behind."
Maheia said it took time to accept his brother's death. He was in denial the first 24 hours, even after being told by his mother, seeing the news across social media and being approached by kids at school. When friends reached out, he continued to tell them: "Kishawn will be okay. It doesn't matter, he's going to be there."
But after a friend gave him a hug, his emotions got the best of him and it finally hit him.
His brother was gone.
"I stopped talking to people for two weeks," Maheia said. "People would start talking to me and I would get annoyed. It got to me … that's when all the fights started. I lost myself by losing him. I felt as though it wasn't fair he didn't get a chance to make something of himself. So, I lost track of what I was doing, what I was going to school for."
That's where Perry stepped in, and the two have been bonded ever since.
While Maheia said his coach insisted on making school and wrestling a priority, Perry credits a dedicated offseason work ethic for much of the progression. That included a trip to Fargo (North Dakota) Nationals last summer, where he earned invaluable experience against some of the nation's best talent, rather than facing some of Las Vegas' more ruthless temptations.
"He comes from an environment where, say his brother doesn't get killed, and he gets entangled in all that, who knows what happens," Perry said. "Wrestling has been something that's kept him busy and he's become passionate about. He realizes that school and wrestling are a way out of maybe some of that nonsense he could have gotten into.
"He's been full-go for about a year-and-half now and I think he's just starting to hit his potential. He's been on a tear."
Now, Maheia's only fear is disappointing Perry if he fails at either school or wrestling.
"Coach Perry is a father figure, and I feel as though if something were to happen to my mom, he would be there for me and help me keep going and he wouldn't let me fall off, like I did when I lost my brother," Maheia said. "He showed me the right path. He took me away from the streets, he got me off the streets to do something productive."
Results: