SUNSET WRESTLING: Peyton Prussin sparks Arbor View to first-day lead
February 3, 2017 - 10:58 pm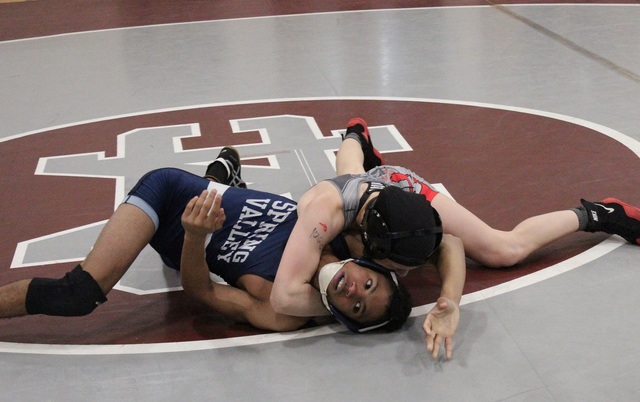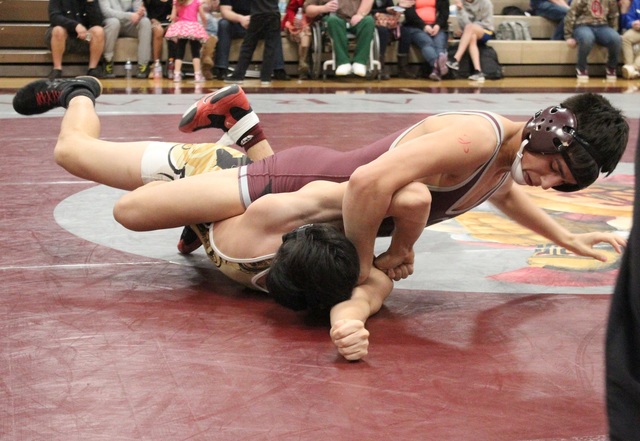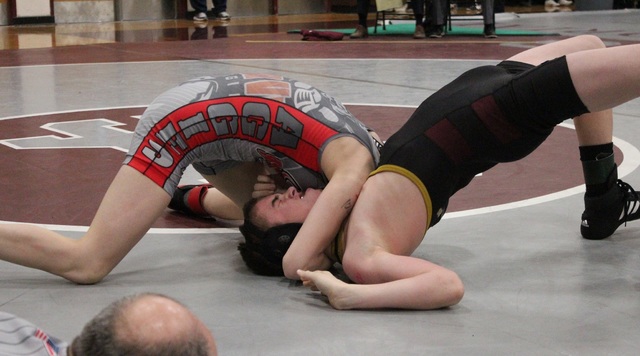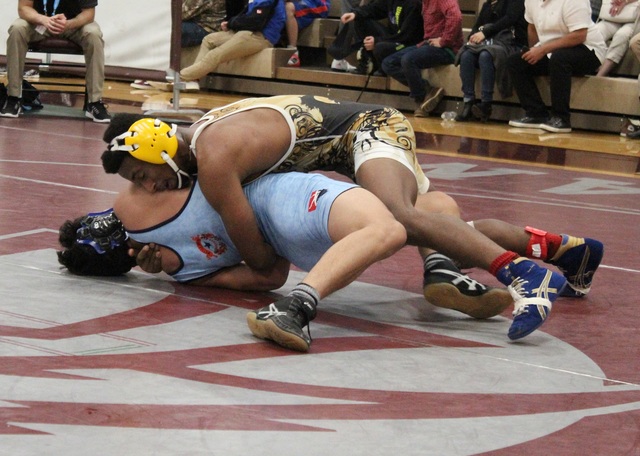 There used to be one rule for the younger wrestlers inside the Arbor View wrestling room, iterated and demanded by the talented senior classes in 2011, 2012 and 2013: "Don't lose to a girl."
These days, the Aggies are depending on a girl to help try to defend their regional title.
Sophomore Peyton Prussin went 2-0 at 106 pounds on Friday and is one of nine Arbor View wrestlers who advanced to Saturday's semifinals of the Class 4A Sunset Region tournament at Cimarron-Memorial.
The Aggies are in first place with 87 points, just in front of Northwest League rivals Centennial (78½) and Shadow Ridge (77). Cimarron is in fourth place with 70½ points, and Faith Lutheran rounds out the top five with 51 points.
Behind the leadership of captains Donavan Smith and Matthew Alejandro, Arbor View coach Tyler Sutton said the Aggies have bonded as a tight-knit group since experienced veterans Dawson Downing and Lawrence Vigil turned in their singlets and quit the program just after the season started.
"We have always viewed ourselves as the defending champions and wanting to repeat it," Sutton said. "We definitely felt the loss of those two wrestlers when it initially happened, but we've had a number of wrestlers step up to fill those positions.
"We just decided to continue to look forward and focus on what our goals were and how we were going to achieve them, rather than looking back and complaining or whining about anything."
And for Prussin the mission is simple: qualify for next week's state tournament.
She just missed qualifying last year after losing in the third-place match at regionals, but came into this year's event as a No. 1 seed.
"(Last year) still stings, but it's more motivation for me knowing that this is something I've been working for, so it just motivates me to work harder," said Prussin, who finished 5-1 against Northwest League foes. "There is pressure, but I try to not think about it and just go out there and do my best and just have fun with it."
It didn't take long for her to have fun on Friday, when she pinned Spring Valley's Bryan Hermida in 59 seconds and then pinned Faith Lutheran's Kile Driscoll in 45 seconds.
"I think the toughest part about wrestling is the mental part, knowing that I definitely have a disadvantage than all the other guys," she said. "They go in the match thinking, 'It's just a girl, I have nothing to worry about.' But I just go out there and give them all I've got. I know I'm a lot more aggressive coming from a jiu-jitsu background, so I know I have to work on moves that will out do strength. I work my hardest to not let (their) strength get to me."
Sutton said Prussin has been a spark plug for his team throughout the season, particularly since she is the first Aggie on the mat at every dual.
"Peyton has always typically had to overcome the strength difference, and she's living proof that technique can defeat strength," Sutton said. "This is why she wins, her technique is outstanding. And considering she's only been on the wrestling mat for two years … I have been continually impressed by how excellent her wrestling is.
"She sets the pace for the rest of the evening, and each time she goes out there and gets a pin or a victory over her opponents it ignites our team."
Saturday's action begins at 10 a.m., with the championship matches expected to start around 3:30 p.m.
— —
Sunset Region Meet
(at Cimarron-Memorial)
Friday's First-Day Results
Arbor View 87, Centennial 78½, Shadow Ridge 77, Cimarron-Memorial 70½, Faith Lutheran 51, Palo Verde 45 1/2, Bishop Gorman 41, Durango 40½, Clark 38½, Sierra Vista 34, Spring Valley 33, Bonanza 24½, Legacy 23, Desert Oasis 12
Championship quarterfinals
106–Prussin, AV, p. Driscoll, FL, 0:45; Crespo, CM, p. Julian, Clk, 2:57; Zuniga, SR, p. Favela, Dur, 5:44; Mitchell, SpV, p. Rodriguez, Leg, 3:05. 113–Gallagher, AV, p. Warren, Clk, 2:17; Sullivan, Bon, d. Harris, Cen, 2-0; W. Presser, SR, p. Jaimes, CM, 3:58; Rodriguez, FL, d. Diaz, SpV, 7-4. 120–N. Rodriguez, CM, d. Petix, BG, 6-0; Garcia, SpV, p. Medina, AV, 1:46; Burleson, SR, d. Pagan, Dur, 7-6; Demdemyano, Clk, d. Salazar, Cen, 18-1. 126–D. Rodriguez, CM, p. Gonzalez, Clk, 1:40; Lopez, SiV, d. Erdman, AV, 7-0; Kohls, Cen, p. Carreon, Leg, 1:54; VanRiel, SR, p. Perez, Dur, 1:24. 132–Villiatora, SR, p. Kennedy, CM, 3:17; Hall, PV, d. Veltri, BG, 5-0; Sims, AV, d. Word, SR, 15-5; Slater, Dur, p. Tyra, Cen 5:09. 138–Antuna, Cen, p. Kilembi, CM, 2:56; Williams, AV, p. Anderson, SR, 1:31; Washington, SR, d. Tirre, SiV, 11-0; Renshaw, Dur, d. Uzzardo, PV, 18-10. 145–Enos, FL, d. Alvarez, Clk, 11-1; Rand, SR, d. Parker, SiV, 13-1; Marchello, AV, d. Hernandez, Bon, 3-1; Garcia, PV, d. Woodring, BG, 10-4. 152–Peay, CM, p. Corpuz, SiV, 3:38; Cook, FL, d. Cuamba, DO, 3-1; Edwards, Cen, d. Bourgault, Dur, 17-1; Cunningham, SpV, p. K. Presser, SR, 1:24. 160–Alejandro, AV, p. Ryan, Clk, 0:26; C. Rodriguez, CM, p. Cano, PV, 3:41; Williams, SR, d. Kitchen, SiV, 7-2; Edwards, Cen, d. Auschwitz, BG, 10-6. 170–Kilgore, Cen, p. Roberts, FL, 3:11; Smothers, Clk, p. Smith, AV, 5:02; Paulos, FL, p. Bikle, SpV, 2:15; Mazzara, BG, p. Miller, CM, 4:35. 182–Clark, Cen, p. Miller, Leg, 1:09; Rivers, AV, p. Pakulak, SpV, 1:12; Bourne, FL, p. Panoncillo, CM, 0:45; Gledhill, SR, p. Bermejo, Clk, 1:52. 195–Cox, FL, d. Hernandez, CM, 5-3; Tuinei, AV, won by forfeit; Carpenter, PV, p. Hassan, CM, 0:54; Brenkus, BG, d. Kekahuna, SR, 5-4. 220–Rivera, PV, p. Bueno, DO, 4:38; Aguilar, Bon, p. Santos, CM, 0:19; Smith, AV, p. Thongsavath, SiV, 2:58; Jackson, Leg, p. Boyd, Dur, 1:53. 285–Rangel, Cen, p. Burgueno, Dur, 0:53; Alonso, CM, d. Bisson, Clk, 7-5; Phillips, PV, p. Dabney, SiV, 4:00; Mapes, BG, p. Bellotte, SR, 2:15.