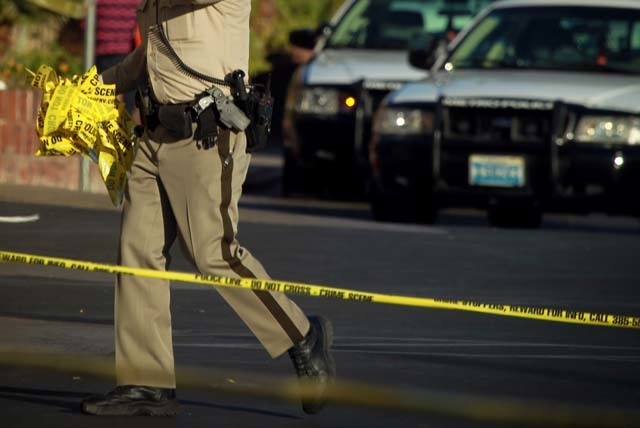 A car crash early Friday morning left one man dead and an intersection closed in the central part of the Las Vegas Valley.
The Clark County coroner's office has identified the man as 35-year-old Quintus Alton of Las Vegas. The cause and manner of Alton's death have yet to be determined.
Shortly before 4 a.m., a Las Vegas police officer attempted to pull over a 2011 Toyota Scion TC for not having its headlights on near the Fashion Show Mall. The Toyota took off, and Sgt. Richard Strader said police policy is to not chase a vehicle from a routine traffic stop.
The officer took down the license plate. A few minutes later, police found the car had crashed into the back wall of Kilroy's Bar near Spring Mountain Road and Decatur Boulevard.
Information gathered by police indicated Alton was approaching Decatur at a high rate of speed and lost control of the vehicle, hitting a light pole with the front of the vehicle. The Toyota overturned and slid northwest across a parking lot until it stopped against the wall.
Alton was pronounced dead at the scene. The preliminary investigation suggested he was not wearing a seat belt.
As officers were investigating that accident, a vehicle failed to stop at any of the barricades and police tape and ran into a patrol car near several officers.
"That woman was highly inebriated and booked for DUI," Strader said.
There were no injuries in the second crash and only minor damage to the patrol car.
Review-Journal writer Wesley Juhl contributed to this report.
Contact reporter Annalise Porter at aporter@reviewjournal.com.