10 biggest things to happen on the Las Vegas Strip in 2013
December 23, 2013 - 11:57 am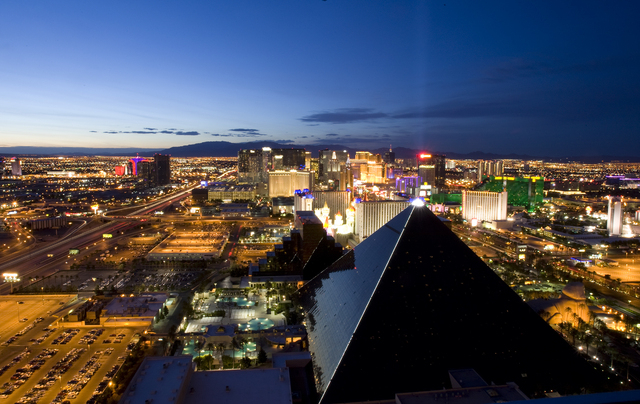 Sometimes it's difficult for people who don't live in Las Vegas to remember that more happens on the Strip than drinking, dancing and general debauchery.
Other times, it's impossible to forget.
2013 saw events that united and divided us, horrified or just plain shocked us. Here's our list of the biggest 10 in the order that they happened:
1. Shooting, crash on Strip leaves three dead
In February, a shooting and fiery crash at the intersection of the Strip and Flamingo Road left three dead.
Aspiring rapper Kenny Cherry, also known as "Kenny Clutch," was shot dead on Feb. 21 after an altercation outside a Strip hotel.
After being shot, Cherry crashed his car into a taxicab, causing an explosion that killed the cabdriver and his passenger.
The shooting led to a multi-state manhunt that ended when Ammar Harris, then 27, was arrested in Los Angeles on Feb. 28.
Harris faces nearly a dozen charges stemming from the incident, including three counts of first-degree murder.
2. Protest blocks Las Vegas Strip
Members of Culinary Local 226 blocked traffic on the Strip in front of the Cosmopolitan in March to protest stalled contract negotiations with management.
Protests by members of the union continued throughout the year, culminating in a Nov. 1 protest that led to more than 100 arrests of union members.
The union and the Cosmopolitan have been unable to agree on job security, health care and wages.
The union agreed on a new contract with MGM Resorts International in November.
3. Cast member in Cirque du Soleil's 'Ka' dies after fall during performance
A Cirque du Soleil performer died on June 29 after falling during a performance.
Sarah Guillot-Guyard, a 31-year-old mother of two, fell 90 feet during one of the final scenes of "Ka" and died from blunt force trauma.
It was the first on-stage death during a performance in the 29 year history of Cirque du Soleil.
In November, a second Cirque du Soleil performer fell during a performance, but survived.
4. High Roller is put together
In late summer, the final sections of the wheel on the High Roller were put into place.
The observation wheel, the largest in the world, is visible far from The Linq, which is on the east side of the Strip by the Flamingo.
The High Roller will anchor The Linq, which is expected to open in February and will offer retail, entertainment and dining.
5. Boats roll on Strip to protest Lake Mead closure
Several dozen boats rolled down the Strip in October to protest the closure of Lake Mead.
The temporary closure was the result of a government shutdown that lasted Oct. 1-Oct. 16.
The shutdown was the first since 1995-1996 and was the third-longest in U.S. history.
Lake Mead National Recreation Area was one of several national parks around Las Vegas affected by the shutdown.
6. Party leaves mess after The Act ends
Also in October, a controversial nightclub was left trashed after its final performance before being shut down due to indecency complaints.
The Act, which called itself Sin City's most scandalous club, was open less than a year before being accused of violating obscenity laws.
Surveillance cameras showed the room in shambles after a final night of partying.
Caesars Entertainment Corp. in October dropped the Gansevoort Hotel Group from the redevelopment of Bills Gamblin' Hall.
Construction continued on the planned $185 million luxury hotel after the change. Caesar's said a new name would be chosen.
The shakeup came as Caesar's abruptly exited a $1 billion casino project in Boston.
8. One killed, two injured in shooting on Strip
A second deadly shooting on the Strip took place on Oct. 21 when a gunman opened fire at Drai's After Hours nightclub inside Bally's.
Police said Benjamin Frazier, 41, opened fire after getting into an argument with security manager guards.
Kenneth Brown, 40, was killed and two others were injured in the shooting. Frazier pleaded guilty in December. Security footage of the shooting was released earlier this month.
9. AEG, MGM Resorts International offer first look at arena on Las Vegas Strip
The battle to build an arena in Las Vegas appears to have been won by MGM Resorts International, which partnered with AEG on a $350 million, 20,000-seat venue on the Strip.
In November, the developers offered a first look at the arena, which will be located behind Monte Carlo and New York-New York.
Groundbreaking is expected in April or May, with a projected opening 22 months later.
10. Treasure Island closes Strip-side 'Sirens of TI' show
Treasure Island's "Sirens of TI" show closed this year after 20 years in production.
The show was originally supposed to close from the end of October through New Year's while construction was completed on a three-story, 48,000-square-foot retail space.
Employees were notified shortly before Thanksgiving that the closure would be permanent.
Contact Stephanie Grimes at sgrimes@reviewjournal.com. Find her on Twitter: @steph_grimes