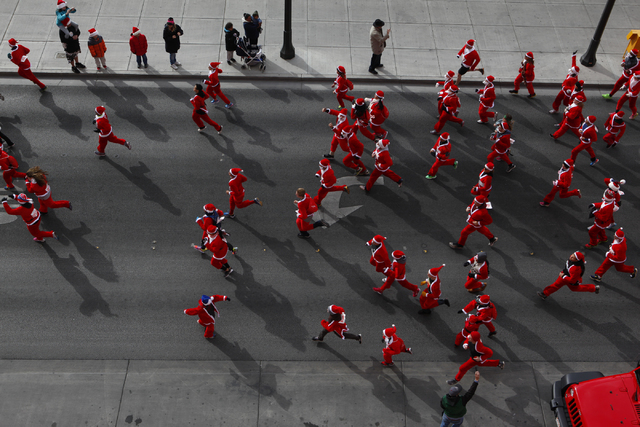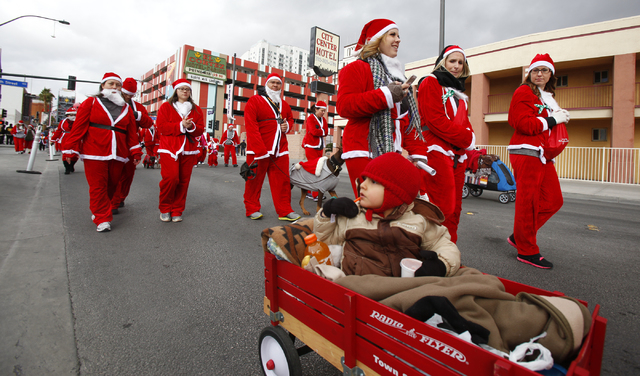 An invading force of more than 11,000 Santas transformed downtown Las Vegas into a jolly, red sea of holiday cheer Saturday morning.
Even the dogs wore Christmas costumes.
The Santas crowded onto Fremont Street in spite of wintry weather for Opportunity Village's ninth annual Las Vegas Great Santa Run.
The crowd surpassed last year's by more than 1,000 attendees and brought Las Vegas victory over our foreign rivals. Every year the nonprofit organization competes against similar Santa run events in Japan, England and Australia to see who has the best turnout.
Proceeds from the 5K run and mile-long walk support Opportunity Village's many programs for people with intellectual disabilities, including vocational training and employment services.
"Events like this allow us to give people with severe disabilities a sense of pride and purpose," said Edward Guthrie, executive director.
Guthrie said the money raised will help it serve between 1,800 and 2,000 youths and adults. He expected to raise more than $400,000.
"I brought half of my family," said Circle K manager Lydia Lozada, from El Paso, Texas. Circle K was one of many sponsors for the event and provided free coffee for participants.
"We wanted to help, too," she said, "and have fun."
The Great Santa Run started at 8 a.m. with music and entertainment at the 3rd Street Stage on Fremont Street.
"I'll tell you something, Santa's watching, because outside this canopy it's snowing," said Las Vegas Mayor Carolyn Goodman, who borrowed a page from her husband's book and appeared with escorts from Chippendales.
The Las Vegas Valley saw 30-degree weather with sporadic sprinkling rain and snow Saturday.
The pre-show included musical acts such as Zowie Bowie and the usual "Run, Santa, Run" song by George Dare, with the audience cheering along, "Ho! Ho! Ho!"
The "world's only all-Elvis dance troupe," OV Elvi, performed "Blue Suede Shoes" and "Jailhouse Rock" with all of the King's swaying hips and panache. The drummers and dancers come from Opportunity Village's performing arts program.
Many of the thousands in the crowd came to see the Jabbawockeez perform, which involved a person in a huge polar bear suit and audience participation.
And the crowd eagerly awaited the arrival of Shania Twain, this year's grand marshal for the Great Santa Run.
"It's a thrill to be here," said the singer who is headlining at Caesars. "For me personally, it kicks off the holiday season with a wonderful spirit."
About 40 teens in blue Santa hats from Foothill High School's student council attended for the the third time.
"We just like to give to charity," said 16-year-old Sammie Vasquez.
Vasquez and the student council juniors must have taken a lesson from Opportunity Village, because they are holding a 5K run at their school Feb. 15 to raise money for their prom.
The Henderson teens embodied the festive spirit of the event, laughing and dancing throughout the morning.
It is likely they will make Santa's Nice List.
Contact reporter Wesley Juhl at wjuhl@reviewjournal.com or 702-383-0264.