18-year-old pleads guilty in beating cases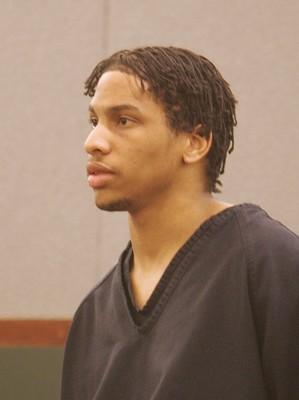 An 18-year-old facing charges related to the 2006 Easter weekend beating of an MGM employee pleaded guilty Tuesday, the final defendant to acknowledge responsibility in the case.
Dexter Smith Jr., who with a mob of young people kicked and punched MGM exterior maintenance supervisor Richard Markwell outside the hotel garage, pleaded guilty to five felonies.
The attack, recorded by casino surveillance cameras, received attention nationwide.
He will be sentenced May 29.
Smith acknowledged to District Judge James Bixler that he struck Markwell and stole his Nextel radio.
He said he also was involved in the beating of an assistant manager, Josue Medrano at a North Las Vegas Wal-Mart.
Medrano had previously testified he came out of the store to break up the crowd of young people in the parking lot when he was attacked.
Smith also admitted to stealing the purse of a woman trying to call police for help at the Wal-Mart, as well as the attack on a Glendale tourist at a Travelodge on Tropicana Avenue that occurred shortly after the MGM beating.
According to court records, the tourist, Edwin Janaslani, had been driving his children to Utah and had stopped at the motel to rest for the night.
He awoke to the sound of a party outside his room. At about 3 a.m. he went outside to smoke a cigarette and was attacked. One of the men broke a beer bottle over his head, he said.
Smith's defense attorney, Alina Kilpatrick, asked Bixler to take into consideration the counts that were dismissed, and lower Smith's bail to $50,000, from $396,000.
Prosecutor Victoria Villegas advocated against lowering bail, pointing out the serious nature of the crimes.
Bixler agreed that the acts were violent but went along with Kilpatrick's request.
The judge noted Smith had no criminal history and warned him to make his appearance for sentencing.
Villegas said had Smith gone to trial, she believed he would have been convicted on 17 of the 18 counts.
"I hope he's held accountable for what he did," Markwell said after the hearing. "I obviously don't want him to get off."