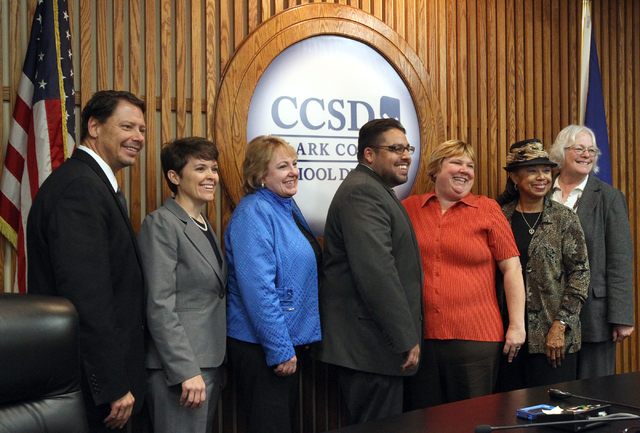 A state investigation of Clark County School Board President Carolyn Edwards involving illegal campaigning is being repeated with four other current Clark County School Board members who were in office in 2012 when the district sought to increase property taxes.
Complaints were lodged Thursday with the Nevada Commission on Ethics alleging board members Chris Garvey and Linda Young spent taxpayer resources on campaigning. Similar complaints already had been filed against board members Edwards, Erin Cranor and Deanna Wright.
The new complaints included copies of email blasts sent from each board member seeking volunteers to drum up support for the Clark County School District's ballot question on a tax increase.
The initiative failed but would have increased property taxes by 21 cents per $100 of assessed valuation, generating an estimated $669 million over six years for school improvements and construction.
Young and Garvey declined to comment, but the district released a statement Thursday:
"The Trustees and the district look forward to resolving this matter quickly so that we can continue to focus on providing the best education, and improved and safe facilities for our students, parents and community."
There is no problem with board members sending emails campaigning for Question 2, as it was called on the ballot, according to the commission. But state law prohibits public employees from "requesting" or causing a governmental entity "to incur expense or make expenditure to support or oppose a ballot question."
Each board member directed their district-provided secretary to send the email, and therein lies the problem, asserts Clark County resident Joe Spencer, who filed complaints against four board members. He said his complaints will be upheld, based on the precedent set two months ago with Edwards.
The commission embarked on a full investigation into Edwards' actions and was set to hold a hearing in November. But Edwards then offered to settle, acknowledging that she broke the law. The commission abandoned its investigation and accepted the settlement in November without punishment for Edwards because the district's head attorney, Carlos McDade, approved her email.
McDade also approved the emails of the other board members, district spokeswoman Melinda Malone said Thursday.
McDade is under investigation by the State Bar of Nevada for his advice. Spencer, a single parent of a district elementary school student, filed that complaint too. The complaint against Edwards was filed by parent Ken Small.
Wright said Thursday that the board is now "hypersensitive" to the fact that the district can provide information but not "sway voters" and that board members must send their own campaign-related emails. On the other hand, she said the emails' expense was meager, 20 seconds of a secretary's time.
But the board members and the district appeared to do much more than send one email, Spencer said. Board members told volunteers to call the district's Community and Government Relations office and sent volunteers to a web address within the district's website where they could sign up.
The Community and Government Relations office is headed by associate superintendent and district lobbyist Joyce Haldeman, who also faced a campaign-related complaint.
The commission did not conduct a full investigation of Haldeman for transporting and storing campaign materials in support of Question 2 using district trucks and warehouses.
Haldeman also settled and acknowledged that she broke the law but faced no penalty because McDade advised her that the expense was legally permitted if the political action committee reimbursed the district for the $648 expense.